Downtown Atlanta, Clark Atlanta University residents cleaning up after torrential downpour
ATLANTA - Residents in downtown Atlanta are cleaning up after unexpected flash flooding on Thursday afternoon. 
More than two inches of rain fell in as little as an hour on Thursday afternoon, flooding portions of downtown Atlanta, the Atlanta University Center, and surrounding areas.
The FOX 5 Storm Team says it was about three-hours worth of rain dumped on the city in just a matter of minutes.
Some areas of Atlanta easily had 5 feet of water rushing through streets and low-lying areas from a near-stationary thunderstorm.
The flash flooding left cars flooded, fences damaged, and buildings waterlogged.
KEEP UP WITH THE LATEST BY DOWNLOADING THE FREE FOX 5 STORM TEAM APP AND FOLLOWING @FOX5STORMTEAM ON TWITTER
Atlanta Mayor Andre Dickens released a statement Thursday evening that reads:
"The Administration has deployed the full resources of the City to address the flash flooding incidents after heavy rain across the metro area. Our Department of Watershed Management has reported that intense storm fronts and hail moved through several communities. Preliminary rain gauges have shown three hours' worth of rain in just 15 minutes in some areas of downtown. While some are still struggling with flooding issues, most flooding areas are receding.
"I've also called AUC Presidents, as well as Georgia Tech and Georgia State University, to check on students, faculty and staff to offer our full support.
"Thank you to our first responders, the Atlanta Fire Rescue Department, Atlanta Police Department, our E-911 personnel, Department of Watershed Management, Department of Public Works and everyone in our community pitching in to make sure we protect, care for and love on the people of Atlanta in emergency situations that occur every day."
A FOX 5 viewer submitted these photos of flooding near I-20 in Atlanta on Sept. 14, 2023. (Supplied)
Flooding closes Georgia Aquarium, disrupts World of Coca-Cola
Along Baker Street in front of the Georgia Aquarium, Atlanta Police say a vehicle become disabled because of the water.
Witnesses tell FOX 5 several vehicles parked in a lot at Northside Drive NW and Martin Luther King Jr. Drive SW were actually washed away in the flash flood and ended up in the parking lot near Mercedes-Benz Stadium.
Visitors inside the building were evacuated and given a voucher for a future visit.
Officials at the attraction released a statement that reads:
"This is unrelated to the safety of our exhibits and is not affecting our animals. The water is completely weather related, and we have teams currently working on clean up. There were some severe thunderstorms in the area earlier and the water is rainwater. Guests who were in the building were given comp tickets to return at a later date. The Aquarium will be closing for the remainder of the day and any guests who had tickets for this evening can reach out to our Call Center to reschedule their visit."
The aquarium is expected to reopen Friday morning
It was a similar story across Pemberson Place at the World of Coca-Cola.
That attraction also released a statement that reads:
"World of Coca-Cola evacuated guests and staff for approximately 15 minutes this afternoon due to a brief power outage, per normal procedure in such instances, to ensure everyone's safety. The Bottle Cap Café' closed for the afternoon, but the attraction has returned to normal operations."
SKYFOX Drone flew over the area surveying the aftermath. It spotted cars randomly tosses around in a parking lot at the intersection of MLK Jr. Driver and Northside Drive, adjacent to the Central United Methodist Church and catty corner to Mercedes-Benz Stadium.
One coupe appears to have had the water push it through a fence.
No word on if the floodwaters damaged the adjacent church or its facilities. 
Tow truck drivers were busy moving flooded-out cars off the roadways well into the evening.
Flooding covers cars at Clark Atlanta University
Just over a mile southwest of downtown Atlanta, the Atlanta University Center was seeing its own severe flooding.
"I got up, and she went to go check, like outside the door, and she started seeing water everywhere. And so, I had got up, and then, one of our other roommates, like across from us, she was like going back into her room until the water broke her window, and like fell all the way through in her room and stuff," said Clark Atlanta student Mya Moore. "So, I got up and me and my roommate grabbed everything we needed and we basically trudged out of there and went upstairs."
Video shot by FOX 5 photojournalist Billy Heath using SKYFOX Drone shows debris covering cars near Lawshe Street SW and Parson Street SW, about a block south of CAU Panther Stadium.
"I just saw that street behind Suites 100s, all the cars were like submerged in the water, just floating by. It was insane," said Clark Atlanta freshman Aris McCrary.
The water appeared to have collected so quickly, it pooled as high as four to five feet high along Lawshe Street.
The cars, which were likely parked at the time, ended up floating and settling randomly along the street.
A statement posted by Clark Atlanta University reads:
"A severe thunderstorm watch was issued earlier today around 2:06 p.m. within Metropolitan Atlanta. The area experience heavy rains causing some streets near Clark Atlanta University's (CAU) campus to flood and some of the University's residence halls to experience flooding.
"CAU Public Safety, Student Affairs, and Facilities Management quickly responded to the incidents to support students during the inclement weather. Additionally, remediation companies are currently on campus removing water and making repair assessments. All students living in the residential areas affected by the flooding are in the process of being relocated to new housing. We will continue to assess the impact of the severe inclement weather."
While they're safe and dry now, many students told FOX 5 that they were shaken by the floods.
"I was nervous and scared because when that happens, you don't know what to think. You can think of the worst case scenario." Moore said.
The school sent another statement on Friday afternoon, saying that they are still assessing the damage to their campus caused by the flash flooding. They also said they have identified 24 students who were impacted by the storm and they are relocating the students. 
Clark Atlanta University continues to assess the damage of our campus caused by the flash flooding from yesterday's thunderstorms throughout metro Atlanta. 
 At this time, we've identified 24 students who were impacted by the storm, and CAU student services is currently and safely relocating our students to available on campus housing. 
 Here at CAU our students are always our top priority, and we are working in partnership with Student Affairs, Alumni Relations and Engagement, SGA Leadership, and the CAU Royal Court to continue to provide support to all students impacted by the inclement weather. 
 Given our understanding of the need, we recommend donations be channeled through CAU's Student Emergency Fund via the link below. 
 Campaign for Emergency Student Aid - Clark Atlanta University (thankyou4caring.org) 
 We thank the community for your ongoing care and support of our scholars. 
 Clark Atlanta University Communications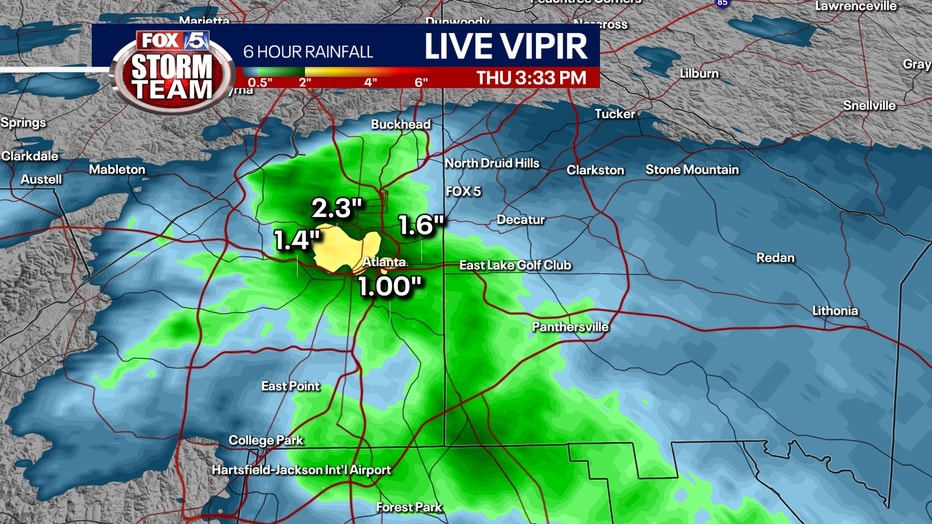 Is rain in Atlanta's forecast the next few days?
The FOX 5 Storm Team reports more than two-inches of rain fell within an hour's time in the area.
Other portions of Atlanta saw more than an inch of rain in the same time period.
The trend of afternoon and early evening showers and thunderstorms will continue the next few days, but widespread severe storms are not expected.