South Carolina-LSU game moving to Baton Rogue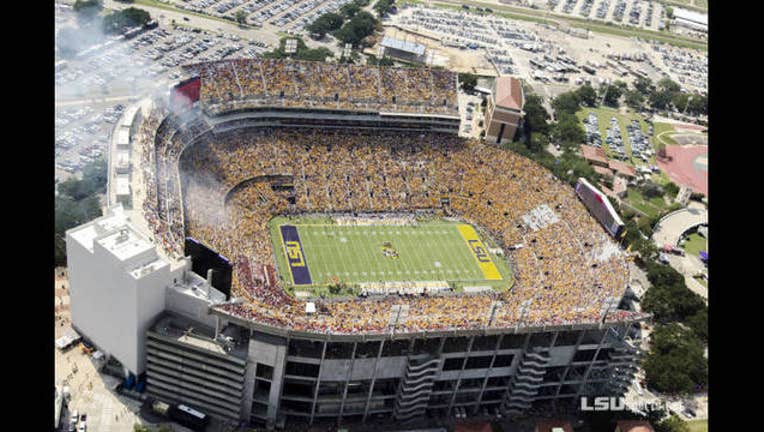 COLUMBIA, S.C. - Officials with the University of South Carolina announced Wednesday they will move their home football game against LSU to Baton Rouge Saturday because of massive flooding around the university.
South Carolina officials wanted to keep the game in Columbia, but said Wednesday that law enforcement who would direct traffic and keep Williams-Brice Stadium safe were needed elsewhere in the area to help clean up from the massive flooding.
"The stress on law enforcement and first responders is too great. Moreover, we've had many in the Carolina family directly impacted by the flooding,' University of South Carolina President Harris Pastides said in a statement.
Pastides said if he cancelled classes this week because 34,000 students was too much for the city's damaged infrastructure to handle, he couldn't justify bringing in 84,000 people for a football game.
South Carolina hosts Vanderbilt on Oct. 17. Officials have not discussed whether that game may also have to be moved. Dozens of roads around Columbia are closed or have been washed away in the flooding.
Gamecocks coach Steve Spurrier was on a Columbia TV station asking people to donate to the Red Cross when the decision was announced.
"Moving the game is best. The governor, our president, law enforcement, they all think this is the right thing to do. We're just not ready for a ball game Saturday afternoon," Spurrier said on WIS-TV.
Moving the LSU game to Baton Rouge is a financial hit for South Carolina. Projections from the athletic department's budget presentation to the Board of Trustees in June showed the school expected to make $3,854,476 from ticket sales.
LSU has had to move football games before. The Tigers moved their opener in 2005 against Arizona State from Baton Rouge to Tempe because of damage from Hurricane Katrina.
LSU also had its opener this year at home against McNeese State cancelled because of persistent lightning.
"We want to support South Carolina in anything they want to do," LSU coach Les Miles said Wednesday. "We have been through weather issues here."
"On behalf of the University of South Carolina Athletics Department, our thoughts and prayers are with those who have suffered the loss of life and property during this tragic flood," said Athletics Director Ray Tanner in a news release. "After much thought and consideration, and in conjunction with local and state authorities and with our own University administration, we have made the decision to move Saturday's football game to Baton Rouge. Changing venues on such short notice is no easy task, and I would like to thank LSU President F. King Alexander and Athletics Director Joe Alleva for their cooperation and flexibility in working with us to change the site for Saturday's football game," added Tanner.
Practice will continue and the team is expected to leave for Baton Rouge on Friday.
The time for Saturday's game at LSU has not been announced.
South Carolina will announce information on refunds/credits for tickets purchased for the contest at Williams-Brice Stadium later.
The Associated Press contributed to this report.