Quinn Getting Message of Starting Fast Through to Falcons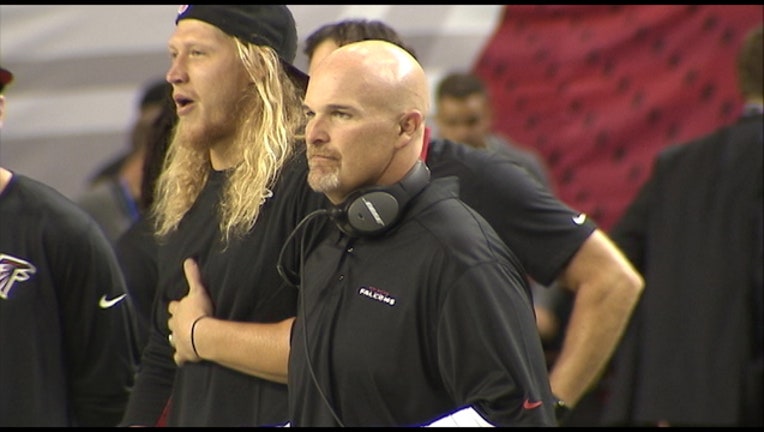 article
FLOWERY BRANCH, Ga. (AP) - Coach Dan Quinn has been trying to get the Atlanta Falcons to start games fast.
His message seems to be taking effect.
In Sunday's blowout win over Houston, the Falcons did as he instructed, avoiding a sluggish first half by taking care of the ball on offense and taking it away on defense.
"For us, it was going to be about the ball, so for us to be plus-four and convert on some opportunities — all units improved," Quinn said Monday. "That's our goal going forward."
Quinn's halftime talk to the team was nothing like last week's when Atlanta trailed by 11 at Dallas and had to rally in the fourth quarter for the third straight week.
This time, the Falcons were up 28-0. Turnovers — no miscues by the offense, an interception by Jonathan Babineaux and two fumble recoveries by Desmond Trufant — were the reason why.
"The coaches give us a great game plan, and we go out and execute it," Trufant said. "We believe in each other, and it's really starting to show."
Turnover margin was one of Quinn's big themes at the start of training camp, and he will repeat it again this week when the Falcons (4-0) host Washington (2-2).
He wants the ball-hawking skills to improve. Strong safety William Moore has two of the team's four picks, but no Atlanta cornerback yet has an interception.
"That's a real challenge as we go through it," he said. "Can we keep finding small ways to improve? For us it was going to be about the football this last week. Can we get more turnovers? Can we take care of the ball better than we ever have?
Offensively, Atlanta found a new way to win.
Three-time Pro Bowl quarterback Matt Ryan didn't even need a big contribution from Julio Jones, who began the game leading the NFL in yards from scrimmage but caught just four passes for 38 yards.
With Jones facing double-team coverages, Ryan used other weapons. No. 3 receiver Leonard Hankerson caught six passes for 103 yards and a touchdown. Running back Devonta Freeman had five catches for 85 yards.
"There were some adjustments by their safeties, playing over the top help and giving you advantageous looks to the other side to kind of force you to throw to other guys," Ryan said. "I thought our other guys stepped up and did really well."
The Falcons are among the league's most efficient, ranking second in third-down percentage and first in red-zone touchdown percentage.
But just as importantly, the offense isn't giving the ball away. Atlanta has yet to lose a fumble this season and Ryan hasn't thrown an interception since Week 1.
Notes: OLB Justin Durant left the game with an injured elbow and did not return. He will meet with doctors again Thursday. ... RB Tevin Coleman will return to practice on Wednesday. He missed the last two games with bruised ribs. ... Quinn said rookie FS Robenson Therezie played well in his first career start, getting a pass breakup and missing no tackles. Therezie, an undrafted free agent from Auburn, replaced Ricardo Allen, who missed the game with a sprained left knee.
___
AP NFL websites: www.pro32.ap.org and www.twitter.com/AP_NFL
___
Follow George Henry at www.twitter.com/georgehenryAP