Packers look for next step after another NFC title game loss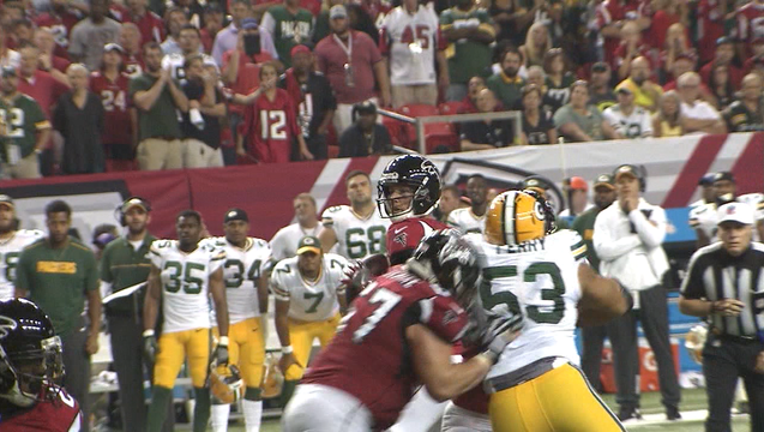 article
GREEN BAY, Wis. (AP) - With Aaron Rodgers in his prime, the Green Bay Packers should always be a contender to get to the Super Bowl.
They just have to figure out how to win one more contest after coming up short in the NFC title game for the second time in three seasons.
The offseason started Monday at subdued Lambeau Field. Players packed duffel bags and cleaned out lockers a day after the 44-21 loss to the Atlanta Falcons.
By no means is Rodgers showing signs of decline after turning 33 in December. Not after leading the league with 40 touchdown passes. Not after backing up his "run the table" statement with brilliant play during an eight-game winning streak.
At the same time, the thinking around much the NFL when the Packers won the Super Bowl in the 2010 season was that a new era of championships was dawning in Titletown, with Rodgers and coach Mike McCarthy leading the way .
"I still feel pretty young, I think I have a number of years left in me (where) I can play at a high level," Rodgers said after the game Sunday. "We've just got to make sure we're going all-in every year to win. And I think we can take a big step this offseason."
There are several key personnel decisions to be made for a franchise that usually abides by a "draft and develop" philosophy.
Green Bay, which finished the regular season ranked 31st in pass defense, could use help at cornerback after veteran Sam Shields' season-ending concussion in Week 1 forced younger players to assume more responsibility.
On offense, running back Eddie Lacy goes into the offseason looking for a contract after playing just five games because of an ankle injury. Pro Bowl guard T.J. Lang, a locker room leader whose contract also is expiring, is hoping to return.
But Monday was about cleaning up. Disappointed players quietly packed up belongings and waited to have wrap-up meetings with coaches.
A trying season full of injuries, including the low point of a 4-6 record, had come to an end with an eighth straight postseason appearance and another shot to get to the Super Bowl.
"I know it's not really what people want to hear right now after a disappointing loss, but I think everybody's really proud of what we were able to do this year and proud of the way that the guys just stuck together," Lang said.
As long as Rodgers is at quarterback, the Packers should always be an NFC favorite. Left tackle David Bakhtiari just doesn't agree with the notion that Green Bay might have a "window" of winning with Rodgers.
"So if he's the standard, I'm completely fine with whatever window we have," Bakhtiari said. "I think it's stupid when people talk about a 'window.' I think it's dumb."
Some other notes from the 2016 season and a look ahead:
SAFETY FIRST: Micah Hyde emerged as a valuable jack-of-all-trades in the defensive backfield. The free agent-to-be likely raised his value after recording a sack and interception in the divisional round win over the Dallas Cowboys. Hyde wants to return, though the Packers developed depth at safety. At the same time, bringing back Hyde could stabilize a secondary that had issues at cornerback.
ON THE RUN: The midseason switch of Ty Montgomery from receiver to running back seemed to go relatively well. Whether Montgomery stays in the backfield next season remains unclear. If the Packers bring back Lacy, Montgomery's all-around abilities could serve as an effective complement to Lacy's physical style.
PASS RUSH: The 36-year-old Julius Peppers, finishing the last year of a three-year deal, has said he thinks he can play another season. He made no decision one way or another after the Falcons game. Peppers played well at times down the stretch after the Packers limited his snaps earlier in the season to help keep him fresh. Green Bay must also decide whether to re-sign linebacker Nick Perry, a former first round draft pick in 2012. He had a breakout season with 11 sacks in 14 games despite playing the final month of the season with a broken left hand.
GOOD HANDS: Receiver Jordy Nelson rebounded nicely in his first season back after missing 2015 with a torn right ACL. Nelson led the league with 14 touchdown passes and showed toughness after playing in the NFC title game with a vest under his jersey to protect his broken ribs . The Packers also got a breakout season from third-year receiver Davante Adams (12 touchdowns), joining Nelson and Randall Cobb to give Rodgers a potent trio at wide receiver.
ODDS AND ENDS: Lang said he would skip the Pro Bowl. He was scheduled to have hip surgery on Friday, though he wouldn't need surgery for the left foot injury that knocked him out of the Falcons game. ... Bakhtiari was named to the Pro Bowl roster on Monday by the league to replace injured Philadelphia Eagles tackle Jason Peters. ... Hyde said he needed just rest for the left shoulder he reinjured on Sunday.
___
For more NFL coverage: http://www.pro32.ap.org and http://www.twitter.com/AP_NFL
___
Follow Genaro Armas at: https://twitter.com/GArmasAP