Ollie Schniederjans wins Webcom Tour event in Wichita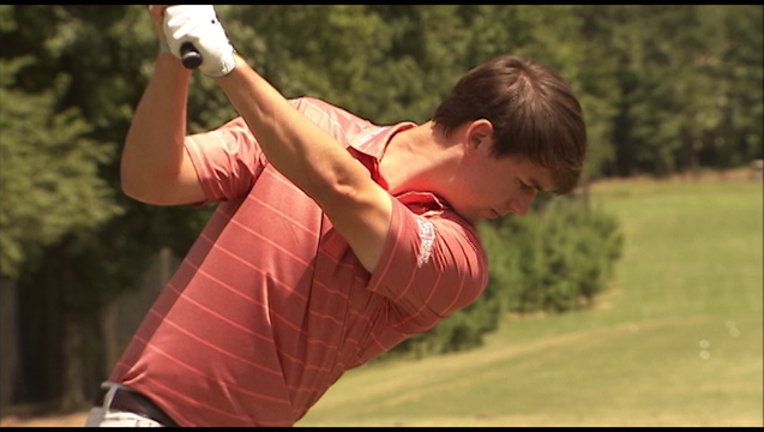 article
WICHITA, Kan. (AP) - Ollie Schniederjans won the Air Capital Classic in hot conditions Sunday for his first Web.com Tour title, beating amateur Collin Morikawa and J.J. Spaun with an 18-foot birdie putt on the second hole of a playoff.
"I felt like it was probably a 20-percent chance of making it," Schniederjans said about the winning putt that broke left to right. "I just wanted to pure the heck out of it and see what happens. It went in beautifully. It was incredible."
Schniederjans shot a 3-under 67 to match Morikawa and Spaun at 17-under 263 at Crestview Country Club.
Schniederjans matched the course record with a 61 on Saturday to take a two-stroke lead. The 23-year-old former Georgia Tech star earned $112,500 to jump from 14th to third on the money list with $245,713, more than enough to wrap up a PGA Tour card as a top-25 finisher in the regular season.
"It's just a life-time dream come true," Schniederjans said. "To be able to go out there and be a member of the PGA Tour, it's an unbelievable feeling. I put so much work in to get there. I'm thrilled to join a bunch of my friends out there."
In April in Colombia, Schniederjans lost a playoff to Brad Fritsch in the Servientrega Championship.
"I can't believe how much I've learned this year," Schniederjans said. "I never would've thought I had this much to get better at and this much to learn. I needed this year on the Web.com Tour, honestly. I don't think I was ready for the PGA Tour. Maybe I could've been ready, but I wasn't at my best. This year, I've gotten so many things in order. I feel like I'm going out there the best version of myself."
Morikawa, the Pac-12 freshman of the year at the University of California, shot his second straight 63. He played the final five holes of regulation in 5 under, with an eagle on the par-5 14th and birdies on the par-4 15th, 16th and 18th.
"Ollie played great and J.J. played great," Morikawa said. "It's amazing to put myself up here and compete with these guys."
Spaun finished with his second 64 in a row. He also played the final five holes of regulation in 5 under, with an eagle on 14 and birdies on the next three.
Brandon Hagy was fourth at 16 under after a 65.