Falcons star receiver wears bracelet in memory of teen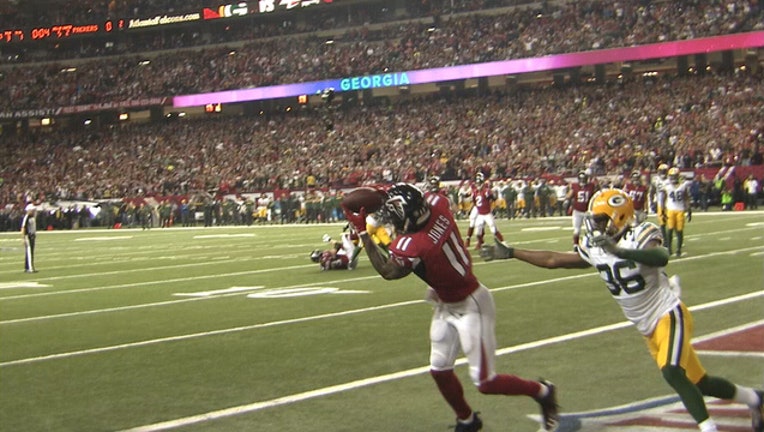 article
DOTHAN, Ala. (AP) - When Dothan's Chris and Sophia Jones presented the blue bracelet to Atlanta Falcons' star Julio Jones after a game against the Kansas City Chiefs on Dec. 4, they didn't know whether the receiver would wear it or not.
They just wanted him to have it in memory of their son, Savoy Jones, who unexpectedly passed away following a basketball practice at Emmanuel Christian School in Dothan four years ago.
"What I said was, 'Hey man, if you don't mind, would you be willing to wear this?'" Chris said. "And he said, 'Of course, Mr. Jones.'"
Sunday evening, when the Falcons take on the New England Patriots in the Super Bowl in Houston in what ironically will mark the four-year anniversary of Savoy's untimely passing, Julio Jones is expected to have the bracelet around his right wrist just like he has in the other games since being presented the gift.
"Julio had met Savoy a couple of times," Chris said. "When they interviewed him for the Super Bowl, he said, 'Hey, he motivates me and that is why I wear this bracelet every day.'"
Jones was a 15-year-old sophomore who played basketball and baseball at Emmanuel Christian when he collapsed at basketball practice on Feb. 5 of 2013 and died hours later at a local hospital.
Chris and Sophia's daughter, Christina, was a University of Alabama football hostess for recruits when Julio Jones was a prep standout. Jones was paired with Christina on a visit and the two became lasting friends. Through Christina, the whole family got to meet and know Julio.
Julio invited Chris and Sophia to the Falcons game against the Chiefs as a gift for their 35th anniversary, according to the initial story of the connection between Julio and the family that was written by Jay Busbee of Yahoo Sports and released on Monday.
Chris said he didn't realize the Falcons' receiver was wearing the bracelet in games until a friend sent him a photo of a celebration following the NFC Championship Game, in which Atlanta defeated Green Bay 44-21.
"I watched the game when they won and he was on the podium and somebody sent me a picture of him on the podium wearing the bracelet and it was him being interviewed by Terry Bradshaw," Chris said.
The bracelet has Savoy's name across it, along with the jersey numbers he wore for basketball (10) and baseball (23) and the inscription "Nothin' but His Love."
"When Savoy passed away, I needed something to do," the father explained. "So I started selling the wristbands, selling the T-shirts and telling his story of how grounded he was and how big a believer he was in my Lord and Savior Jesus Christ.
"That's why the wristband has his name and Nothin' but His Love on the backside of it. I have learned to thank Him for the 15 years that He has given us Savoy, because He didn't have to give him to us at all."
Through funds raised from selling the T-shirts and wristbands, along with other donations, a new bus was bought for the Emmanuel Christian athletic teams. The family also donates a scholarship each year in his name and an annual award is given each year for youth baseball in Dothan named the Savoy Jones Impact Award.
"I've coached numerous years at Doug Tew," Chris said of youth league baseball teams. "Each year I present the Savoy Jones Impact Award at the sports banquet. That is something that the community came up with. They even came up with the name, and there is an anonymous donor that donates that trophy each year.
"Even though Savoy had a closet full of trophies, there is one trophy that really stood out in my heart, and that's when he got the sportsmanship award at Doug Tew. I specifically remember it like it was yesterday. He came back to the table and he sat it down in front of me and said, 'Chief we got it.' He called me Chief because I'm a retired warrant officer. "I said, 'No, we didn't get it. You got it son.'"
Chris also began speaking in schools about the importance of character and grades.
"It's overwhelming, because one of the platforms that God has given me is I get the opportunity to go and speak to the youth, and that's something that's near and dear to my heart," Chris said. "At the end of my visit at the schools, no matter where I go, I always ask for the A students.
"The ones who raise their hands, I give them a T-shirt that says Nothin' but His Love on it. Then I ask for the A-B students, and I give them one of the bracelets."
Just like the one Julio Jones will be wearing on Sunday evening.