Falcons bypass bulletin board material from 49ers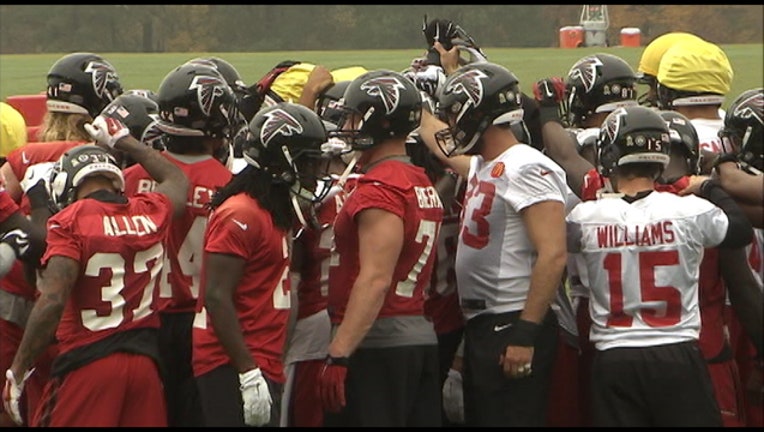 article
FLOWERY BRANCH -- The Falcons don't need any extra thumbtacks. The team is well aware of a report about the 49ers' low opinion of Atlanta's defense; but don't expect to see a bulletin board full of quotes if you tour the team facilities.

"I have heard [the report]," said Falcons head coach Dan Quinn. "What I can say is that we don't allow anybody else to help get us ready. We'll be ready to rock."

The report in question suggested San Francisco, Atlanta's opponent this week, waited to change their starting quarterback from Colin Kaepernick to Blaine Gabbert.

"Source: 49ers were going to do this [change their quarterback] last week, but decided to wait so that Gabbert could debut against a weak Falcons defense at home," said Kyle McLorg on Twitter, a 49ers writer for bayareasportsguy.com.

"I don't really care what anybody thinks of me," said Falcons cornerback Desmond Trufant. "Especially the opposition. You can think what you want to. We play between the whistles. We'll see. We'll see what they think afterwards."

Falcons defenders say the idea of bulletin board is more of a myth: "it never really happens," says linebacker Paul Worrilow. Those that have seen quotes tacked up in a meeting room say it happened in high school, but not in the NFL.

"You hear those things and you laugh," said linebacker O'Brien Schofield. "You see they're shifting a lot of guys around, that has to be difficult towards the middle of the season. Whatever they've got to say to get those guys going...they got to do what they got to do."

Quinn says there was a time much earlier in his coaching career he may have posted an opponent's words up for his team to look at leading up to the game, but that was a long time ago.

"I think it's way more meaningful when you're playing for one another not some quotes that are on the wall," said Quinn. "We're aware of them for sure. At the end of the day it really comes down to how hard you want to play for the guys you're with so you can play your best."