97-year-old Braves fan attends historic Fort Bragg game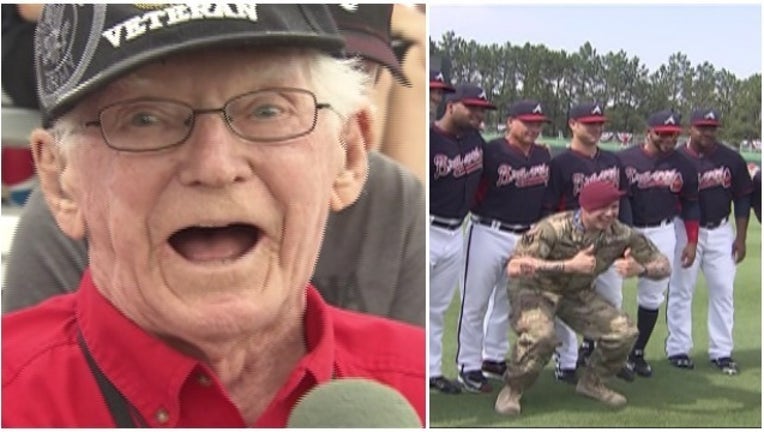 A dream that was almost a century in the making came true for a 97-year-old veteran over the weekend. 
Hubert Edwards is a character who loves baseball. He's a little hard of hearing, but he heard every word when his wife told him he was going to see his favorite team, the Atlanta Braves, play at Fort Bragg.
"Just out of this world," he said. 
Edwards was one of about 12,000 fans who packed Willow Lakes Baseball Park at Fort Bragg. Major League Baseball converted the old golf course which used to be at Pope Air Force Base into a temporary field of dreams. It was a first-of-its-kind game to pay homage to our country's service men and women. 
Edwards said watching the Braves play at Fort Bragg is second only to meeting Generals Eisenhower and Patton in the field during World War II. 
"I heard the leaves rattle behind me and I looked. Eisenhower and Patton. And being the sergeant in charged I jumped up and hollered... 'Attention!' Eisenhower looked at me and said 'Sit down boy.' And I did," Edwards laughed. 
The game was also a dream come true for Sergeant First Class Alexander Burnett, who's originally from Atlanta. He said he hasn't thrown a baseball since he got back from Afghanistan in 2012.
Burnett was able to go on the field and play catch with one of the coaches for the Braves. 
"I went to the Fulton County stadium before they tore that down," Burnett said. "I went to Turner Field back when I was in high school. And for them to come out here. Not only to build us this park, but to come out her and play and interact with us as soldiers, it just does not get any better than this," Burnett said.