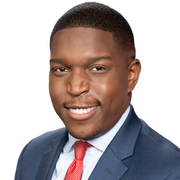 Jonathan Stacey
Meteorologist
Jonathan Stacey joined the FOX 5 Atlanta Storm Team in June 2021 after working in several other television markets across the Southeast U.S. over the past decade. Prior to relocating to Atlanta, Jonathan worked at WBTV in Charlotte, North Carolina as a lifestyle show host, anchor, and meteorologist.
As Hurricane Dorian brushed the Carolinas' coast in August 2019, Jonathan guided viewers through the storm's landfall from the studio. Jonathan's contributions to the station's weather coverage that day earned him and his team a regional Emmy Award for Best Morning Newscast in 2021.
In the Carolinas, Jonathan was affectionally known as "J-Stace the Science Ace." He got that moniker after producing and hosting an award-winning science experiment series teaching kids and their parents about the natural world during the pandemic.
Jonathan also sharpened his reporting and forecasting skills at WJXT in Jacksonville, Florida; WAFF in Huntsville, Alabama; WNKY in Bowling Green, Kentucky;  WCYB in Bristol, Virginia; and as an NABJ-NBC News Fellow in New York City.
Jonathan graduated with honors from Middle Tennessee State University where he studied mass communications and journalism. He also earned his Master of Theological Studies at Vanderbilt University and completed his meteorology training at Mississippi State University.
Jonathan currently holds memberships with the National Weather Association and the National Association of Black Journalists, and he's also a proud member of Kappa Alpha Psi Fraternity, Incorporated.
In addition to his television news experience, Jonathan is a licensed Christian minister, and has held various ministerial and staff roles in congregations in Alabama, Florida and Tennessee.
If you'd like Jonathan to speak, host, or make an appearance at your next event, please email at him at jonathan.stacey@fox.com.
The latest from Jonathan Stacey