Where and what to eat in metro Atlanta | June 2023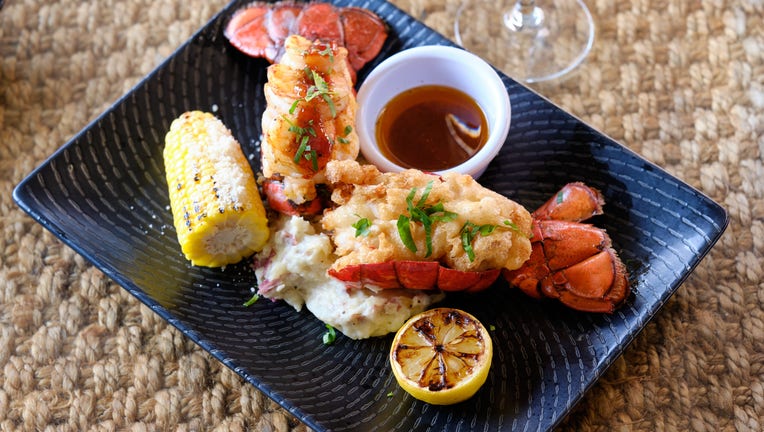 article
There's lots of dining news to share for the moth of July. Check back here frequently for additions. If you would like to submit information for this list, send an email with details to joyce.lupiani@fox.com. Last updated June 24. 
EVENTS
Mayfield Creamery is celebrating its 100th birthday with a FREE birthday bash for ice cream lovers in Piedmont Park near Magnolia Hall from noon to 3 p.m. June 17. There will be free ice cream (while supplies last), giant Jenga, cornhole, a bounce house and balloon dome, and a live DJ from WWMQ-FM. Mayfield is also making a $10,000 donation to the Birthday party Project, a charitable organization that partners with more than 60 agencies across the country to bring birthday parties to children experiencing homelessness.
Punk Foodie Fest vol. 2 is happening June 10 at Westside Motor Lounge. The culinary celebration supporting Flavor Forward's production of at least 500 fresh, chef-cooked meals for those who need them will feature live DJ performances, specialty craft beer and 16 restaurant pop-ups. Attendees will be able to enjoy more than 45 dishes representing a wide range of cuisines, including Mexican street food, Polish/Eastern European dishes, Hispanic and Caribbean Vegan dishes, American Craft BBQ and Texas BBQ, Asian Fusion, Comfort food, Chicago-style food and more. Punk Foodie is the 'go-to' platform for diners to discover unique, local experiences from the Atlanta underground dining scene. The platform hosts a database of over 900 Atlanta area pop-up chefs and manages a calendar of over 200 culinary events per week. Admission is $10 (free for children ages 13 and under). Costs for food, beverage and vendor goods will vary. Free parking is available at Westside Motor Lounge or Guardian Works at Echo Street West.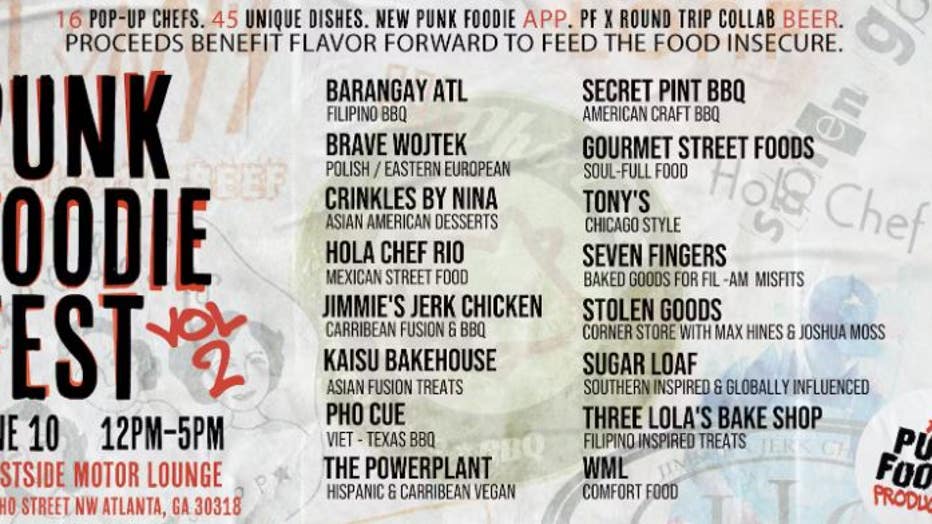 Summer Sippin' is back for the 8th year this summer in Roswell.  There are 61 establishments participating and each one is tasked to create a special summer inspired drink. During this two-month event, patrons are encouraged to order sips from participating establishments and rate them on the Summer Sippin' app or on SummerSippin.com. At the conclusion of the event, one alcoholic and one non-alcoholic beverage will win the title of 'Best Sip in Roswell'. Patrons can expect to see a mix of Roswell breweries, tasting rooms, coffee shops and restaurants on the list of places to try. #SummerSippin2023 will serve as the official hashtag. The full list of participating restaurants, drinks, descriptions and photos can be found at SummerSippin.com and on the Summer Sippin' App, which is available in both Google Play and Apple App stores. Make sure to follow Summer Sippin' on Facebook at @SummerSippinRoswell and on Twitter and Instagram at @SummerSippin.
The next Barks and Bites: Doggie Food Crawl on the BeltLine is happening June 18 from 11 a.m. to 2 p.m. Barks and Bites is the only food crawl on the Atlanta BeltLine that is designed for dogs. Three of Atlanta's most dog-friendly restaurants – Brewdog, Envegan, and Butter & Cream – prepare dishes especially for furry foodies, and there's even a "Dog Brew" made for pups. Meanwhile, hoomans can enjoy small bites at each stop and toast a craft beer with their fur babies. There will also be giveaways from pet vendors and more. Advanced tickets requirewd. 
Rise & Wine at Halcyon is celebrating National Rosé Day on June 10. They are offering free samples of sparkling or still rosé and 5% off any rosé purchases.  
It's officially Gemini season and InterContinental Buckhead Atlanta and Hotel Indigo Atlanta Downtown are offering a two-for-one cocktail special for identical and fraternal twins through June 21.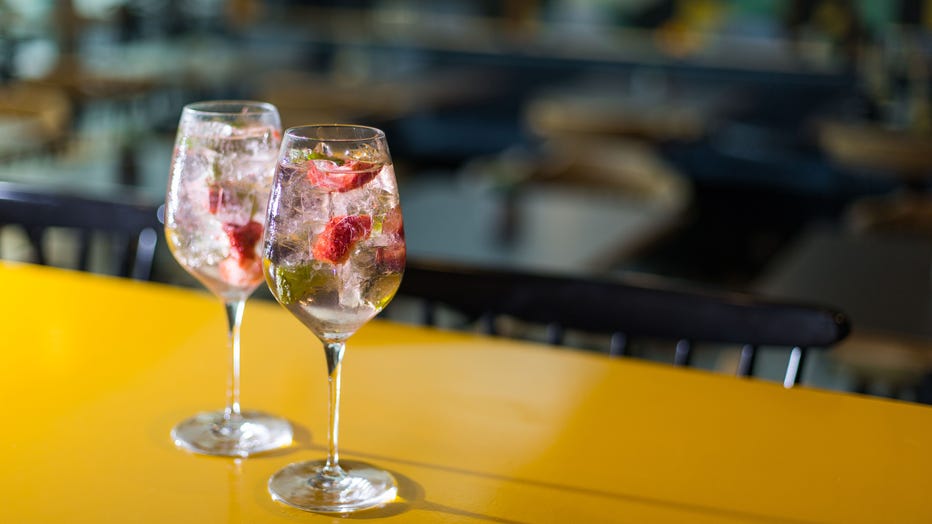 The Battle of The Bruschetta, a three-month bracket-style competition between 8 limited-time bruschetta recipes, is underway at Postino WineCafe. During each two-week battle (from June 1-Labor Day), guests can order two competing bruschetta flavors and vote for their favorite by texting "BATTLE" to (602) 637-1510. The champion bruschetta will earn a permanent spot on the Postino menu this fall for all to enjoy. Guests can cast their vote one time per round and will automatically be entered to win a $50 gift card after each battle. Battle #1 features Mexican Street Corn vs. The Italiano. 
Clayton County is celebrating Black Restaurant Week June 19-25. Black-owned restaurants in the county will be offering specials/deals throughout the week. Some of the participants include AJ's Waterfront Cafe, Bass & Treble, Big Dave's Cheesesteak, Cutter's Jamaican Restaurant, Di-Vine Plant Based Cuisine, Five Star Seafood, Georgia Potato Factory, JR Crickets, Mr. Styles Family BBQ, NVS Soul Food, Ree's Bar and Grill, Sweet Sadie May's, Tookes County Bar-B-Que, Turky On the Loose, and Wings on Wheat. 
The Oceanaire Seafood Room in Midtown Atlanta is inviting wine aficionados to wine and dine at the Duckhorn Portfolio Wine Dinner on June 23. Menu highlights include Oceanaire Pearls on the Half Shell, chilled lobster salad, wild Alaska halibut, duck leg confit and flourless chocolate torte. Tickets are $175 per person. 
Firepit Pizza Tavern is celebrating 5 years from 2 to 7 p.m. June 25 with an all-you-can-eat BBQ menu and all-you-can-drink champagne. Wristbands to the anniversary bash are available for purchase for $20 upon arrival.
Postino WineCafe in West Midtown is hosting "Dining with the Divas" after-party from 7 to 10 p.m. June 25. The after-party will begin with the final showing of Out Front's "The Golden Gals Live!." The cost of the after-party is $30 per person, includes a glass of bubbles. Tickets may be purchased online. Funds raised will support Out Front Theatre Company's mission to tell LGBTQIA+ stories and strengthen the community in Georgia by exploring and celebrating the universal human experience through the lens of gender and equality.
 Colony Square is hosting its 2nd annual Taste of the Square on June 29. The event will feature bites from 15 of Colony Square's restaurants, live music, complimentary cocktails, and more with ticket proceeds benefiting Children's Healthcare of Atlanta. Cost is $95 per ticket. 
OPENINGS
Three Dollar Cafe has opened a new location on Braves Avenue in Buford, adjacent to Coolray Field. The restaurant seats 120 guests and has a covered patio that overlooks the field. The menu features wings, burgers, wraps, tacos, nachos and sandwiches. The restaurant is open daily. 
California-based Hummus Republic has opened its first metro Atlanta location on Briarcliff Road in Brookhaven. Build your favorite wrap, pita or bowl with ingredients like  Mediterranean couscous, warm garbanzo beans, Moroccan steak, chicken shawarma, vegan beef, falafel, red cabage, chopped cucumber, tabbouleh, roasted egglplant hummus, kalamata olive hummus, traditional hummus and more. Other items include a vegan falafel burger, street-style sweet potato fries, dolmades and pita chips. 
Midtown Beach Dining & Social, an elevated pop-up restaurant experience, is opening June 9 in Midtown Atlanta. Guests will experience an intimate resort-style oasis with seasonally-inspired and locally-sourced dishes, a craft bar menu with curated drinks and unique takes on classic cocktails, private cabanas and a pool. Menu highlights include Savannah-style lump crab cakes, a seafood tower, smoked garlic parm oysters, sushi rolls, sashimi, wagyu beef sliders, fried Brussels sprouts and more. Midtown Beach Dining & Social is open on Wednesdays from 4 p.m.-12 a.m., Thursdays and Fridays from 4 p.m.-3 a.m., Saturdays from 12 p.m.-3 a.m., and Sundays from 12 p.m.-12 a.m. Walk-ups are welcome but reservations are strongly encouraged, and private cabana dining is available for parties of 4 or more. To make reservations, please visit the website or call (404) 386-7752.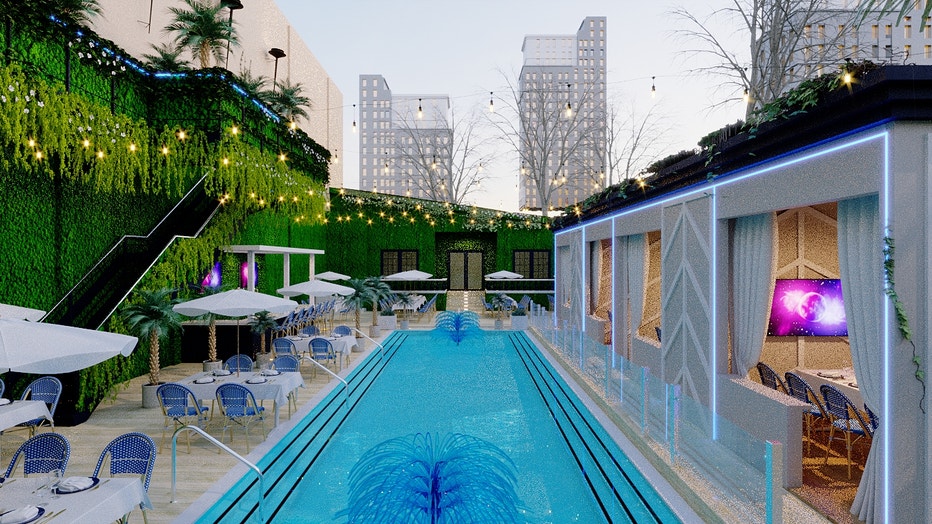 Livingston Restaurant + Bar, the fine-dining restaurant located inside The Georgian Terrace Hotel, has announced that its patio has re-opened for the spring and summer. The outdoor space has been updated with new umbrellas, seat cushions and planters. It is open from 4 to 10 p.m. every day. Happy hours are 4 to 7 p.m. Monday through Friday and 6 to 9 p.m. Saturday and Sunday (except on Fox Theatre show nights, special events and holidays). Among the happy hour beverage offerings are the spicy mezcal pineapplerita, Cranberry Crazetini, mimosas, the frozen Cocorita and mango pineapple cocktails, new zero-proof cocktail options, a selection of half-priced bottles of wine, and assorted beers. Food offerings include tempura calamari; shellfish ceviche tostada with pickled red onion, cilantro, and avocado mousse; white fish tacos with pickled cabbage, cilantro, Fresno chilies, and serrano peppers; Catalonia-style crispy chicken skewers with mojo Verde sauce; the Livingston burger; and more.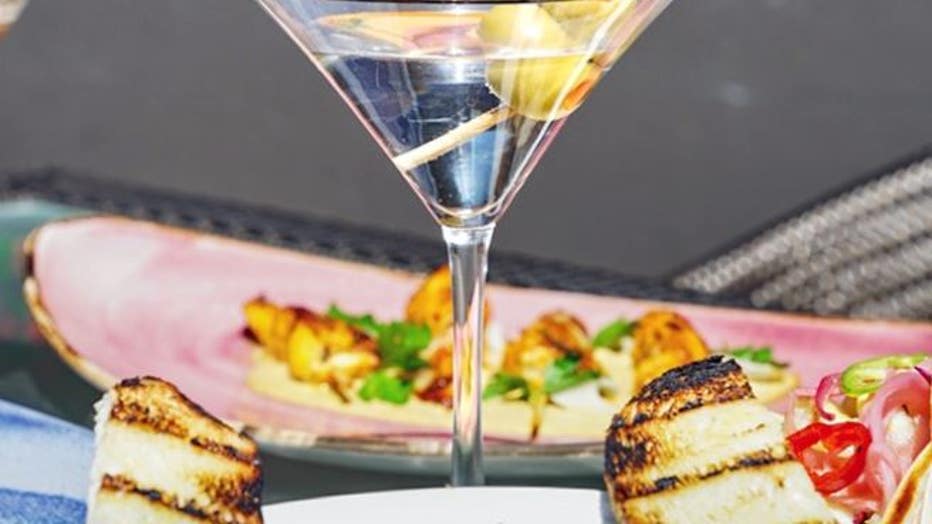 Graze Craze has opened its fourth Georgia storefront at 2221 Peachtree Road NE. At Graze Craze, artfully arranged, hand-crafted charcuterie boards feature fresh and flavorful assortments of high-quality ingredients, including gourmet meats, cheeses, fruits and vegetables, artisanal sweets and more. Each unique grazing board is specially crafted to cater to any lifestyle or palate, like veggie-lovers or low-carb crews, and come in several different size options to fit any type of occasion, from small, casual get-togethers to large, lavish events. Graze Craze Atlanta Buckhead-Midtown is open for pick-up and free local delivery Tuesday through Saturday from 10 a.m. – 6 p.m. and on Sunday from 11 a.m. – 4 p.m.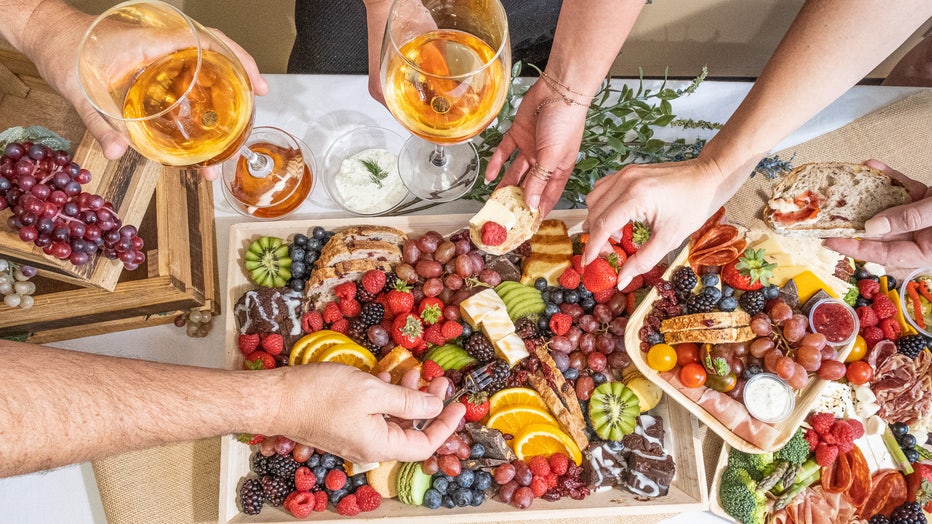 7 Brew Drive Thru Coffee is preparing for a mid-June opening in Buford. 7 Brew offers over 20,000 unique drink combinations from the caramel and vanilla breve, to 7 Energy, smoothies, shakes and teas, there is something for everyone at 7 Brew. The brand currently boasts more than 75 stands across the country. The new location is at 3700 Buford Drive. 
Ray's at Killer Creek is celebrating its 25th anniversary with a special three-course dinner for $60 per person. The meal will feature a starter choice of lobster beignet or pimento and goat cheese fritters; entree choice of Dover sole or 6 oz. filet with bone marrow butter and whipped potatoes; and dessert choice of red velvet bread pudding or white chocolate mousse. In addition to the three-course menu, Ray's at Killer Creek is offering $25 steaks all day on Mondays and during steak happy hour on Tuesdays, Wednesdays, and Thursdays from 4-5:30 p.m. at the bar and 4:30-5:30 p.m. in the dining room. 
Snooze, an A.M. Eatery is opening a location in Alpharetta at 6065 Northpoint Parkway, Suite 230, near the North Point Mall. The first 50 guests in line on grand opening day – June 28 – will receive a free Snooze camper mug. Snooze specializes in innovative breakfasts made with responsibly sourced, fresh ingredients. Snooze is dedicated to bettering communities and the planet through thoughtful breakfast experiences and by following a robust set of sustainability guidelines, donating sales back to the community and raising funds for nonprofits through annual events, such as Pancake Day and Bacon Day. The brand is also known for its commitment to its employees, a.k.a. "Snoozers," and has been named top 10 for employees who would recommend their job to a friend for three years in a row on Glassdoor.
Wicked Wolf celebrates its opening with a weekend bash from June 23 to 25. There will be a grand opening party on June 23 with music from celebrity DJs Brody Jenner and Devin Lucien. On June 24, the party continues with Atlanta's most beautiful models, influencers and local celebrities. The festivities culminates with brunch from 11 a.m. to 3 p.m. June 24 and an Atlanta Braves watch party at 1:40 p.m. A late-night party at 9 p.m. will end the weekend. 
NEW MENU ITEMS
The Big Ketch Saltwater Grill is turning Tuesdays into The Big Ketch Lobster Night. Every Tuesday, the restaurant will offer two lobster specials: Dueling lobster tails ($24.99) features one beer-battered fried lobster tail and one tail stuffed with Gulf shrimp, lump crabmeat and a a Creole vegetable medley and topped with three Gulf shrimp and finished with a Caribbean jerk glaze.; and Lobster Mac' n Cheese ($24.99) made with fresh-baked cavatappi n cheese topped with Parmesan, Spanko and a baked lobster tail served with a fresh garden salad. In addition to these Tuesday night specials, guests are lured back for half-priced select bottles of wine on Wednesdays and live music on Thursday evenings.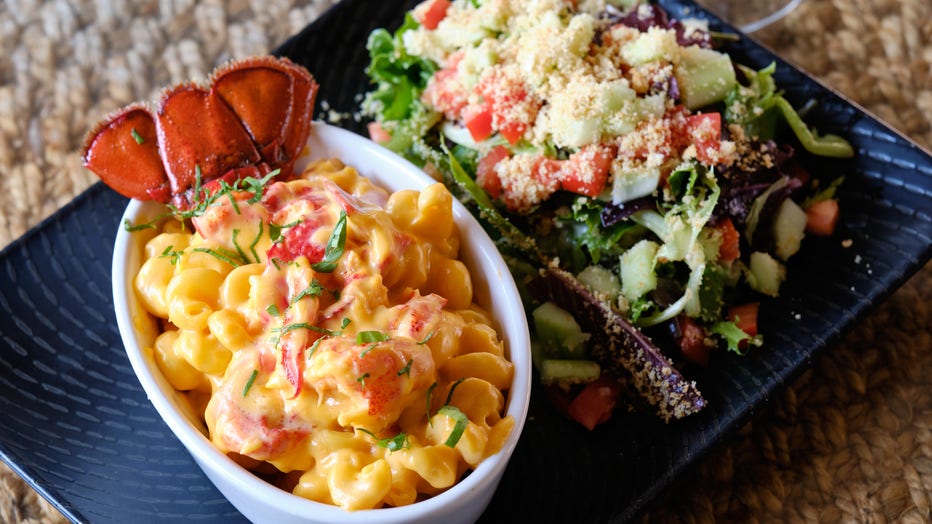 Big Ketch Saltwater Grill 
Your Pie Pizza has announced the return of its annual Summer Peach Craft Series. Returning favorites include the Peach & Prosciutto Pie and Summer Peach Salad. New items include Kickin' BBQ Peach Pie and new specialty gelato flavors: Peaches and Cream and Limoncello Sorbet. Customers can enjoy both pizzas as either 10-inch personal pies or 14-inch large pies, perfect for sharing around the table. Available through Sept. 3.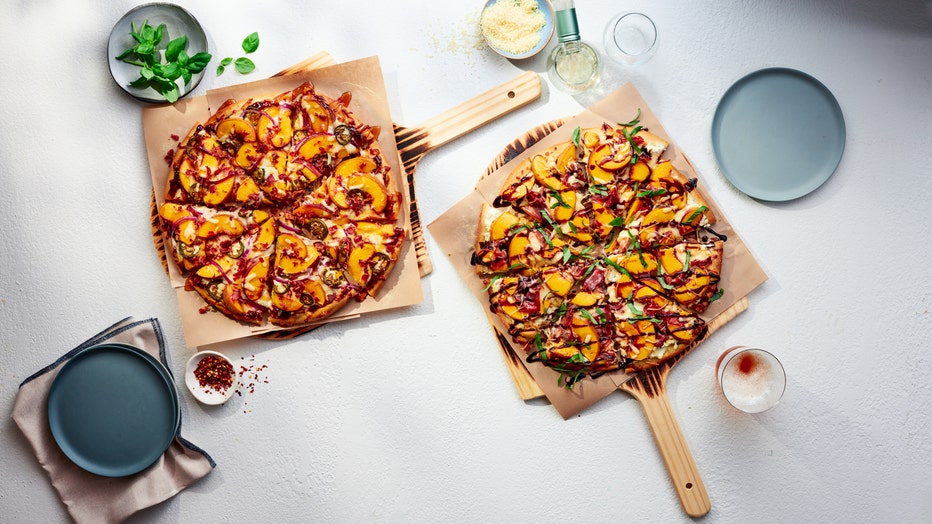 JINYA Ramen Bar is offering Karaage Chicken Ramen and Garlic Shrimp Spring Rolls for a limited time only. The Karaage Chicken Ramen features rich chicken broth base and thin noodles, green onion, spinach, seasoned egg*, nori (dried seaweed), and topped with crispy chicken dressed in chili sauce. The Garlic Shrimp Rolls feature flavorful garlic shrimp tucked inside a spring roll wrapper. Additionally, JINYA is bringing back summer favorites like the Cucumber Chiller and Watermelon Delight cocktails and Hiyashi Cold Ramen.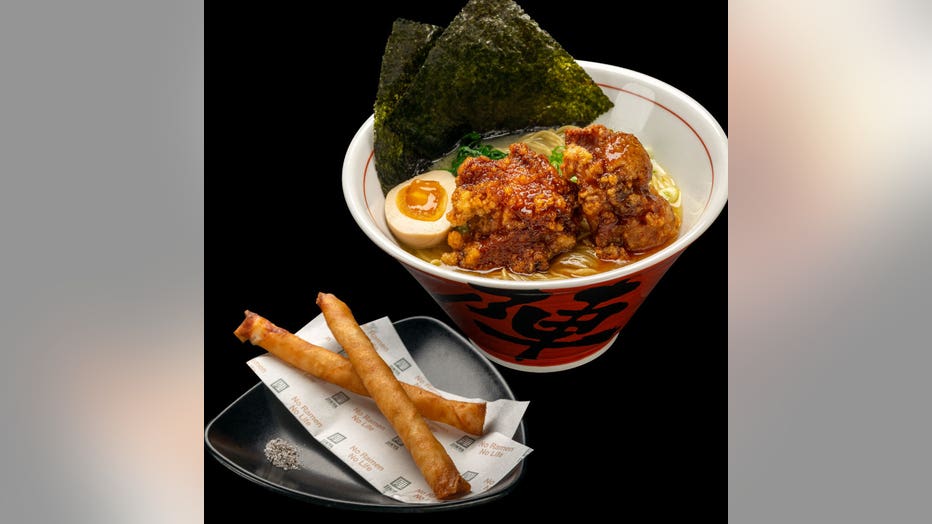 Omakase Table, featuring Chef Leonard Yu, is offering a condensed 14-course nigiri-focused tasting menu featuring seasonal nigiri, atsuyaki tamago castella, temaki and dessert for a limited time. Cost is $139 per person plus 20% gratuity.  Prepaid reservations can be made online for parties of one to six.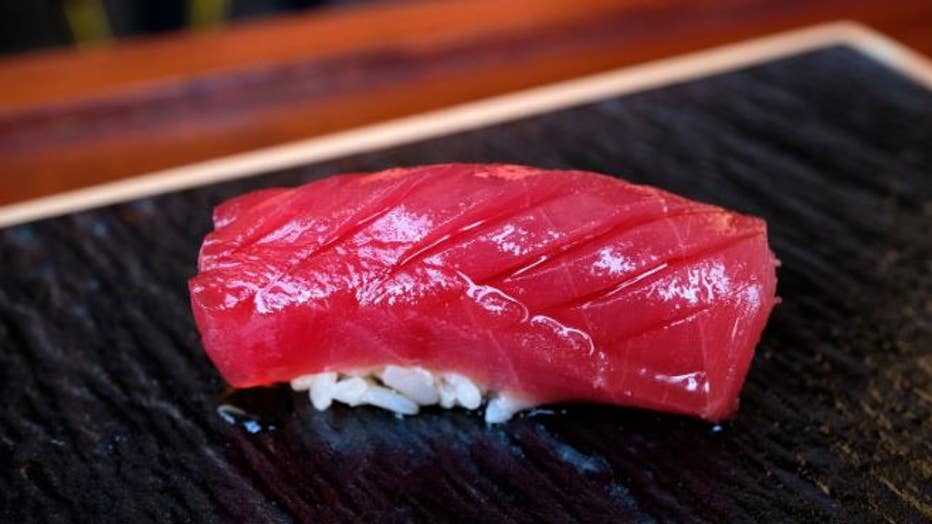 Flight Club Atlanta has revamped its signature mango piso cocktail, better known as The Vicuña, for PRIDE Month. Made with pisco, mango, clove, lime, and egg whites and adorned with an eye-catching PRIDE cocktail topper, this handcrafted libation will be a must-have all month long. Adding to the celebration, Flight Club will be donating 100% of the proceeds from each Pride Cocktail purchased to benefit Atlanta Pride Committee.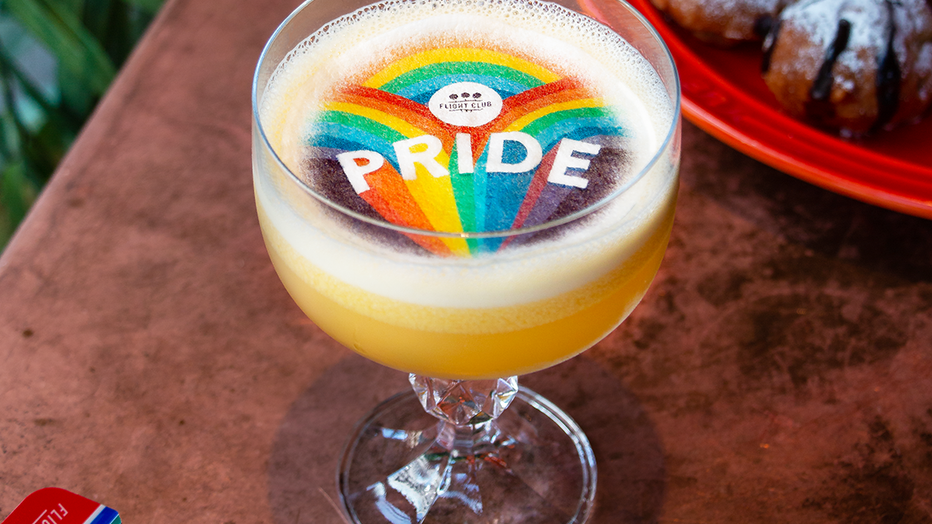 OTHER
The city of Decatur and the Decatur Downtown Development Authority has announced the creation of a new vendor program that will allow up to 8 food carts to operate in the city. The plan designates four locations in Decatur Square, two in Harmony Park, one on E Ponce de Leon Avenue and one on W Ponce de Leon Avenue. Beginning June 1, the application window will be open for 20 days, closing on June 20. Any food cart vendor is eligible to apply, so long as they are current on their licenses and their carts meet the proper dimensions. For more information on the vendor cart program and information on how to apply, please visit www.DecaturGA.com or contact Shirley Baylis at Shirley.Baylis@decaturga.com.
O'Charley's Restaurant + Bar is offering the $5 Pit Stop promotion through Sept. 4. The promotion gives NASCAR fans a chance to fuel up on O'Charley's classic tenders, fries and a coke for just $5 on the Monday following any NASCAR race where a Coca-Cola Racing Family Driver finishes in the top 5. The Coca-Cola Family of NASCAR Drivers includes Austin Dillon, Chase Elliott, Denny Hamlin, Joey Logano, and Daniel Suárez. O'Charley's is also hosting a series of NASCAR Parking Lot Parties this summer with Coca-Cola, featuring food, family fun and special appearances by the Coca-Cola Racing Family Drivers. The parties have NASCAR Show Cars, corn hole, live music, and much more fun for the entire family.