VP Harris touts accomplishment of Biden administration during Atlanta visit
ATLANTA - Vice President Kamala Harris was in Atlanta on Friday. She was attending fundraisers and energizing her Democratic base the Peach State ahead of the 2024 election. 
Her appearance drew a crowd at the Democratic Party of Georgia's spring soirée in Buckhead. It was her third visit to the Peach State this year, but her first since President Biden announced he is running for re-election a few weeks ago.
"For 2 years I have been proud to serve as Vice President of America, and I am so proud to run for re-election with our President Joe Biden," said Vice President Kamala Harris. 
Vice President Kamala Harris
Vice President Harris spoke to the crowd of more than 400 about the accomplishments of the Biden administration. She listed capping the price of insulin, expanding high speed internet access and improving infrastructure across the country and in Georgia. 
"Here in Georgia, we've delivered over $4 billion to rebuild roads, bridges, ports and airports. In Atlanta alone, new sidewalks and bike lanes on Central Avenue and Pryor Street," said Vice President Harris.
The vice president only spoke for about 20 minutes but covered everything from abortion to book bans to Georgia's election laws.
She said there's still a lot of work to be done
"We will fight for our democracy, for our founding principles as a nation based on our love of country, and Georgia, when we fight, we win!" said Vice President Harris.
This was the third major trip for the VP to Georgia this year. 
In April, Harris visited a Dalton solar panel plant to tout the Biden administration's green energy policies.
She visited Georgia Tech to talk about climate change, among other things, in February.
"The Vice President being here tonight is evidence of the importance of Georgia in the 2024 election cycle," said Rep. Nikema Williams who is chair of the Democratic Party of Georgia. 
In 2020, Biden won Georgia by nearly 12,000 votes. The Democrats are hoping the state flips blue again in 2024. Democratic strategists see their opposition in the state as divided. Gov. Brian Kemp and other key state leaders, while opposing Biden, suggest the Republican Party needs to move on from the 2020 race when then-President Donald Trump lost his re-election bid.
The governor did not endorse any challenger to Trump for the Republican nomination, but urged Republicans to look for a presidential candidate who has a vision for the future instead of rehashing the past.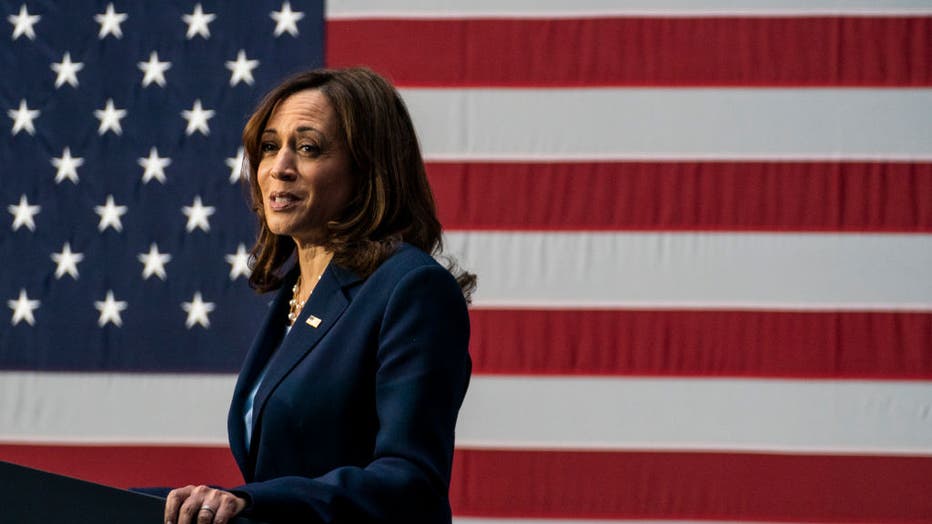 SAN FRANCISCO, CA - APRIL 21: Vice President Kamala Harris delivers remarks following a visit with expecting families and caregivers at UCSF Mission Bay on April 21, 2022 in San Francisco, CA. (Kent Nishimura / Los Angeles Times via Getty Images)
Trump publicly blamed Kemp and other top Georgia officials for his loss in the state and encouraged his supporters to run against them in the 2022 Republican primary.
Gov. Kemp, however, easily defeated a challenge from former U.S. Sen. David Perdue, who was backed by Trump.
Meanwhile, a good portion of the congressional GOP members continue to publicly back the former president, most notably Rep. Marjorie Taylor Greene.
Republicans who have already announced their candidacies for president include Trump, former South Carolina Gov. Nikki Haley, entrepreneur Vivek Ramaswamy, businessman Perry Johnson and former Arkansas Gov. Asa Hutchinson.
Florida Gov. Ron DeSantis and former Vice President Mike Pence are also considering runs for president.
Vice President Harris also attended a fundraiser at a private home in the afternoon. Among the attendees, former Atlanta Mayor Keisha Lance Bottom