Trump dives into Senate runoff in Alabama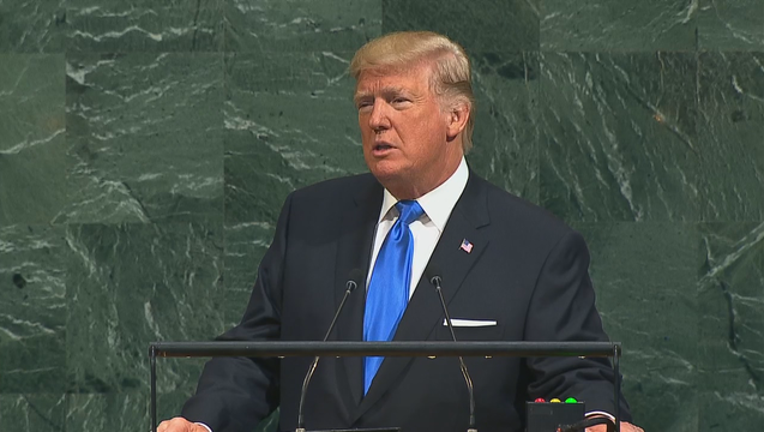 article
MONTGOMERY, Ala. (AP) - President Donald Trump is embracing the establishment pick in a Republican runoff election in Alabama. But it's not clear his still-loyal base will follow.
The president arrived in Huntsville, Alabama, Friday to stump for an establishment-backed incumbent over an upstart favored by many of his supporters, including former White House chief strategist Steve Bannon.
Trump is headlining a rally for Sen. Luther Strange, who was appointed in February to temporarily fill the seat that opened up when Jeff Sessions became attorney general. Strange greeted Trump on the tarmac at Huntsville International Airport and traveled with him to the rally.
Trump took the stage before over 7,000 cheering fans in Huntsville Friday night, entering to Lynyrd Skynyrd's "Sweet Home Alabama."
"I'm thrilled to be here with a really great person that I've gotten to know," Trump said. "On Tuesday we're going to send a real fighter and a real good guy from Alabama to the United States Senate on a permanent basis."
Despite Trump's endorsement and heavy spending by a super political action committee tied to Senate Majority Leader Mitch McConnell, Strange is locked in a tight race against former Alabama Chief Justice Roy Moore, a jurist known for opposing gay marriage and pushing unsuccessfully for the public display of the Ten Commandments.
Alabamians attending the Friday night rally were united in support of Trump, but divided over who should be the state's next senator. And for some Alabama Republicans, the support of a president they adore wasn't enough to dissuade them from supporting Moore.
"Vote for Roy Moore, a man of God," Cal Zastrow repeated to the supporters filing into the Von Braun Civic Center, often getting a thumbs up or enthusiastic "I am" in reply.
One of those was Laura Skipper. She attended rallies in support of Moore in 2003 when he was removed as Alabama chief justice.
"I am a huge supporter of President Trump. This is a once-in-a-lifetime chance to see the president, but I am a Moore supporter. I love what he stands for," Skipper said.
Other Moore backers include former Alaska governor Sarah Palin, who headlined a rally Thursday night. Before several hundred cheering supporters, she stressed her support for the president, while arguing that Moore was a better match for Trump's "movement."
"A vote for Judge Moore isn't a vote against the president. It is a vote for the people's agenda that elected the president," Palin told several hundred cheering supporters.
Moore also appears to have the support of Housing and Urban Development Secretary Ben Carson - though a confidant insisted his praise wasn't an endorsement.
In a statement released by Moore's campaign, Carson called the former judge a "fine man of proven character and integrity" who "reflects the Judeo-Christian values that were so important to the establishment of our country."
But Armstrong Williams insisted the praise was "not an endorsement" and said Carson was "just showing support for his friend."
Moore led Strange in the first round of GOP voting, but not by enough to avoid the runoff. The two Republicans traded jabs at a Thursday night debate, with Strange stressing that "the president supports me" and Moore arguing that McConnell and the "elite Washington establishment" were trying to influence the race.
Both have emphasized their support for Trump, who remains popular in the deep red state.
Trump allies say he is genuinely appreciative of Strange's loyalty and support. But the visit comes at the urging of top Republicans, who worry Moore would be a disruptive figure in the Senate, or might even lose to Democrat Doug Jones. McConnell spoke with Trump recently and assured him that Strange was much more competitive than recent public polls suggested, according to a person with knowledge of the call who requested anonymity to discuss it.
In 2010 and 2012, the GOP had a few disastrous Senate primaries where extreme candidates won and then lost winnable races to Democrats in the general election. Since then, McConnell has been determined not to let it happen again - and has succeeded in every instance.
But the pro-Moore forces have shown no signs of retreat. He is also being boosted by conservative website Breitbart News and the Great America Alliance, an advocacy group that supports Trump.
___
Lucey reported from Washington. AP Congressional Correspondent Erica Werner and Jill Colvin in Washington contributed to this report.