South Fulton mayor released after arrest, report details incident that led to charges
SOUTH FULTON, Ga. - The mayor of South Fulton was arrested Saturday morning. Khalid Kamau was later booked into Fulton County Jail on the charges of criminal trespass and burglary in the first degree.
His bond was set at $11,000. Around 8 p.m., the mayor was released.
"I do want to thank the South Fulton police and the staff of officers for their courteous and professional service throughout the day," Kamau told reporters as he exited the jail. He would not answer any questions about the charges.
Mayor Khalid Kamau speaks to reporters after being released on bond from the Fulton County Jail Saturday evening.
From: FOX 5 Atlanta
On Sunday, the South Fulton Police Department released the police report that led to the mayor's arrest.
In the official document, it states the homeowner received a surveillance notification that someone was walking onto his Cascade Palmetto Highway property at 6:52 a.m.
The owner told police he watched that person, later identified as the mayor, walk up his driveway and enter his lake house. He told police that he couldn't see what Kamau was doing inside the house, so he called 911. Five minutes later, Kamau walked out and the owner approached him, telling him to "stay put."
"I don't have to listen to you, and you can't give me orders," Kamau responded, according to record. The owner said he did not identify himself as the mayor of South Fulton until the owner took out a gun and held it by his side.
"Do you know who the f--- I am," the mayor yelled at the owner, according to the report. "I'm the mayor, and I'll wait for my police force to get here and see what happens then."
When police arrived to the scene, they said Kamau's recollection of the events differed.
Kamau told the officer he was driving by the lake house, on his way to take his dog to the park when he decided to stop and take a look inside. He told officers the property was his dream home, and he was interested in purchasing it.
The mayor told the officer he was aware he was criminal trespassing at the time. He also recalled a more aggressive manner in which the owner tried to stop him when he was exiting the house.
"No motherf-----, you stay right there," Kamau's side of the story in the report read.
The mayor told the officer he then tried to introduce himself, but the owner pulled out a gun and cocked it.
"If you take another step, I'm going to shoot you," Kamau said the owner told him.
"Are you going to shoot me while I'm walking away," Kamau said he asked back. He said that's the moment he formally introduced himself as the mayor and apologized for walking in the house, stating that he thought it was abandoned.
Kamau was taken into custody.
FOX 5 Atlanta caught up with him at the South Fulton precinct a few hours after, and was able to speak with him briefly.
"I just wanted to see the house," Kamau told FOX 5 reporter Deidra Dukes. "I do apologize to the owners. I thought it was abandoned."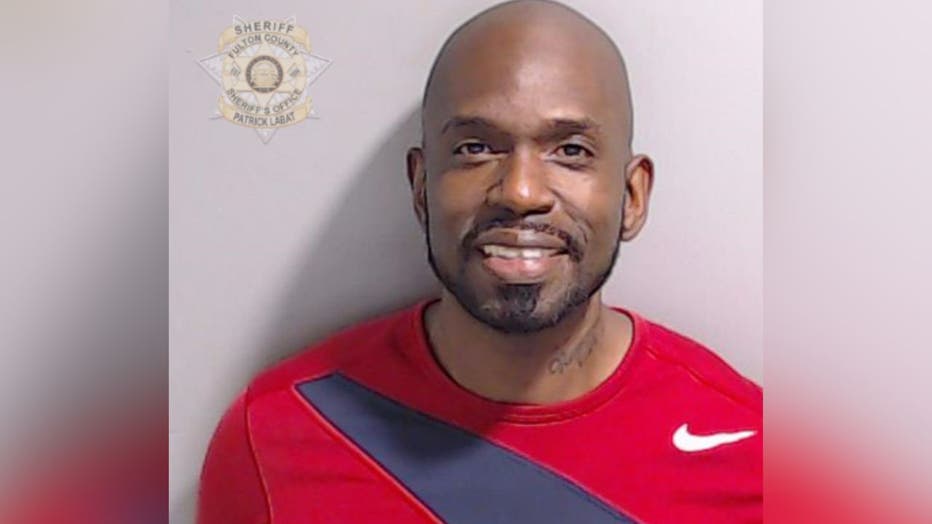 City of South Fulton Mayor Khalid Kamau (Credit: Fulton County Jail)
In his mugshot, he wore a big smile. Moments earlier, he said he was sorry.
"I apologize for the negative attention that this is brought to our city," Kamau said. "I hope that the spotlight on our city right now will highlight some of the inequities that have been happening."
When Deidra pressed the mayor if he was admitting guilt of the charges, he replied, "I think that's for the voters to decide."
South Fulton police said they were later notified there was not enough evidence to support a warrant for burglary.
Mayor Pro Tempore Natasha Williams-Brown was called in to serve as temporary mayor on Saturday while Kamau was unavailable.
RELATED: South Fulton acting mayor says business to resume as normal despite Khalid Kamau's arrest
Mayor Khalid Kamau was sworn in as mayor in January 2022.
Almost immediately, he began butting heads with other city officials. Shortly after he was sworn in, he was admonished by the city council for calling for the resignation of three appointed city workers. 
In July 2022, he announced that he was suing city council members and the city attorney for what he called violations of the Open Records Act and details about investigations he thought the public should know about. 
In March 2023, members of the city council filed a lawsuit seeking to remove Kamau from office, saying he violated a city charter. 
In April 2023, the police shut down a community Easter egg hunt because the mayor's office didn't obtain a permit for the event. Kamau said at the time that he believed the shutdown was a move of retaliation by city leaders and the chief of police. 
During his campaign for mayor, Kamau promised to move into a troubled apartment complex before making a decision about its future. He fulfilled that promising and gained national exposure by doing so. 
Before being elected to city council in 2017, Kamau worked as a labor and community organizer.
FULL FOX 5 ATLANTA INTERVIEW WITH SOUTH FULTON MAYOR KHALID KAMAU
This story is developing. Check back for details. If you have additional information, pictures, or video email newstipsatlanta@fox.com.