Georgia indictments: 2 Trump co-defendants surrender at Fulton County Jail
FULTON COUNTY, Ga. - Scott Hall and John Eastman, two of the defendants in Fulton County's indictment of former President Donald Trump and his allies for alleged illegal scheming to overturn Georgia's 2020 election results, have turned themselves in Tuesday morning.
Records from the Fulton County Jail show that the bail bondsman and the former president's lawyer surrendered to authorities at the jail Tuesday morning.
Court records do not show if Hall or Eastman have been released on bond. Hall's bond was set at $10,000 for his seven charges. Eastman has agreed to a $100,000 bond.
John Eastman (Fulton County Sheriff's Office)
As part of the sweeping indictment, Fulton County District Attorney Fani Wilis charged Hall with two counts of felony conspiracy to commit election fraud, three counts of conspiracy to commit a felony, a violation of the Georgia Racketeering Influenced and Corrupt Organization Act, and conspiracy to defraud the state or political subdivision. Eastman has been charged with two counts of conspiracy to commit false statements and writings, conspiracy to commit the filing of false documents, two counts of conspiracy to commit forgery in the first-degree, conspiracy to commit the impersonation of a public officer, filing false documents, socilitation of the violation of oath of office by a public officer, and two counts of violating Georgia's RICO law.
WHO ARE THE 19 PEOPLE INDICTED IN FULTON COUNTY'S ELECTION INTERFERENCE CASE?
John Eastman indicted in Georgia election investigation
John Eastman surrenders at the Fulton County Jail on Aug. 22, 2023 and speaks to the press.
From: FOX 5 Atlanta
A former dean of Chapman University law school in Southern California, John Eastman, one of Trump's lawyers, was deeply involved in some of his efforts to remain in power after the 2020 election. 
He wrote a memo arguing that Trump could remain in power if then-Vice President Mike Pence overturned the results of the election during a joint session of Congress where electoral votes would be counted. That plan included putting in place a slate of "alternate" electors in seven battleground states, including Georgia, who would falsely certify that Trump had won their states.
"I'm here today to surrender to an indictment that should never have been brought," Eastman told reporters after pulling up to the facility Tuesday afternoon. He still maintained the 2020 election was stolen.
"My legal team and I will vigorously contest every count of the indictment in which I have been named and also every count in which others are named," he said.
Kenneth Chesebro and Ray Smith, the other two attorney's accused of planning the fake elector strategy, are expected to surrender to authorities in the upcoming days.
"I am confident that when the law is faithfully applied in this proceeding, all of my co-defendants and I will be fully vindicated," he told reporters.
Scott Hall indicted over Coffee County voting machine breach allegations
The charges against Hall stem from allegations that he and others breached voter equipment in Georgia's Coffee County.
According to a recording filed in court in 2022, Hall said he'd chartered a jet and was with a computer forensics team at the Coffee County elections office when they "imaged every hard drive of every piece of equipment."
That happened on Jan. 7, 2021, a day after the violent insurrection at the U.S. Capitol and two days after a runoff election in which Democrats swept both of Georgia's U.S. Senate seats.
TRUMP, ALLIES RICO CHARGES IN GEORGIA EXPLAINED
The trip to Coffee County, about 200 miles south of Atlanta, to copy data and software from elections equipment was directed by attorney Sidney Powell and other Trump allies, according to deposition testimony and documents produced in response to subpoenas.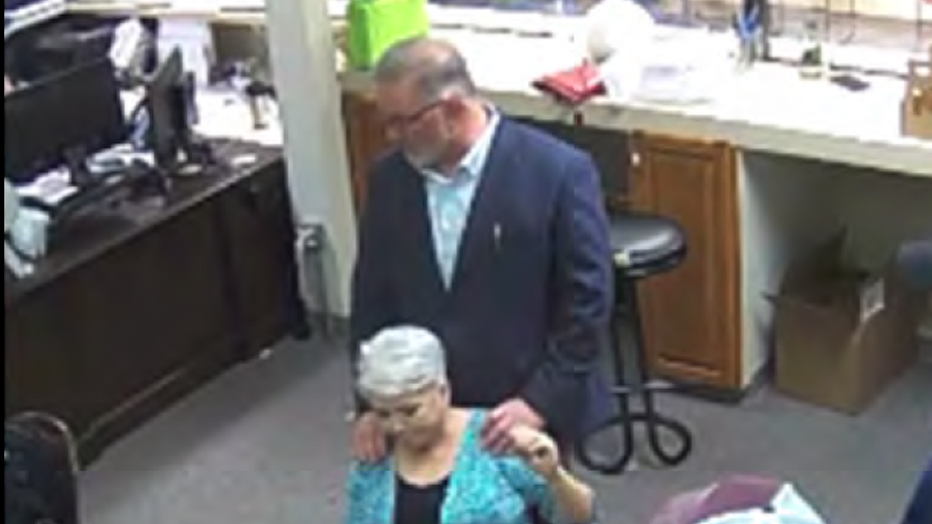 Scott Hall with "alternate" Trump elector Cathy Latham inside the Coffee County Elections Office (evidence photo)
Later that month, security camera footage shows, two men who have participated in efforts to question the results of the 2020 election in several states spent days going in and out of the Coffee County elections office.
BONDSMAN WHO FAILED TO GET GWINNETT SHERIFF ARRESTED NOW FACING GBI INVESTIGATION HIMSELF
Security cameras also recorded Hall warmly interacting with Cathy Latham, the former county GOP chair and one of the so-called false electors for Trump. Latham was also indicted in the Fulton County grand jury's investigation.
Secretary of State Brad Raffensperger said the effort was unauthorized. The state had to spend $400,000 to replace the tampered voting equipment. No flaws were ever confirmed.
WHAT'S NEXT FOR FORMER PRESIDENT DONALD TRUMP, CO-DEFENDANTS IN FULTON COUNTY
The Associated Press contributed to this report.