New Roswell task force to revisit talks of Canton Street promenade rebuild
ROSWELL, Ga. - There's a new task force in Roswell that will take a closer look at a plan to close off a popular street to vehicles.
Four business owners and three residents make up the task force that will study the impact of turning a section of Canton Street into a walking promenade.
"It's a task force to determine does a trial period make sense," said Mayor Kurt Wilson.
Mayor Wilson first announced the plan to make this area pedestrian only back in the spring, saying not allowing cars will keep pedestrians safe and add an even more energetic vibe to the area.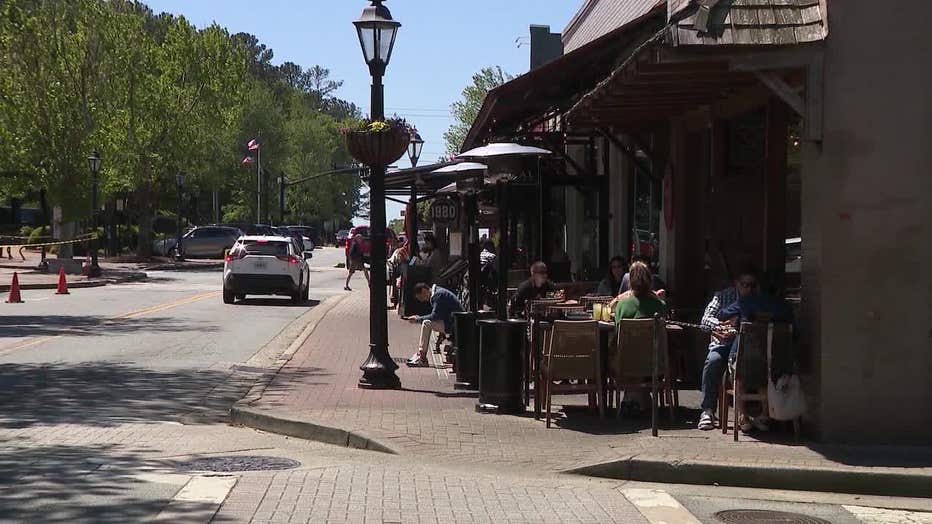 A plan to close of a busy section of Canton Street in Roswell has been paused to allow business owners and community leaders to take a closer look at the proposal. (FOX 5)
Many business owners shot down the idea saying it would only add to the parking and traffic problems and would ultimately be bad for business.
"The best thing and the right thing for the city was to say lets slow it down and create more engagement, and so we created a task force," said Mayor Wilson.
Some business owners and residents think the task force has been stacked with people who are in favor of closing off the street to vehicles.
The city of Roswell and some business owners are at odds over a plan to close a section of Canton Street, one of the busiest in the downtown area, to traffic. (FOX 5)
"Everyone who was outspoken from day one applied and not one of us got on," said Jenna Aronowitz, who owners the 1920 Tavern.
"What I feel has happened is because we were vocal against what they were trying to do we were blackballed," said Susan Tyser who lives near Canton Street.
Aronowitz says she hopes those on the task force will listen to her concerns.
"I'm just going to show up and guide them as best as I can," said Aronowitz.
80 people applied to be on the task force. The seven who were selected will look at the pros and cons and will report back to the council in 45 days.