Recycling center blames SK Battery for fire that destroyed business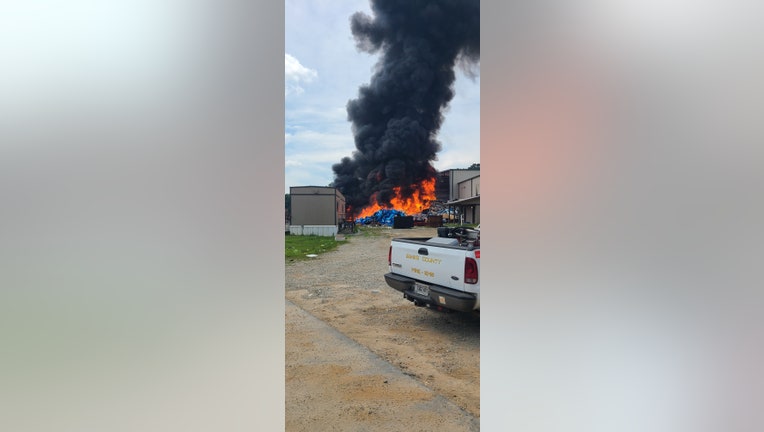 article
COMMERCE, Ga. - The owner of a recycling center in Banks County blamed SK Battery for causing a tremendous fire last month that destroyed his business.
Metro Site accepted industrial waste for recycling such as paper, plastic, and metals.
It is not permitted to accept hazardous waste like lithium-ion batteries; the kind manufactured at SK's sprawling Commerce plant three miles away.
On the afternoon of July 14, owner Scott Ledford got a call from one of his workers: 
"Come back to the recycling center. It's on fire."
"When I pulled out on the main road, I could see the fire from about 10 miles from here," Ledford told the FOX 5 I-Team.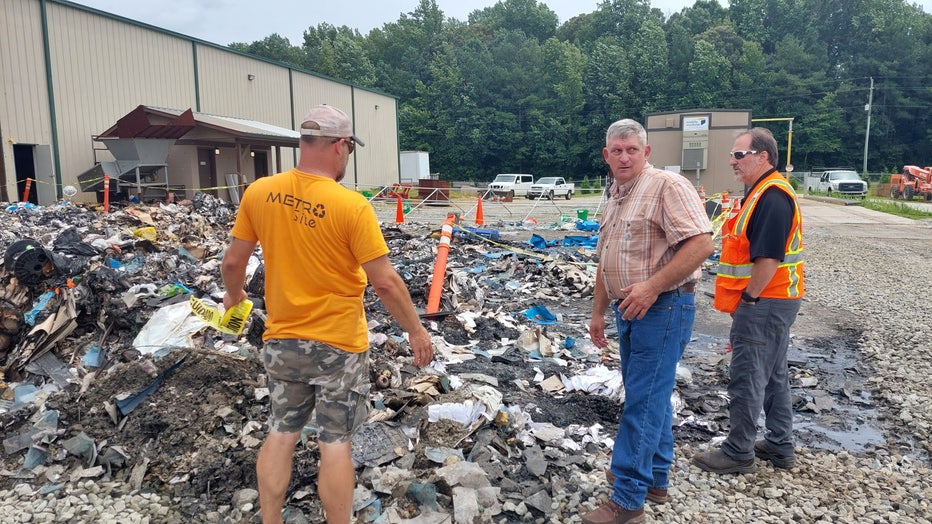 Scott Ledford (center) hoped his recycling center could be a model used by others to help protect the environment.
When he arrived, he said the fire had spread from a section of material delivered by SK Battery, flames leaping high into the air, and creating a plume of thick black smoke.
Even though the Banks County Fire Department staffs a station directly next door, firefighters could not keep the blaze from spreading through the building. Metro Site was a total loss.
Firefighters sprayed 3-million gallons of water before finally extinguishing the fire four days later.
"There were batteries in there and that would explain the amount of heat that we had involved," explained Banks County Fire Chief Steve Nichols.
According to a lawsuit Metro Site filed on July 30 against SK Battery, workers discovered two lithium-ion batteries near the start of the fire.
It wasn't the first time.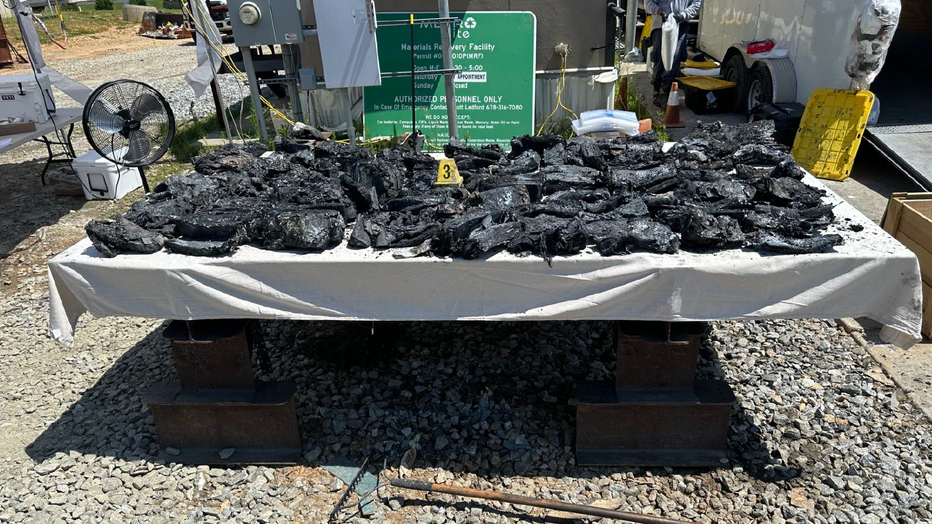 Metro Site provided this picture of what they say are dozens of burned lithium-ion batteries discovered in the fire debris. 
According to the lawsuit, SK Battery America was caught "illegally dumping charged pouch cell LIBs" (lithium-ion batteries) six other times during previous deliveries of recycling materials.
SK Battery "assured Plaintiff that proactive, preventative measures would be put in place and there would be no further illegal dumping and delivery of charged pouch cell LIBs…"
While the FOX 5 I-Team visited, workers discovered dozens of additional batteries buried in the debris, matching the kind the fire chief said he saw.
The collection was sent to a South Carolina lab for testing. No official cause of the fire has been determined so far.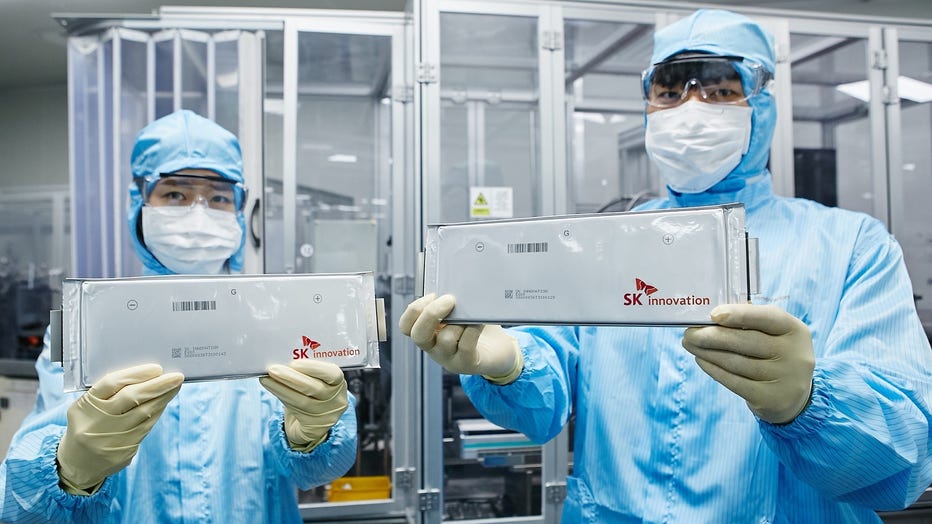 A photo from a 2020 news release showing SK's "EV battery cells."
An SK Battery spokesman declined to answer any of our questions but issued a written statement:
"Given the ongoing nature of the litigation, we cannot comment on specific details or issues related to the case at this time."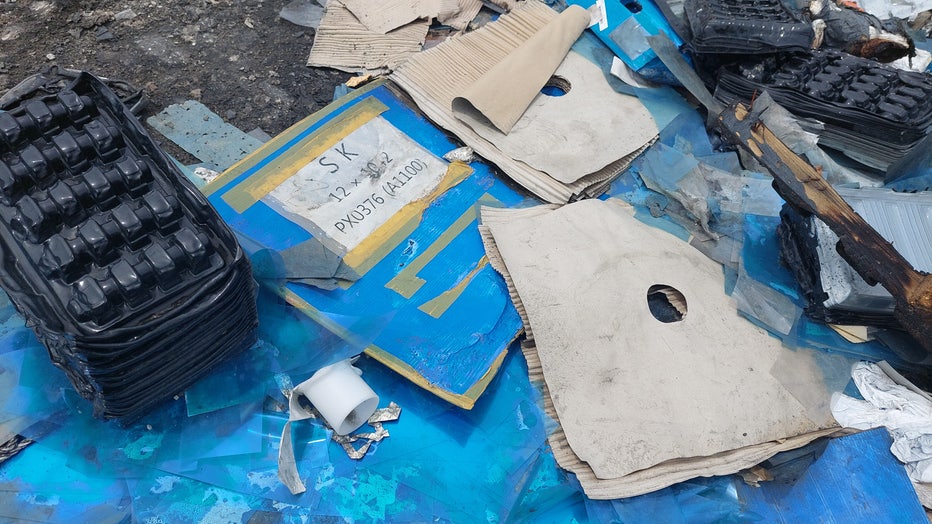 Metro Site said it accepted hundreds of loads of recyclable material from the SK Battery plant three miles away. According to a lawsuit, SK was repeatedly told to stop sending hazardous waste like lithium-ion batteries.
SK makes electric vehicle batteries in Jackson County for the Ford F-150 Lightning and the VW ID.4.
Ledford regretted not banning all SK Battery material after the company pledged not to send him any more batteries.
"I had no reason to think they wouldn't," he said. "But at some point, how many chances do you give somebody?"
Does he think he gave them too many chances?
"Absolutely," replied Ledford.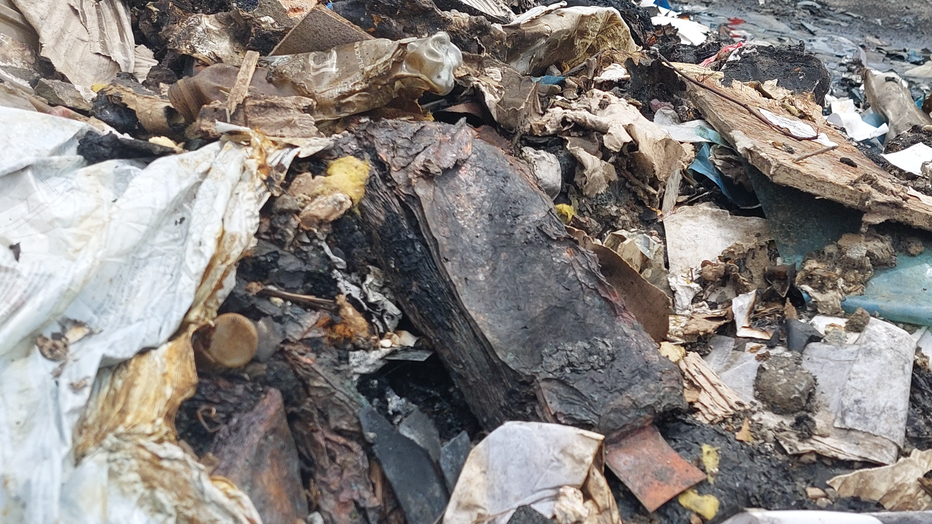 The lithium-ion battery that was spotted during our visit.
The fire danger from lithium-ion batteries is already getting national attention.
Last month, the Consumer Products Safety Commission held hearings after a series of fatal fires across the country involving sudden explosions from defective LIBs.
"Lithium-ion batteries are now a top cause of fatal fires in New York," testified NYC Fire Commissioner Laura Kavanaugh.
In his lawsuit, Ledford said SK Battery representatives came to the fire scene a week later and witnessed the discovery of the batteries.
It was the latest of many visits; he said.
"They've always made comments. Oh, we'll make it right. We're here to do right by you and all that kind of stuff," he recounted. "That was the sell at the table, but now when the damage is done, it's nothing but crickets."
His lawsuit asks for $26.5 million in damages.