Pair of inseparable pups looking for family to adopt them both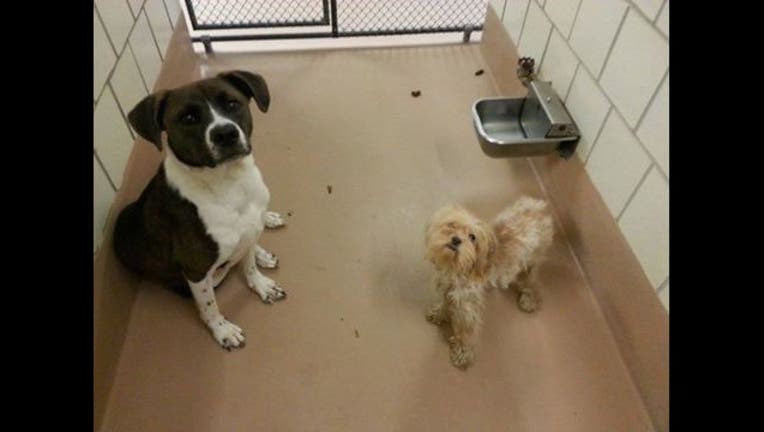 article
UPDATE: The small terrier has been adopted but the brown, lab mix is still needing a forever home. Anyone interested in adding the pup to their family is encouraged to call Rockdale County Animal Services at 770-278-8403.

An odd pup-couple is begging for treats, belly rubs and a forever home. The duo was first rescued and brought to Rockdale County Animal Control after being spotted wandering the streets of Conyers together. The pair features a young, female pointer/lab mix and a young, small male terrier mix. Both are reportedly "inseparable" and the best of friends.
Staffers at the Conyers shelter say the larger of the two is very protective of her shy terrier friend. Although both are in good health, the duo needed a bath and grooming as they suffered from a bad case of fleas. But now the pair is ready for adoption, preferably as a package deal, to a loving home.
"We haven't named them yet, we're saving that for their new adoptive family," claimed a volunteer at the Rockdale Animal Control. "And since they came in together we have kept them together. They seem happiest that way."
The two pups arrived at the shelter on June 11 and have been available for adoption since Wednesday, June 17. And while many people have looked at either one or the other dog, no one has yet volunteered to adopt the duo as a package deal.
If you think you could add the odd pup couple to your family, you are asked to call the Rockdale County Animal Control facility at 770-278 - 8403.