Strong storms return to North Georgia
ATLANTA - UPDATE
Late day thunderstorms return to north Georgia during the second the half of Monday.
The storms will fire up after temperatures rise from the low to mid 70s to highs in the mid to upper 90s.
Forecast for Monday, Aug. 7, 2023.
An Enhanced (3/5) Risk for severe thunderstorms is in effect tomorrow for portions of northeast and east central Georgia.
Forecast for Monday, Aug. 7, 2023.
The primary hazard of concern is damaging wind gusts in the strongest storms that form, with widespread impacts possible tomorrow.  The greatest impacts should occur between 3 and 6 p.m.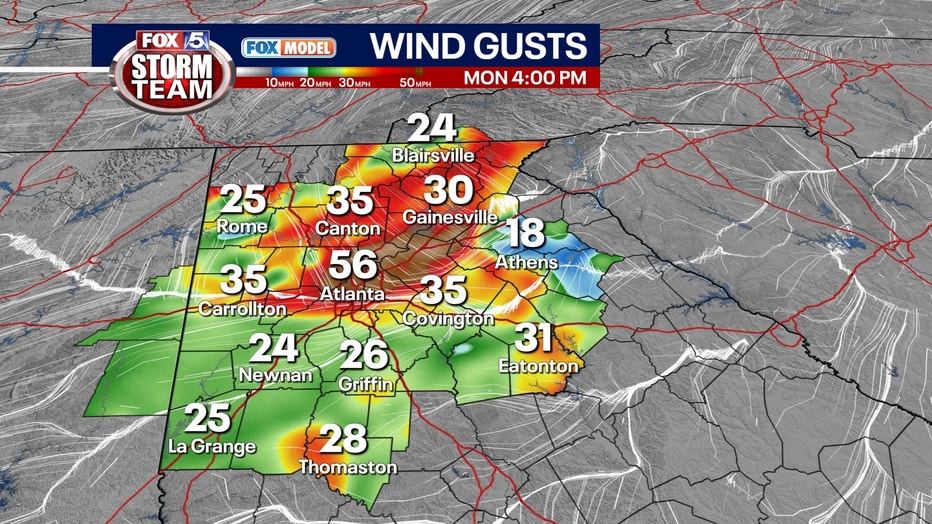 Forecast for Monday, Aug. 7, 2023.
ORIGINAL STORY
It looks like it could be a wet week for North Georgia, and it all starts on Sunday afternoon.
According to FOX 5 Atlanta's meteorologists, there is a Level 1 out of 5 risk for severe weather for all of North Georgia today and a Level 2 risk for northwest Georgia.
There will be periods of heavy rain, frequent lightning, damaging winds and even a brief, spin-up tornado is not out of the question for the Level 2 areas.
COBB COUNTY EMC POWER OUTAGE MAP
NORTH GEORGIA EMC POWER OUTAGE MAP
Trees down in Lindale, Georgia after storm rolls through Aug. 6, 2023.
On Monday, the threat of severe weather increases and  residents can expect even more rain, lightning and gusty winds. All of North Georgia will be at a Level 2 and northeast Georgia will increase to Level 3.
Sunday's high is expected to be 94 degrees. Sunday night, the temperature will drop to 74 degrees.
On Monday, the high temperature is expected to be 95 degrees.
The chance for rain will continue on Tuesday and Wednesday, but chances drop significantly.
KEEP UP WITH THE LATEST BY DOWNLOADING THE FREE FOX 5 STORM TEAM APP AND FOLLOWING @FOX5STORMTEAM ON TWITTER
Temperatures will remain in the low 90s for next week and will drop to the low 70s at night.