New Georgia law could make it easier for cancer patients to get access to personalized cancer care
ATLANTA - Patty Watkins believes she is here today, sitting with her husband Kent, because of biomarker testing.
Back in 2014, when the 66-year-old mother of two was in her mid-50s, Watkins says, she was in the best shape of her life.
But, Watkins ended up in the ER with severe leg pain, and blood clots, undergoing exploratory surgery to find out what was wrong.
She woke up to stunning news.
"My husband Kent was on my left side, and my thoracic surgeon was at the foot of my bed, saying that I had stage 4 lung cancer, out of the blue."
Watkins, who says she has never smoked, learned that her cancer had already spread beyond her lungs.
She got a break when her doctor sent off a sample of tissue from her tumor for biomarker testing.
It revealed she had a ROS1 gene mutation driving her cancer.
"There was one drug that was experimental, that worked for another mutation, and they tried me on it," Watkins says. "And, guess what. It worked."
For nine years, Watkins has been navigating one clinical trial after another, finding experimental treatments that target her specific mutation, even as the cancer spread to her brain.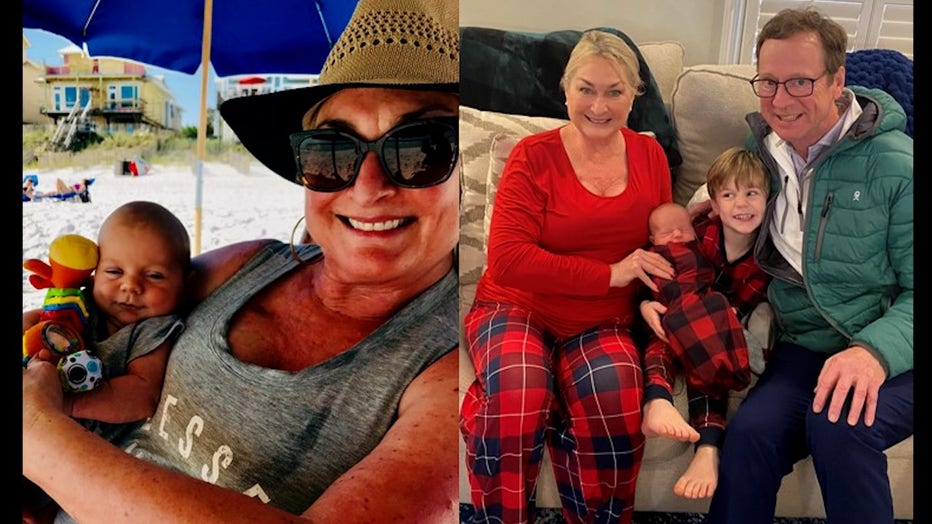 Patty Watkins was diagnosed with stage 4 lung cancer in 2014.  (Patty Watkins )
She has been able to see her sons marry and her grandchildren grow up.
In March, the Georgia Legislature passed a bill that would require insurance providers to cover the cost of biomarker testing when it is deemed medically and scientifically necessary.
The bill is now waiting on Georgia Gov. Brian Kemp's signature.
Dr. Suresh Ramalingam, executive director of The Winship Cancer Institute of Emory University, says the tissue or blood biomarker tests generally cost between $3,000 and $5,000.
Still, Dr. Ramalingam argues, biomarker testing saves insurance providers money in the long run by helping doctors find the treatment that has the best chance of working for a patient, especially for diseases like lung cancer, Ramalingam's specialty.
"We do not start therapies until we actually have connected biomarker testing that allows us to decide which treatment is going to work for this particular patient sitting in front of me, which will be different for the next patient and the next patient," he says. "That helps me make the best treatment decisions for the patient, and that gives that patient the best chance of beating their disease."
The American Cancer Society says biomarker testing is required or recommended for about 60% of new cancer treatments developed in the last 5 years.
Patty Watkins, who has become a lung cancer advocate, says most lung cancer patients are missing out on this kind of personalized testing.
"Eighty percent of cancer patients that could be tested and could be treated with a precise medicine aren't being tested," Watkins says. "A lot of times the doctors even make the decision for the patient, thinking they can't afford it."
Today, nine years out from her diagnosis, Watkins says she is active and feeling good.
"I walk 10,000 steps a day," she says. "I do Pilates. I do everything."
Watkins hopes the biomarker testing law will give other lung cancer patients a better shot at survival.
"It's just going to give great hope to patients," Watkins says. "Now, we just need the doctors to do the testing, too."