Indicted: Ex-White House Chief of Staff Mark Meadows seeks to move case to federal court
FULTON COUNTY, Ga. - Former White House Chief of Staff Mark Meadows will be appearing before a federal judge later this month after filing to move the case brought against him by Fulton County District Attorney Fani Willis from state court to federal court.
FULTON COUNTY GRAND JURY INDICTS TRUMP, ALLIES IN 2020 GEORGIA ELECTION CASE
This came just a day after Meadows, along with former President Donald Trump and 17 others, was indicted on charges related to their alleged efforts to overturn the 2020 election results in Georgia.
WHO ARE THE 19 PEOPLE INDICTED IN FULTON COUNTY'S ELECTION INTERFERENCE CASE?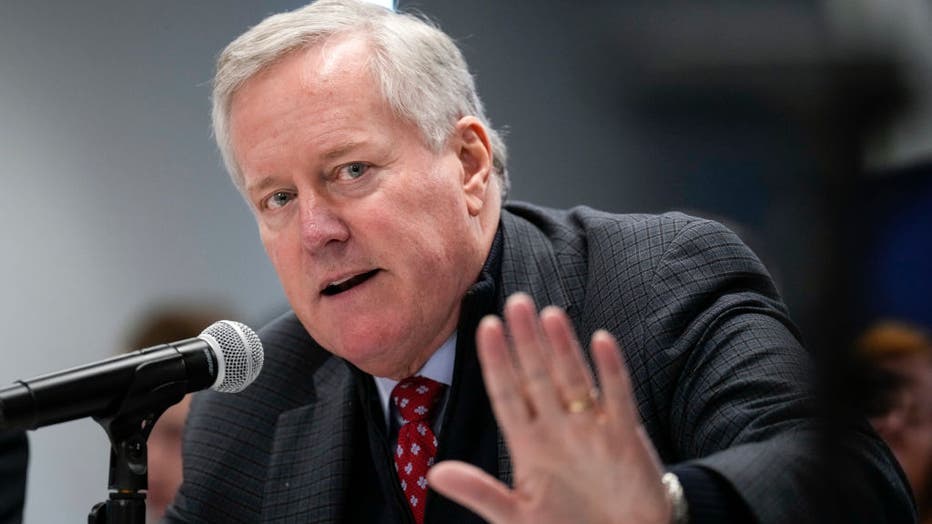 WASHINGTON, DC - NOVEMBER 14: Former White House Chief of Staff during the Trump administration Mark Meadows speaks during a forum titled House Rules and Process Changes for the 118th Congress at FreedowmWorks headquarters on November 14, 2022 in Was
Meadows' attorney, George Terwilliger, argued in the filing that the actions attributed to Meadows in the indictment were not inherently criminal. He said arranging meetings in the Oval Office, contacting state officials on behalf of the President, visiting state government buildings, and facilitating phone calls for the President are all part of the Chief of Staff's responsibilities and should be expected.
FORMER PRESIDENT TRUMP SAYS HE WILL RELEASE REPORT THAT WILL EXONERATE HIM ON MONDAY
The filing also suggests Meadows may file a motion to dismiss the indictment entirely.
U.S. District Judge Steve Jones, in a ruling issued on Wednesday, stated that DA Willis will be given a chance to respond to the matter in writing. An evidentiary hearing will then be held on Monday, Aug. 28 at 10 a.m. That is three days after the 19 co-defendants must turn themselves into the Fulton County Jail.
The federal judge further ordered "proceedings may continue in the Superior Court of Fulton County, Georgia" until a ruling is rendered on the matter.