Mark Meadows' emergency motion to 'prohibit' arrest in Georgia 2020 election case denied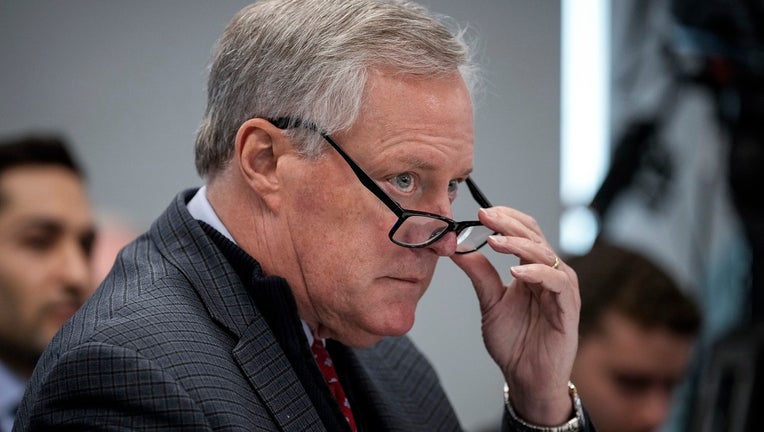 article
ATLANTA - A federal judge has denied former White House chief of staff for Donald Trump, Mark Meadows' request to stay his arrest in Fulton County pending the outcome of an evidentiary hearing that his RICO charges in connection to the 2020 Georgia election interference indictment be moved to federal court.
In Wednesday's ruling, the judge stated there was not enough proof to summarily move the case and that the state case should continue until the federal court notifies the state court they have jurisdiction.
"While Meadows's imminent arrest may present an actual injury, there are strong countervailing reasons to not enjoin the state criminal proceedings," the ruling stated.
"Thus, the Court determines that, the clear statutory language for removing a criminal prosecution, does not support an injunction or temporary stay prohibiting District Attorney Willis's enforcement or execution of the arrest warrant against Meadows," the ruling continues.
Fulton County District Attorney Fani Willis gave Meadows, former President Donald Trump and 17 other defendants until noon Aug. 25 to turn themselves into Fulton County authorities.
Meadows asked for "a modest extension of that [Friday at Noon] deadline," and had hoped to "be prepared to meet and confer … immediately following the federal court hearing—which is scheduled for less than one business day after the current deadline"—to "discuss the best path forward based on the outcome of the hearing, including a prompt voluntary surrender in Fulton County, if appropriate."
Willis dismissed that request out of hand, replying that she is not giving any extensions. That opens up for the possibility of his being arrested if he does not comply, and the federal court does not step in.
Meadows supported Trump when he represented North Carolina's 11th congressional district. He replaced Mick Mulvaney as the chief of staff in early 2020, just before the COVID-19 pandemic. He fiercely defended Trump while serving as chief of staff and was a central figure in the Jan. 6 hearings.
Official say Meadows visited Cobb County while state investigators were conducting an audit of the signatures on absentee ballot envelopes in December 2020. Mark Meadows obtained the phone number of the chief investigator for the secretary of state's office, Frances Watson, and passed it along to Trump, who called her. He also participated in the Jan. 2, 2021, phone call between Trump and Georgia Secretary of State Brad Raffensperger.
The Associated Press contributed to this report.