Man charged in Beecher crash that killed mother, 3 sons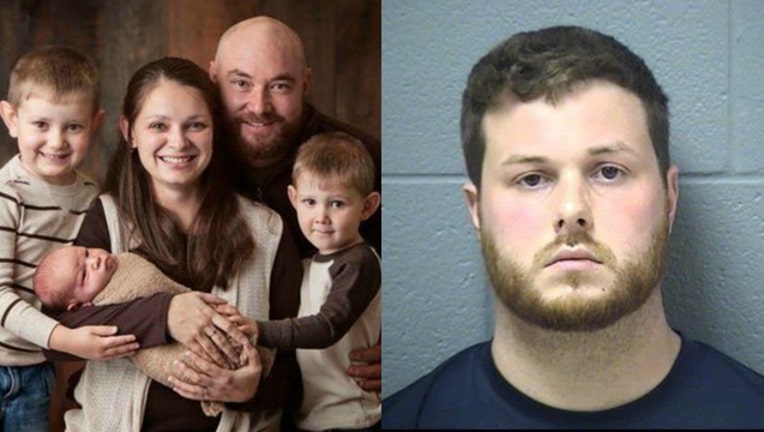 article
SUN-TIMES MEDIA WIRE - A man is facing reckless homicide charges for allegedly causing a crash last month in Will County that killed a pregnant woman and her three children as she drove them to Bible camp.
Will County State's Attorney James Glasgow and Sheriff Mike Kelley on Tuesday announced the arrest of Sean Woulfe, 25, of Beecher on charges of reckless homicide.
Chief Judge Richard Schoenstedt signed a warrant for Woulfe's arrest on 16 counts of reckless homicide, and he was arrested at his home without incident Tuesday morning, according to prosecutors. He was being held on a $1 million bond set in the warrant.
Woulfe, a former Manteno resident, will appear by closed circuit video at 9 a.m. Wednesday in Courtroom 405 of the Will County Courthouse in Joliet for the formal presentation of charges, according to prosecutors.
The felony charges allege that Woulfe was speeding in excess of 20 mph over the 55 mph limit when he ran a stop sign, causing the crash that killed Lindsey Schmidt, 29, and sons Caleb, 1; Weston, 4; and Owen, 6, all of Beecher, prosecutors said. Two of the counts charge him with the death of Lindsey Schmidt's unborn child.
The family was in a 2014 Subaru Outback that collided with Woulfe's 2002 Chevrolet S10 pickup truck at 8:38 a.m. on July 24, in unincorporated Beecher, according to the Will County sheriff's office.
The pickup was eastbound on Corning Road and failed to stop at a stop sign at Yates Avenue; the Subaru was struck on the driver's side and rolled over into a field, police said.
The Subaru had been headed north on Yates, and northbound traffic has no stop sign.
Schmidt, 29, was driving the Subaru; she and Caleb were pronounced dead at the scene, according to the Will County coroner's and sheriff's offices.
Schmidt's other two sons were taken to St. Margaret Hospital in Hammond, Indiana, according to the sheriff's office, then transferred to Comer's Children Hospital.
Weston Schmidt died at Comer July 25, according to the Cook County medical examiner's office. Owen Schmidt died July 27.
Schmidt was also pregnant at the time of her death, according to the sheriff's office.
Friends said on Facebook that the family, including Edward Schmidt — Lindsey's husband and the boys' father — were active in their church and the community.
After the crash, Woulfe was taken to St. James Hospital in Chicago Heights, police said. He was transferred to Christ Medical Center in Oak Lawn to undergo minor reconstructive surgery for a large cut to his arm.
All of the charges against him are felonies, and he faces up to 10 years in prison.