Justice for Tortuguita sit-in attracts crowd at Georgia state capitol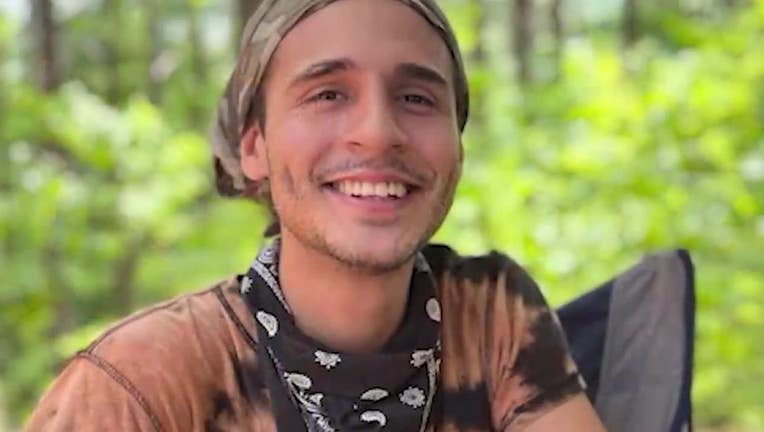 article
A sit-in took place Sunday at Georgia's capitol in support of 26-year-old Manuel Paez Teran, the activist who died during a confrontation with Georgia State Patrol troopers at the future site of the Atlanta Public Safety Training Center.
The "Justice for Tortuguita" sit-in was organized by Teran's family and Teran's mother is expected to speak along with other families who have lost loved ones because of law enforcement.
Teran was shot and killed on Jan. 18. Law enforcement has maintained that Teran shot at them first but Teran's family and other activists have disputed their version of events.
Teran's family released the findings of an independent autopsy on March 13 that indicates Teran was seated in a "cross-legged, with the left leg partially over the right leg" position at the time of the shooting.
The report also revealed that Teran was shot 14 times and "it is impossible to tell if [Tortuguita] had been holding a firearm, or not holding a firearm, either before [they were] shot or while [they were] being shot the multiple times."
RELATED STORY: Atlanta police release body camera video from shooting at public safety training site
Additionally, the report noted that there was no evidence of gunpowder soot and/or stippling on Teran's hands, which would have likely been present if Teran had fired a gun.
According to newly-obtained incident reports, Teran spoke briefly to the troopers who came to the protester's tent saying "No, I want you to leave" and reportedly refused their demands to leave the area even after being told that officers were about to fire chemical agents into the tent. The reports say that a trooper fired pepper balls in or near Teran's tent, which prompted the activist to open fire, striking one trooper. Six officers then opened fire on Teran's tent.
Teran's death has led to protests and additional unrest at the planned site. On Friday, DeKalb County CEO Michael Thurmond issued an executive order that makes it illegal to enter Intrenchment Creek Park, which is the park adjacent to the controversial site. Thurmond says police officers found booby traps inside the park and the county released photos showing wooden boards with pikes in them. 
Earlier this month, Atlanta Police say masked protesters hurled rocks and makeshift explosives at officers. Police arrested 23 people and were charged with domestic terrorism. 
What is the Atlanta Public Safety Training Center?
In addition to classrooms and administration buildings, the proposed $90-million police and firefighter training center would include a shooting range, a driving course to practice chases, and a "burn building" for firefighters to work on putting out fires. A "mock village" featuring a fake home, convenience store, and nightclub would also be built for authorities to rehearse raids.
The 85-acre property is owned by the city of Atlanta but is located just outside the city limits in unincorporated DeKalb County, and includes a former state prison farm.
Police officials say the state-of-the-art campus would replace substandard offerings and boost police morale beset by hiring and retention struggles in the wake of violent protests against racial injustice after George Floyd's death in 2020.
Opponents of the training center have been protesting since 2021 by building platforms in surrounding trees and camping out at the site. They say that the project, which would be built by the Atlanta Police Foundation, involves cutting down so many trees that it would be environmentally damaging. Many activists also oppose spending so much money on a police facility that would be surrounded by poor, majority-Black neighborhoods in a city with one of the nation's highest degrees of wealth inequality.
FOX 5 put together a full timeline of the progression of protests over the past two years, including the trooper-involved shooting death of 26-year-old protestor Manuel Esteban Paez.