House OKs GOP bill blocking Planned Parenthood funds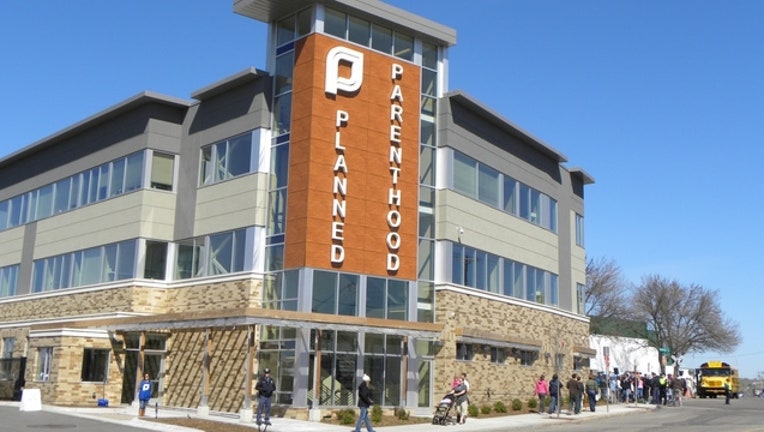 article
WASHINGTON (AP) -- A divided House voted Friday to block Planned Parenthood's federal funds for a year, as Republican leaders labored to keep GOP outrage over abortion from spiraling into an impasse with President Barack Obama that could shut down the government.
The House used a nearly party-line 241-187 vote to clear the legislation, which stands little chance of enactment. Senate Democrats have enough votes to block it, and for good measure the White House has promised a veto.
Yet Republicans are forging ahead, sparked by secretly recorded videos showing Planned Parenthood officials discussing how they obtain tissue from aborted fetuses for medical research.
Those videos have helped mushroom the longtime political fight over abortion into a prominent issue for next year's elections. They've also refueled Congress' always-emotional clashes on the subject, with Friday's debate featuring a poster-sized photo of a scarred, aborted fetus and accusations from each side that the other was simply trying to drum up campaign donations.
"In the face of these videos, with all the alternatives women have for health, why would you want to force your constituents to pay for something so evil?" said House Majority Leader Kevin McCarthy, R-Calif.
The bill by Rep. Diane Black, R-Tenn., would shift Planned Parenthood's federal payments to the thousands of government-backed community health centers, which Republicans said would treat the group's displaced patients.
Democrats said those clinics are already overburdened and often distant from women who need them. They said the true GOP goal was to whip up conservative voters with bills that would result in diminished health care for women.
"Some of their members are willing to risk women's lives just to score political points," said Rep. Debbie Wasserman Schultz, D-Fla. "Enough is enough."
Planned Parenthood gets around $450 million yearly in federal payments, mostly Medicaid reimbursements for handling low-income patients.
That's around one-third of the $1.3 billion yearly budget of the organization, which has nearly 700 clinics and provides sexual disease testing, contraceptives and abortions. Virtually none of the federal money can be used for abortions.
Abortion opponents say the tapes show Planned Parenthood illegally profited from tissue sales. Planned Parenthood says it's acted legally and says the tapes were deceptively edited.
The GOP assault on Planned Parenthood was being waged on several fronts.
The House was also considering a bill by Rep. Trent Franks, R-Ariz., that would impose criminal penalties on doctors who don't try saving infants born alive during abortions.
The Senate was ready to vote Tuesday on a measure banning most late-term abortions, and committees from both chambers were investigating Planned Parenthood.
Yet it was unclear if those moves would help House Speaker John Boehner, R-Ohio, solve a political Rubik's Cube.
Boehner, a long-time abortion foe, has twin goals. He's hoping to satisfy conservative lawmakers who might try to oust him as leader for not adequately confronting Obama.
But he's also trying to avoid a shutdown fight that GOP leaders worry would damage the party with voters and that they say they cannot win, because they lack the votes to prevail in the Senate or override Obama vetoes.
As a result, party leaders want to avoid entwining the GOP effort to halt Planned Parenthood's money with must-pass legislation needed to keep government agencies from closing on Oct. 1.
As Friday's debate raged, it underscored how the fight over abortion touches an emotional hotspot among each side's most loyal partisans and could be pivotal as each party seeks female voters.
Rep. Trent Franks, R-Ariz., sponsor of the bill imposing criminal penalties on doctors, defended his legislation as he stood beside a poster-sized photo of a scarred, aborted fetus that survived.
"Our response as a people and a nation to these horrors shown in these videos is vital to everything those lying out in Arlington Cemetery died to save," Franks said.
Democrats said Franks' measure was unneeded because clinicians allowing born-alive babies to die would face murder charges.
"Its real intent is to further undermine a woman's right to choose," said Rep. Judy Chu, D-Calif.
The Planned Parenthood issue has been partly fueled by the race for the GOP's presidential nomination. Several candidates used their Wednesday night debate to urge lawmakers to block that funding.
Sen. Kelly Ayotte, R-N.H., spotlighted GOP divisions by writing Thursday to Sen. Ted Cruz, R-Texas, one of the presidential hopefuls. Cruz wants Republicans to oppose financing the government unless Planned Parenthood's money is cut off, defending his effort during the debate by saying, "I'm proud to stand for life."
Ayotte, who faces her own tough re-election fight next year, wrote that she opposed risking a shutdown "given the challenges and threats we face at home and abroad" and asked, "What is your strategy to succeed in actually defunding Planned Parenthood?"