Incoming thunderstorms halt flights, disrupt MARTA transportation to Atlanta airport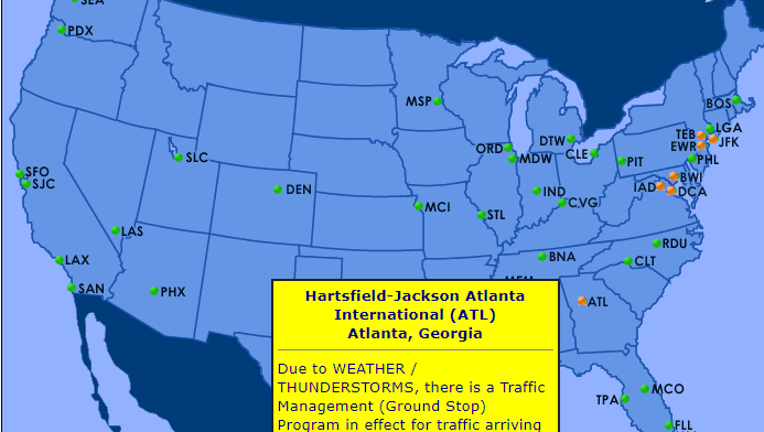 article
ATLANTA - Flights may be delayed to or from Atlanta's main airport due to incoming severe weather, according to officials.
Keep up with the latest by downloading the FREE FOX 5 Storm Team app and following @FOX5StormTeam on Twitter.
The National Weather Service issued the severe thunderstorm warning for Hartsfield-Jackson Atlanta International Airport Saturday evening.
Airport officials encouraged customers to check their flight for delays to see if they were affected.
The airport implemented a Ground Stop, a safety measure that slows or halts aircraft traffic at a specific airport. By 6 p.m., it appeared some of the aircrafts were beginning to move again.
SATURDAY STORMS KNOCK LIGHTS OUT FOR SOME GEORGIANS
Meanwhile, if you were planning on taking the train to or from the airport this evening, that plan may need some tweaking.
MARTA announced a power issue affecting trackways from the Airport to East Point. Bus shuttles will be taking passengers at the Airport, College Park and East Point stations instead. Riders can also opt in for an $8 Lyft credit, just click here.
This is a developing weather system. Check back for updates and changes to the forecast as they become available.