Gwinnett County man attacked, shot while taking out trash at apartment complex
GWINNETT COUNTY, Ga. - Gwinnett County officers are asking the public for help identifying two men accused of robbing and attacking a man while he was taking out the trash.
Officials say on Sept. 9, the man was cleaning his home at the Grove Pointe Apartments on the 4300 block of Jimmy Carter Boulevard when he was approached by two men in the parking lot.
"They said, 'Oh, we just sitting here chilling.' I said, 'Well, if y'all don't mind just move off in front of our breezeway....'and they were like, 'Aight, but you don't know who you're taking to,'" said Michael Thomas.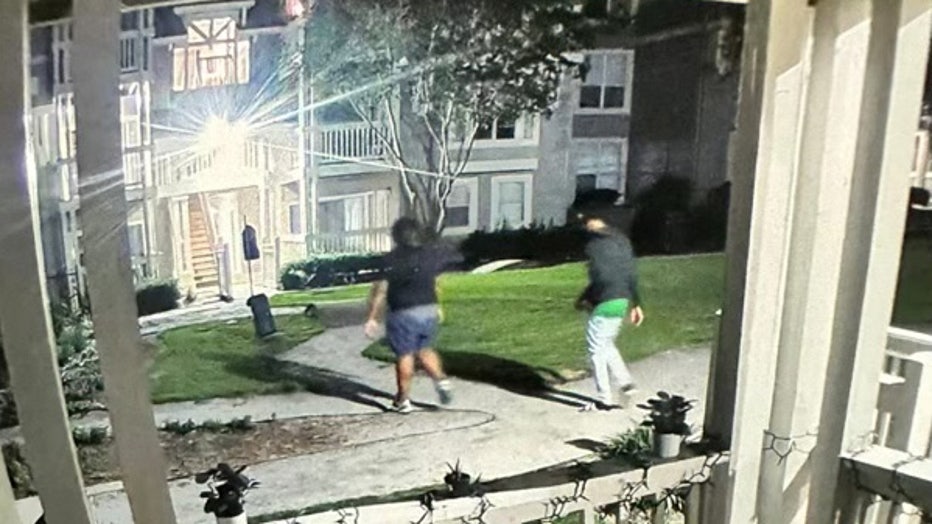 (Gwinnett County Police Department)
Witnesses say they saw one of the men pistol whip the victim in the head before the other shot him in the leg.
"He tried to shoot me in my head twice, but both of the bullets bounced off the rock. And the third person that was with them, took off running. I guess he didn't know that was going to happen, and then he turned around, and shot me in my right leg twice," said Thomas.
Medics rushed the man to a local hospital. 
"You won't be expecting something like that to happen because you asked somebody to move out of the way," Thomas said.
He has to use a walker now and still has a bullet in his left leg.
"I get sad to sit on my porch because I feel like I'm not safe," Thomas said.
Investigators shared surveillance footage of the two possible suspects caught on doorbell cameras at the complex.
(Gwinnett County Police Department)
The first suspect is described as a heavy-set Black male with dreads. He was wearing blue shorts and a black shirt. The other man is described as a skinny Black male with a short afro who was wearing a black hoody, blue jeans, and green underwear. The witnesses say the two were juveniles who were constantly asking for money around the complex.
"I just thank God for being alive. I can still get up and breathe and walk around, but you know just to be here for my kids that's the most important thing to me and my wife," said Thomas.
If you have any information that could help with the investigation, call Gwinnett County detectives at (770) 513-5300 or Crime Stoppers at (404) 577-TIPS (8477).
"I want them caught and brought to justice no doubt. Because I don't want that to happen to anybody else out here," said Thomas.