Georgia soccer play back in game after major hip surgery
ALPHARETTA, Ga. - Eighteen-year-old Christina Davenport of Alpharetta has been playing soccer since preschool.
The Denmark High School senior loves it.
"The competitiveness and the creativeness, it just a really great sport," Davenport says.
Tina Davenport says she admires her daughter's drive.
"She just puts everything into it, her heart and soul goes into every step she takes on that field," Tina Davenport says.
By the summer 2022, Christina Davenport was balancing high school and club soccer, playing in tournaments where college recruiters were coming to evaluate elite players.
That is when her hip, which had been hurting, suddenly froze up during a game.
"I couldn't lift my leg, and I knew I had to finish the tournament because it was right before June 15, where I could get recruited, and a lot of scouts were there watching me and my teammates," Davenport remembers.
She iced her hip, took some Advil and played through the pain.
However, a few weeks later at another soccer camp, with her mother watching from the sidelines, it happened again.
"I just knew right away something's not right," her mother says. "She barely could finish."
The Davenports came to Children's Healthcare of Atlanta, where Christina Davenport was diagnosed with a tear in her labrum, the tissue that holds her hip ball and socket together, and hip dysplasia.
"I was upset," she says. "Why would this happen to me? This is the most crucial time in my life right now."
Pediatric orthopedic surgeon Dr. Tim Schrader, the head of Children's Healthcare's hip program, broke the news Davenport would need two surgeries.
The first, an arthroscopic surgery to repair the tear and smooth out the head of her femur bone, was relatively routine.
The second, which required a six- to eight-inch incision, would involve breaking Davenport's hip in several places, moving it into a more normal position, and placing screws to keep it in place.
"If you only address the labral tear and the bump on the femur without addressing the dysplasia, her hip may still be unstable," Dr. Schrader says.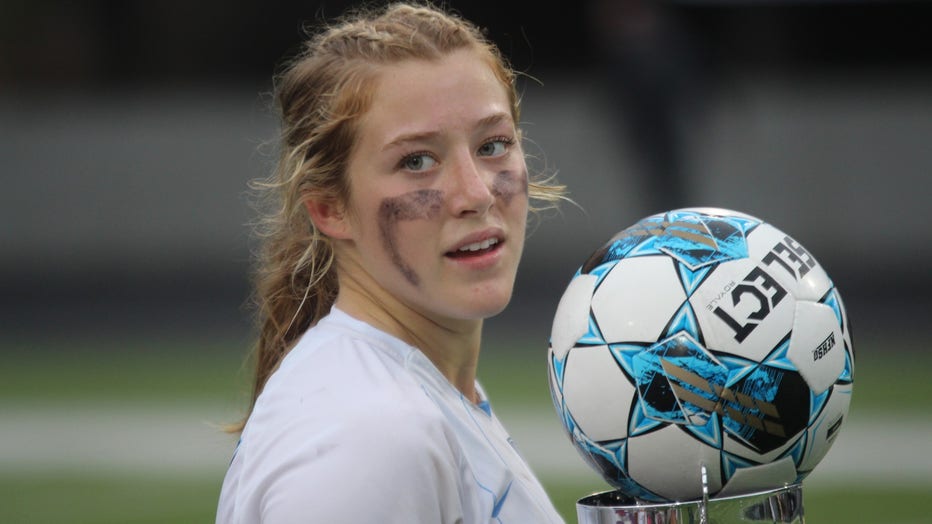 Christina Davenport, 18, is back on the soccer pitch after being sidelined by hip surgery.
The only other option was to treat her symptoms and let Davenport try to keep playing.
"If she did the 'Band-Aid approach,' she might do well for several years, perhaps even through college, but the symptoms could come back," Schrader says.
Davenport opted to have both surgeries in August 2022, right before her junior year of high school.
"It wasn't even a thought," her mother says. "She said, 'Do it now, because I'm going to win my high school state championship.'"
Davenport says the operations then went through seven months of physical therapy and working her way back, missing her fall club season, but rejoining her high school team in the middle of the winter-spring season.
"They just kept winning," Tina Davenport says. "I mean, really, they just kept winning."
The Denmark Danes ended up in the 2023 7-A state championship game in early May.
"I was telling my team, I said, 'We're going to win it, like, we're not losing. No way,'" she says.
The game was scoreless.
"We hit first overtime, nothing, second overtime, nothing," Tina Davenport says. "Here goes penalty kicks. Oh, so my daughter was fifth."
Christina Davenport put her head down, just like she had practiced.
"And, I knew exactly where I was going to place the ball, where I was going to put my hips," she says. "And, I knew I was ready."
Her mother was on the edge of her seat.
"This entire season, this game, this whole hurt, her rehabilitation, her recovery, everything lies on this kick," Tina Davenport says.
The kick went in. 
The Denmark Danes were now state champions.
"It was unbelievable," Christina Davenport says. "It was like everything I worked for finally paid off. And I knew, like, getting the surgery, it was all worth it."
A little over a year after her surgery, Davenport is doing well.
Next fall, Davenport will head to the University of Portland, where she will play on a soccer scholarship.