Georgia House speaker calls for more troopers to fight Atlanta crime
ATLANTA - Georgia House Speaker David Ralston is proposing adding an additional $3 million to the state's budget to increase the number of state troopers in Atlanta. He and several state leaders spoke during the House Public Safety and Homeland Security Committee on Monday.
Monday, Ralston proposed the $3 million addition to the Amended Fiscal Year 2022 and 2023 state budgets while speaking to the House Committee on Public Safety & Homeland Security from Savannah.
In total, the proposal would add funding for 20 state trooper positions, which would be devoted to the Georgia Bureau of Investigation's SWAT and Nighthawks DUI task forces around the Atlanta area.
Ralston proposed doubling the size of the GBI's Gang Task Force and the Georgia Department of Law's Human Trafficking Task Force. 
"We cannot allow this spike in violent crime to continue to cast a pall over our capital city," said Speaker David Ralston. "I am committed to devoting whatever resources are necessary to bring this crime wave under control and bring criminals to justice. Our Amended Fiscal Year 2022 and Fiscal Year 2023 state budgets will contain proposals to do just that."
"I am proud to work with Gov. (Brian) Kemp, Attorney General (Chris) Carr and my colleagues in the House and Senate to keep the streets of our capital city safe," said Speaker Ralston. "I have every confidence in the dedication of our state law enforcement officers and their expertise in these critical areas. Today, we are sending a clear message that we will protect the safety of Georgia's citizens in Atlanta and every corner of this state."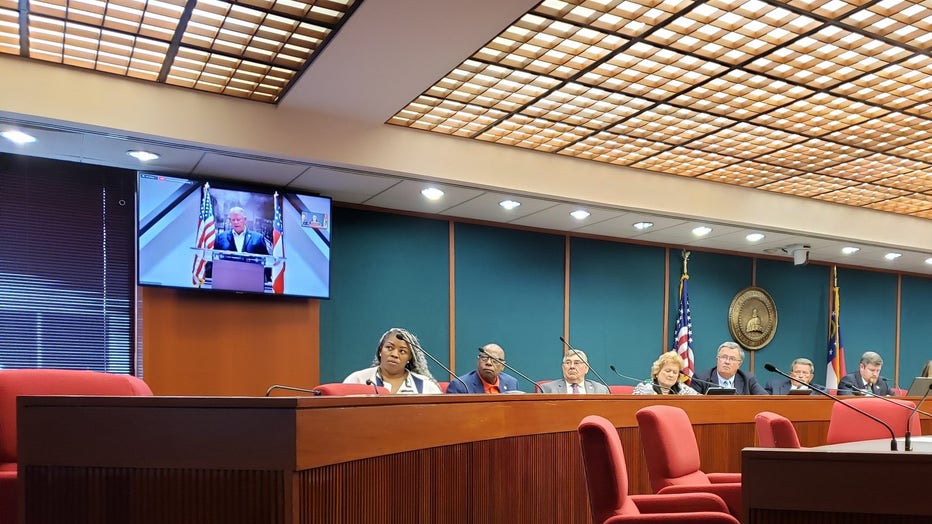 SEE MORE: Atlanta police chief talks plans to reduce crime at townhall
Ralston's comments come as the committee looks at ways to try to tackle a recent rise in violent crime throughout Atlanta.
Last week, Atlanta Mayor Keisha Lance Bottoms released the results form the city's Anti-Violence Advisory Council.
Among the nine proposals was hiring 250 additional officers and putting up 10,000 street lights in areas known to have high crime.
The plan also includes expanding work by a group called Cure Violence citywide. The group tries to intervene to prevent retaliatory shootings, meeting with people on the street and in hospitals. It also tries to encourage people prone to violence to change their behaviors and encourage non-violent norms in the entire community. Bottoms said a Cure Violence pilot program in neighborhoods just south of downtown Atlanta showed meaningful results.
Bottoms said $50 million would come from public funding, while the city would try to raise $20 million from private sources.
At a press conference on Friday, Bottoms said that government spending would have to be shifted from other departments. The city has a roughly $2 billion budget, but only about a third of that is part of the general fund and easily shifted. Atlanta already spends more than $200 million a year on police.
"People will have to understand that for us to implement these recommendations, we are going to have to cut somewhere else," Bottoms said.
But she said the spending is needed because "when our communities aren't safe, or when they don't feel safe, nothing else really matters."
Gov. Brian Kemp has been critical of Bottoms for the increase in Atlanta crime rates, telling the press after meeting with GBI leadership that the "lack of elected leadership in our capital city is creating an anti-police, soft on crime environment, which is allowing violent crime to skyrocket and (which) endangers the safety and security of families across the metro Atlanta area."
"The dangerous criminals in these gangs aren't letting up. In fact, because local leadership in our capital city has created an anti-police, soft-on-crime environment, the task force's work, in my opinion, is needed now more than ever," Kemp said, reiterating criticism of Bottoms.
Attorney General Chris Carr said some district attorneys weren't doing enough to prosecute cases, singling out District Attorney Deborah Gonzalez, who covers Athens-Clarke and Oconee counties. Gonzalez has said that more people who are arrested should be released before trial without requiring cash bail, that she won't prosecute some low-level drug cases and that she won't seek the death penalty. That's prompted pushback, especially from officials in Republican-dominated Oconee County.
"If they don't like it, they should run for the legislature and change the law that way," Carr told committee members. "I think it is dangerous for a member of the executive branch or the judicial branch to say I'm just not going to enforce the law."
Carr suggested such prosecutors could be charged with violating their oath of office, although he said such a prosecution could be "difficult."
Gonzalez said she was elected to stop "misusing resources on minor offenses."
"Violent crime is a serious problem, and if AG Carr wants to stop playing politics and work together on addressing it, I am ready to do so," she said in a statement.
While Carr said increased violent crime "is being driven in large part by criminal street gangs," Assistant Atlanta Police Chief Todd Coyt said that the city's police can only definitively link two homicides this year to gangs. He said most shootings are driven by disputes among people who already know each other.
"We believe that most of the homicides and aggravated assaults are due to a lack of conflict resolution," Coyt said, adding that police can't "arrest ourselves out of this problem."
"You all keep focusing on Atlanta," Coyt said. "What's happening in Atlanta is not just Atlanta. This is a regional issue. It's a national issue."
Ralston's proposals will be considered in the appropriations process during the 2022 legislative session.
The Associated Press contributed to this report.
WATCH: FOX 5 Atlanta live news coverage
_____
Sign up for FOX 5 email alerts
Download the FOX 5 Atlanta app for breaking news and weather alerts.