How much jeopardy does Trump face if convicted on Georgia indictment RICO charge?
FULTON COUNTY, Ga. - Former President Donald Trump, and more than a dozen other co-defendants, now face state racketeering charges, also known as RICO offenses. FOX 5 asked legal experts, including a prosecutor who's tried numerous racketeering cases, about just how much jeopardy the former president faces.
Fulton County District Attorney Fani Willis is using RICO charges to accuse the former president of heading a "criminal enterprise" to try to overturn the 2020 election.
TRUMP, ALLIES RICO CHARGES IN GEORGIA EXPLAINED
Prosecutors normally use RICO laws to dismantle organized-crime groups. The charges in this case include: making false statements, filing false documents and forgeries, impersonating officials, computer breaches and attempts to influence witnesses.
"RICO is one of the more serious charges you can level in criminal law," said John Melvin, managing prosecutor with the Gwinnett County D.A.'s office who has tried numerous RICO cases. "If you're going to tell the story of an entire enterprise, Rico is the only way to go. It's the 800-pound gorilla."
DA FANI WILLIS' EXPERIENCE WITH GEORGIA RICO LAW, WHY IT'S CENTRAL IN CHARGES AGAINST TRUMP, ALLIES
Rudy Giuliani, the former president's personal lawyer and a former federal prosecutor who used to jail mobsters on RICO charges, now faces those very same racketeering counts himself. Melvin says the charges against Giuliani, the former president and more than a dozen other codefendants are very serious.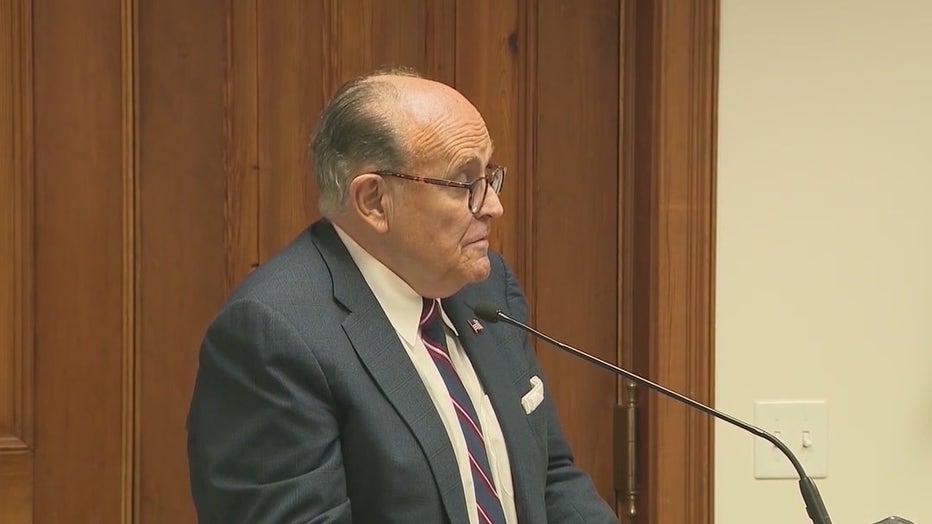 President Donald Trump's former lawyer Rudy Giuliani testifies before a special Georgia Senate subcommittee hearing on Dec. 30, 2020. (FOX 5)
"The president faces a lot of jeopardy. For every RICO count, it'll be five to 20 [years]," Melvin said.
"This is really beyond precedent. Individually by themselves, without the RICO charges, would be serious charges alone. The legal jeopardy here is quite serious and quite real," said John Acevedo, a visiting associate professor of practice at Emory University School of Law.
The former president also faces other non-RICO charges. All those counts could carry dozens if not hundreds of years in prison if he's found guilty.