DA Fani Willis' experience with Georgia's RICO law, why it's central in charges against Trump, allies
ATLANTA - For the fourth time this year, former President Donald Trump is now caught in the cross hairs of yet another criminal case.
In the sweeping new Fulton County indictment, the former President along with 18 others were charged with a number of crimes, including violating Georgia's RICO Act.
"Any time you see an indictment that has a RICO allegation, that's going to get people's attention," said Tom Church, a trial attorney.
TRUMP, ALLIES RICO CHARGES IN GEORGIA EXPLAINED
The indictment spans 98 pages with 58 of those focusing on the single count of violating the RICO Act. It lays out more than 160 acts where former President Trump and co-conspirators are accused of working to overturn election results.
"The RICO statute in Georgia is a prosecutor's best friend," Church said. "It gives prosecutors so many tools that they ordinarily wouldn't have. You can bring in hearsay evidence made by your alleged co-conspirators. You have a longer statute of limitations."
Each of the acts alleged in the RICO count may not be criminal on their own, but Church, a Georgia trial attorney who has worked on several RICO cases, says they can be used as a basis in a RICO prosecution if those acts were done to further a criminal purpose.
"You are prosecuting different individuals for separate crimes, and you're tying them all into this one big conspiracy, which again, here is overturning the election results," Church said.
RICO cases are complex and take time because of the amount of people charged. The YSL and Young Thug RICO trial has been underway since January, but so far not one juror has been chosen.
The Atlanta Public Schools cheating scandal is another RICO case that took more than seven months to finish.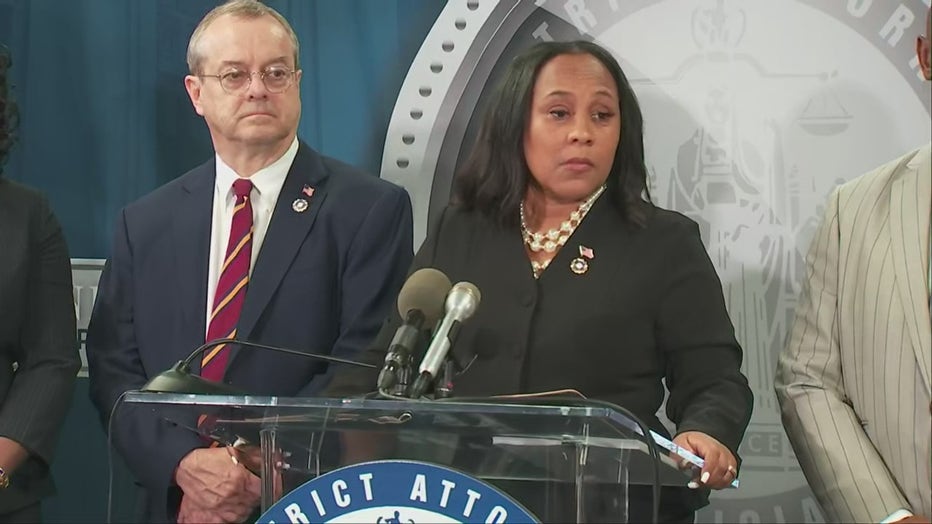 District Attorney Fani Willis explains the Fulton County grand jury's decision to indict former President Donald Trump and his allies on Aug. 14, 2023.
"She was born to bring this indictment," Church said. "Racketeering and Fani Willis is like peanut butter and jelly. She has a reputation for being an aggressive prosecutor," Church said.
Willis wants a trial to start within the next six months, but Church says that is unlikely and he believes it will likely be about a year from now.