Police ID 6 victims of fiery van wreck on I-85 in Gwinnett
GWINNETT COUNTY, Ga. - Police released the identities of six women killed in Sunday's fiery car crash in Gwinnett County near the Interstate 85 and Interstate 985 split. 
Police said the victims were 34-year-old Columbus resident Alishia Carroll, 44-year-old Mount Airy resident Kristie Whitfield, 26-year-old Kennesaw resident Ashleigh Paris, 53-year-old Atlantan Tina Rice, 38-year-old Norcross resident Normisha Monroe and 34-year-old Ellabell resident Rose Patrick. 
There were 16 people in the van, which belonged to a sober living group, according to the Gwinnett County Police Department.
According to the Gwinnett County Police Department, the traffic accident happened around 6:30 p.m. on Saturday in the northbound lanes of I-985 in Suwanee.
Gwinnett police on Sunday confirmed there were 16 total occupants in the 2002 Dodge Ram Van.
An accident report states the van was approaching the I-985 split, traveling north, when an unknown vehicle unexpectedly changed lanes in front of it. The van lost control and rolled onto its side before sliding across two lanes on I-985 and striking the guard rail, police said. 
SEE MORE: 'She never met a stranger': Van crash victim remembered for giving spirit
Police said all 10 surviving passengers were treated for serious injuries. 
Police said bystanders attempted to pull victims from the burning vehicle and render aid.
Donnie Richeson was heading home to North Carolina when he saw the accident and got out to help.
"It was just a pretty chaotic scene. I was just trying to help. A lady approached me and said she felt like she was on fire," Richeson said. "I tried to console her and get her down to the ground."
Gwinnett police said the van was taking members of "We Are Living Proof" to a meeting in Buford.
RELATED: 'She was the best we'd seen her in such a long time.' Family remembers loved one killed in fiery I-85 crash
"Today [Sunday] was going to be their graduation day. Not all of them but some of them. They were a support group for each other," Richeson said.
Richeson said a group including two off-duty paramedics, nurses, and those who couldn't sit by raced to help.
"It had already started blowing tires out and airbags were going off. It was way too late to get to anyone. One girl said her friend was in there but it was way to late to turn back and go in. The heat was just so intense you couldn't get within ten feet," Richeson said.
There was one thing that Richeson can't get out of his mind.
"The thing that sticks in my mind was that lady caught on fire. All of a sudden her hair went up in flames. Someone had a jacket and I grabbed it to help put the fire out on her head," Richeson said.
Police are still working to determine what caused the passenger van to crash and catch fire. 
Police said witness statements indicated another vehicle may have been directly or indirectly involved in this incident.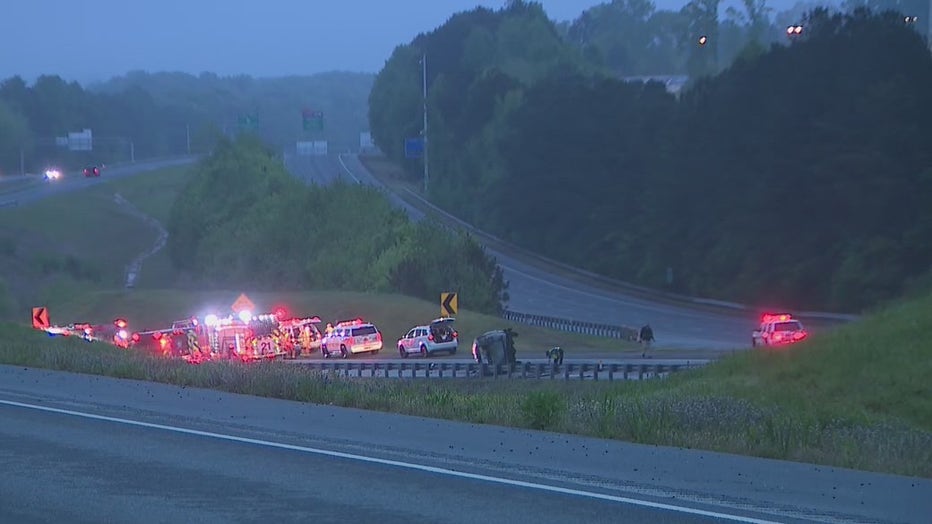 All northbound lanes of I-985 were shut down along with multiple lanes of I-85 northbound.
The Associated Press contributed to this report.
WATCH: FOX 5 Atlanta live news coverage
_____
Sign up for FOX 5 email alerts
Download the FOX 5 Atlanta app for breaking news and weather alerts.