Ohio murder suspect shot by Fayette County man defending his family during home invasion
FAYETTE COUNTY, Ga. - An Ohio man, who is accused of stabbing to death a 77-year-old woman, was shot by a man defending his family during a home invasion on Thursday, according to the Fayette County Sheriff's Office.
Michael James Brooks II, 28, of Columbus, Ohio, was recovering in an area hospital on Friday. Once released, he will face home invasion, burglary, and theft by receiving in Georgia and murder charges in Ohio.
Investigators say Brooks has an extensive criminal history.
Home invader to homeowner: 'You're going to have to kill me'
Just before 2 a.m. Thursday, the Fayette County 911 got a call from a resident in north Fayette County about a possible intruder in his house. At the same time, they also received a notice from the alarm company for that residence.
Deputies were just a couple of minutes away. They say the homeowner armed himself with a gun and confronted the intruder in the basement. Investigators say the intruder was armed with a knife.
Deputies say the homeowner warned the intruder before shooting him. Investigators say the homeowner then left the basement and took up a position to protect his family on the second floor at the staircase.
"There, he took his stand as the subject made his way up to the second floor. [He] made the comment, something to the effect of, 'You're going to have to kill me.' When the resident fired a second shot. That was about the time the deputies got there. From we can tell, he was coming down the stairway with a second gunshot wound," said Fayette County Sheriff Barry Babb. "At that point, they actually still struggled with him [as they] took him into custody."
The intruder was taken to Grady Memorial Hospital with two gunshot wounds.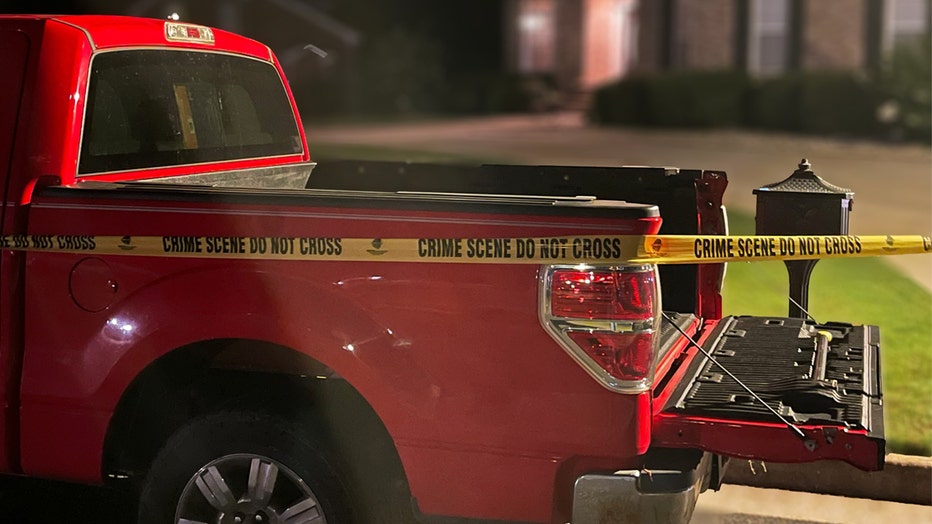 The Fayette County Sheriffs Office released this photo of a red Ford F-150 in front a home where an intruder was shot on the morning of Sept. 14, 2023. (Fayette County Sheriffs Office)
Investigators were able to tie Brooks to a deadly home invasion six-days earlier due to the red Ford F-150 deputies found. He hijacked that pickup truck from Kettering, Ohio, according to Ohio investigators. Fayette County deputies say the truck had different plates from the original displayed.
Why was he here in Fayette County? Why target this home?
"We don't know what the connection is with Georgia, or if there was a connection, however, he is from Columbus," said Columbus Police Deputy Chief Smith Weir during a press conference on Friday.
The Fayette County sheriff says it appears to be random. The sheriff also says it could have been anyone's house. He had apparently tried a couple of other homes in that neighborhood, one that the sheriff describes as an upscale neighborhood in north Fayette County.
Michael James Brooks II accused of deadly Ohio home invasion
The Columbus Division of Police identified Brooks as the man responsible for the deadly stabbing of 77-year-old Emily Foster in the city's University District on the afternoon of Sept. 9.
Police say officers arrived at the home located in the 2000 block of Iuka Avenue, just blocks from Ohio State University, and found the woman suffering from a stab wound.
"Our officers responded, we had obviously, it being a Saturday with a home game, there were lots of officers in the area, we had a quick response," said Deputy Chief Weir.
She was pronounced dead just after 4 p.m. by medics.
Investigators say Brooks did not know the victim.
"It gave us pause initially as well because it's common law enforcement knowledge it tends to be a more personally attack using a knife," said Deputy Chief Weir. "Usually, when we have incidents of stabbings, they are a personal attack."
Weir added investigators believe this was a completely random attack.
Police are still trying to figure out how Brooks got to the University District. They released photos showing him, not wearing pants, riding a bike through the area following the deadly stabbing. Investigators say they were able to use the cameras in the area to track his moments and create a timeline of his moments.
Deputy Chief Weir said they were able to determine he was wearing sweatpants before he entered the home, but took them off after. Those sweatpants were found near the home.
Investigators were able to identify Brooks through forensic evidence collected at the home and were able obtained murder warrants for him on Wednesday.
Despite all the physical evidence, police say they do not know why he did it.
Investigators are asking residents who are in the area of the murder or the university to see if they captured him on camera to let them know. They also want to know whose bike he stole.
Tips can go to the help us solve a crime" page at columbus.gov/police to leave a tip for Columbus investigators.
Michael James Brooks II (Fayette County Sheriff's Office)
The criminal history of Michael James Brooks II
Columbus police says Brooks was released from the Franklin County Jail the night before the murder. He had pleaded guilty to two counts of felony fleeing on aggravated assault charges. Police say he was released prior to sentencing in the case.
"Initially, he was on a parole hold. And the second part is, I believe, at a certain point, the parole hold ended, and he began serving time on the pending felony assault charge," said Deputy Chief Weir. "And at that point, he was awaiting sentencing, and I believe he bonded out at that point.
Police say he has an extensive criminal history, mostly around Columbus and its suburbs, but also along the Interstate 75 corridor.
"Some agencies and cities up and down I-75, all the way from Detroit, obviously no down to Georgia, and some communities in between," the deputy chief said.
The Ohio Department of Rehabilitation and Corrections Brooks had served time for aggravated robbery, robbery, and receiving stolen property, having been released in 2016. He was on parole until June of this year.