EF-1 tornado tore through South Fulton on Monday, officials say
ATLANTA - An EF-1 tornado tore through South Fulton on Monday leaving behind a trail of damage, the National Weather Service said.
The tornado was on the ground for 13 minutes traveling 5.8 miles, officials said. Winds reached between 105 and 110 mph.
The tornado was reportedly four times the size of a football field.
SEE ALSO: Downed trees, power lines damage Hall County homes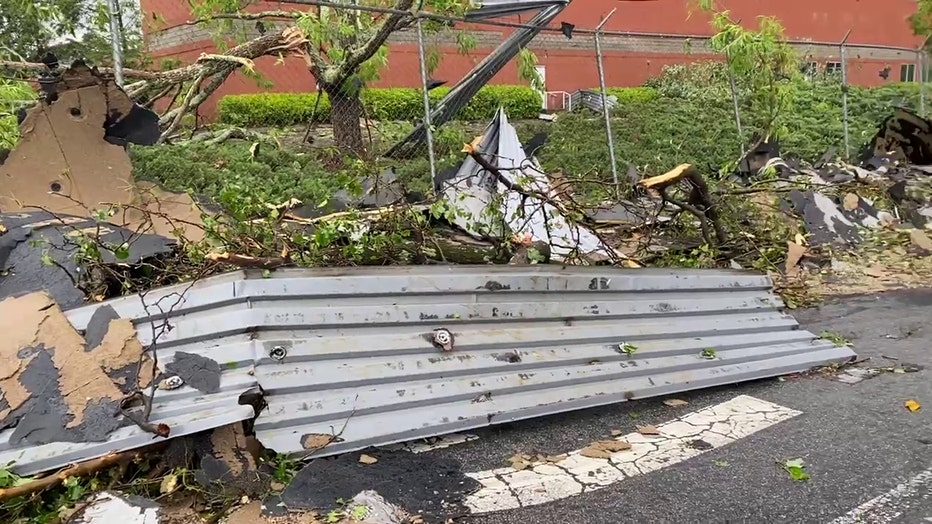 The tornado touched down around 10:22 a.m. in an industrial area just north of Highway 154 and in between the Chattahoochee River to the west and Fulton Industrial Blvd. to the east. Weather experts said it quickly intensified as it traveled between Westgate Parkway and Tradewater Parkway.
The tornado tore roof shingles and coverings away, brought down whole side sections to warehouses. There was damage near PepsiCo on Fulton Industrial Boulevard.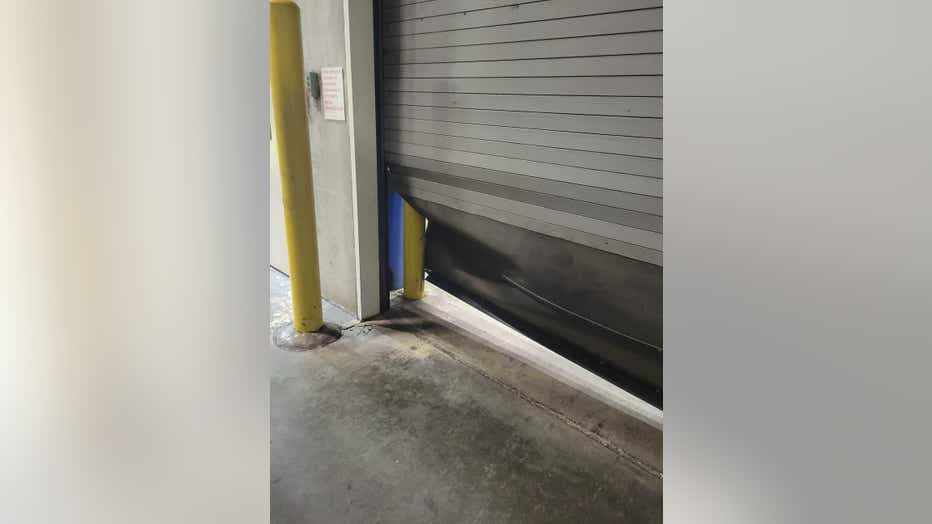 It headed northeast crossing over Fulton Industrial Blvd. and struck several residential areas on either side of Camp Creek Parkway, snapping and uprooting trees along Plummer and Reynolds roads.
Boat Rock Road near Binford Place SW saw more than 50 trees damaged. Some of the trees fell on homes.
Eventually, the tornado started to weaken as it approached Cascade and New Hope roads and then gradually lifted north of there before Burton Trace.
SEE ALSO: Douglasville man killed during storm remembered for generosity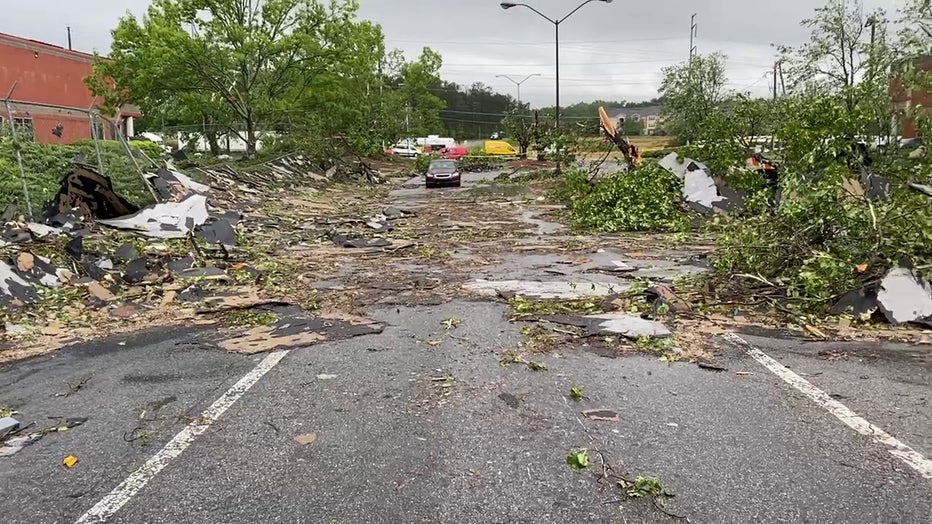 Severe weather brought down trees and significant debris was visible in South Fulton off Westgate Parkway.
This is the second tornado confirmed from Monday's cluster of storms that moved through. The National Weather Service confirmed an EF-1 tornado packing winds of about 90 mph briefly touched down in Douglas County. The tornado was on the ground for three minutes traveling about a mile and a half starting around 10 a.m. Officials said it touched down along North Summers Circle near Bedwood Way and lifted just north of the dead-end of McKoy Trail. 
Officials said the tornado uprooted and snapped a few trees at the beginning of the track. The tornado intensified as it crossed Kings Highway snapping and uprooting trees along multiple roads. At least 10 homes had trees on them, according to the National Weather Service survey. 
That tornado toppled trees in the Orchard Point subdivision causing two dogs being housed in an outdoor kennel to be killed.
Some in Douglas County are concerned at the lack of warning they received before the storm. Particularly, they were concerned about not hearing the county's sirens. The county issued the following statement addressing those concerns:
"At approximately 10:14 a.m. on Monday, May 3, 2021, the Douglas County Emergency Management Agency was contacted by the National Weather Service and told that they were seeing indications that a tornado may have touched down in the Bill Arp-Kings Highway area. At this time, there had been no tornado warning issued. Douglas County's E-911 dispatchers had been receiving reports of trees down in the same area around the same time.
Shortly thereafter at 10:21 AM the National Weather Service issued a tornado warning for a small area in the eastern portion of the county from Sweetwater Creek State Park towards Riverside Drive. Two sirens were automatically activated at this time. The National Weather Service, who issues the tornado warning based on data they receive from radar, which then triggers sirens to alert the general public, has explained to Douglas County the tornadoes moved so fast, they did not technologically have time to issue a tornado warning which would have triggered sirens prior to 10:14 a.m. The National Weather Service has informed Douglas County the Kings Highway tornado spun up very rapidly and down very rapidly within two minutes before they could alert us. Therefore, they did not issue a tornado watch.
The National Weather Service has provided Douglas County EMA with a screenshot of the thunderstorm warning issued in the red polygon and the tornado warning in the blue polygon:"
WATCH: FOX 5 Atlanta live news coverage
_____
Sign up for FOX 5 email alerts
Download the FOX 5 Atlanta app for breaking news and weather alerts.