Cook for Easter the Fox Bros. way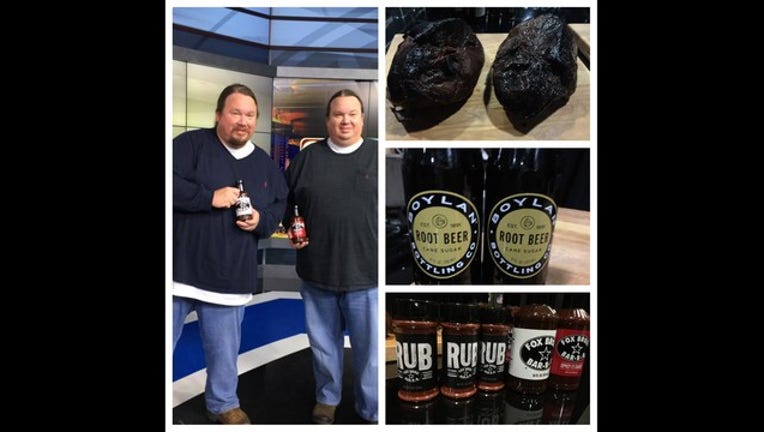 article
Check out these recipes from Fox Bros. Bar-B-Q in Atlanta. They are perfect for your Easter meal this Sunday.
Ham glaze
Ingredients:
24 oz. Root Beer
1 cup brown sugar
1 cup Fox Bros Bar-B-Q sauce
1 tablespoon Fox Bros dry rub
1/2 tablespoon kosher salt
Method: Combine all ingredients into pot, bring to a boil. Reduce heat, stir constantly and simmer for 25-35 minutes or until reduced by 2/3's and of a thick consistency. Remove from heat and apply to the ham.
Squash Casserole
Ingredients:
6 to 8 large yellow squash
2 celery stalks
1 large yellow onion (chopped)
3 eggs
1 cup bread crumbs
3/4 cup pimentos, chopped
1 Tbsp. celery seed
1 Tbsp. granulated garlic
1.5 Tbsp. oregano
2 Tbsp. salt
3/4 cup grated cheddar
1/4 cup grated Parmesan cheese
Method: Grate squash on a box grater. Mix all ingredients together except for cheese and place in a buttered 8"x10" baking dish. Bake uncovered at 350F for 30 minutes. Cover the top with cheese and bake for another 10-15 minutes until cheese is golden and bubbly.
Roasted Red Potatoes
Ingredients:
3 red potatoes
1/4 cup olive oil
1 oz. butter
3 Tbsp. Fox Bros dry rub
4 sprig. rosemary
1 tsp. salt
2 shallots, sliced
3 oz. water
Method: Quarter potatoes lengthwise into wedges. Melt butter and place all ingredients into a baking dish and mix to coat potatoes evenly. Pour water in the bottom of the dish and bake at 400F for 35-55 minutes until potatoes are golden brown and tender.
Fox Bros. also left us with some tips for cooking your ham:
Don't freak out! Relax and have fun!
Give yourself plenty of time.
Bring your ham out ahead of time (1-2 hours before cooking)
Add your own flavor to the ham.
Use liquid and cover when cooking
If all else fails, call Fox Bros. catering at 404-414-0826.