Big Dave's Cheesesteaks taking over Atlanta one jawn at a time
ATLANTA - When you think of Black businesses in Atlanta, it's hard not to think about Big Dave's Cheesesteaks. 
The restaurant is known for giving customers "A Taste of Philly" across metro Atlanta.
FOX 5's Eric Perry spoke with the founder and owner, Derrick Hayes, who says he's trying to do more than feed bellies. He's trying to give nourishment to the soul.
"Life is not a track meet. It's a marathon. Run your race," Hayes says filled with nostalgia as he and Eric sit in his original brick and mortar Big Dave's Cheesesteaks location in Downtown Atlanta. The feeling of gratefulness overcomes him.
"It's a blessing because it lets me know how far I've come building this building, brick-by-brick," he says.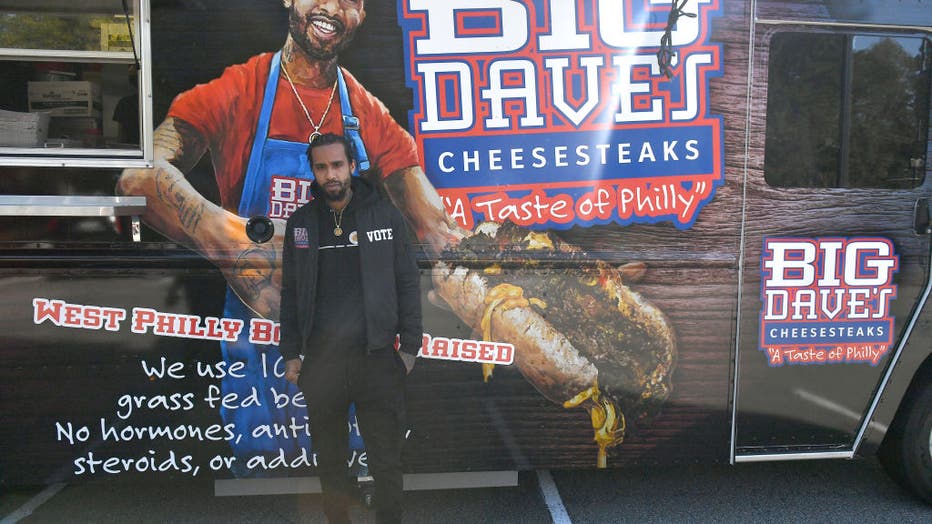 NORCROSS, GEORGIA - NOVEMBER 03: Derrick Hayes, Founder and CEO of Big Dave's Cheeseteakes attends Election Day Pop-Up event on November 03, 2020 in Norcross, Georgia. (Photo by Paras Griffin/Getty Images) (Getty Images)
With several locations across metro Atlanta, including new ones that recently opened in Jonesboro and Lawrenceville, it's a long way from the 700-square feet Shell gas station location he started in.
"I'm Philly-born and raised," he says proudly. "West Philly is always going to be in my blood, but Atlanta gave me a shot. Atlanta gave me hope and opportunity."
Hayes says he wanted to share a piece of his home with those in Atlanta, and everyone wants a taste. Big Dave's Cheesesteaks is currently one of the highest grossing businesses in Mercedes-Benz Stadium.
But to Hayes, cooking is more than just a moneymaker. He tells FOX 5 it's his connection to the two generations before him.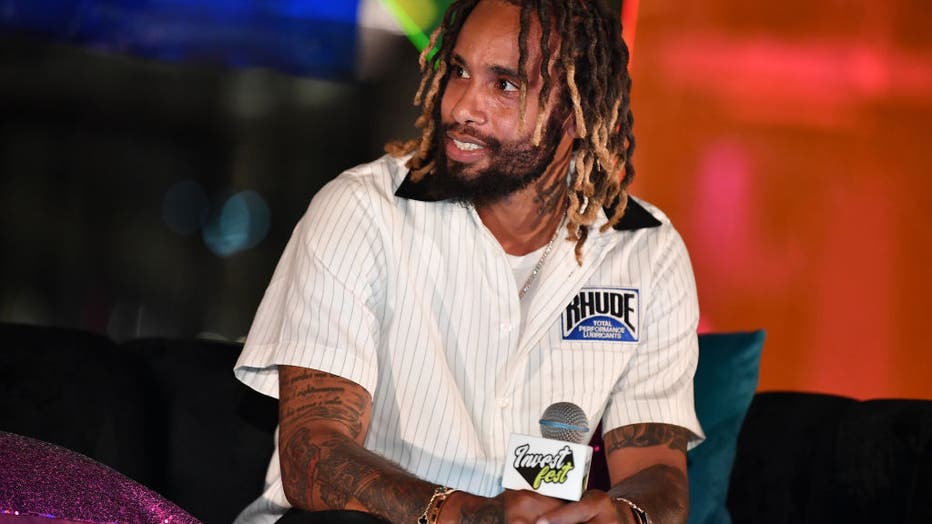 ATLANTA, GEORGIA - AUGUST 25: Derrick Hayes onstage during the 2023 Invest Fest The VIP Experience at Guardian Works on August 25, 2023 in Atlanta, Georgia. (Photo by Paras Griffin/Getty Images) (Getty Images)
"That's who made me understand I had the skill and the power of cooking," he says. "That saved my life. I thank my grandfather every single day. If it wasn't for my grandfather, I wouldn't be cooking for people."
Hayes says he spent time living in Athens with his grandfather who told him he could either go to church, or stay home and cook Sunday dinner. Guess which one he picked.
Around his neck, he carries another special someone with him: His father.
"Everywhere I go, I have to feel my dad. I have to feel my best friend. I have to feel the person that was saving my life while he was here. Now, he is saving my life while not here," Hayes explains. "When I look down at him, when I'm having my hardest days, I know he is right by my side."
It's a hunger for better that keeps him going each and every day, and giving back.
"I just think it's important because those people stand in your line, and those people support you, and now you have to support them," he says.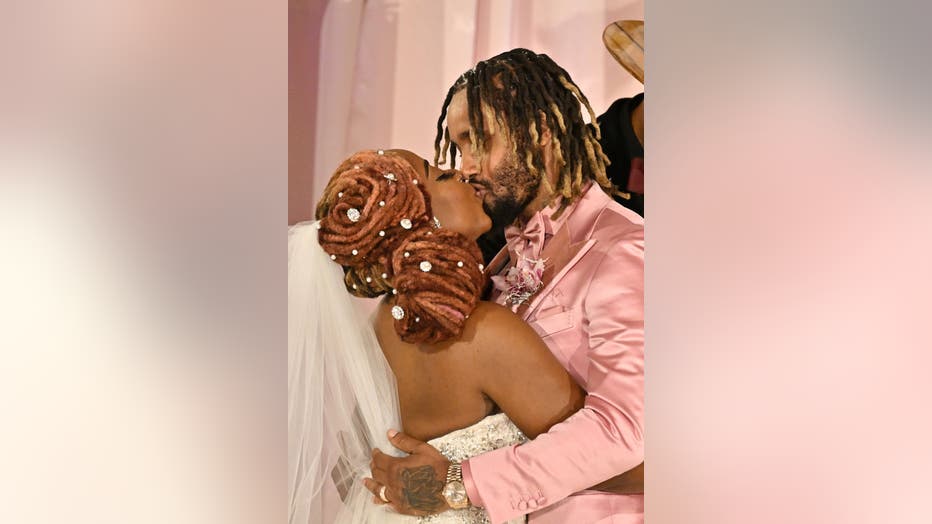 ATLANTA, GEORGIA - JUNE 10: In this image released on June 10, 2023, Pinky Cole and Derrick Hayes kiss during their wedding at St. Regis Atlanta on June 10, 2023 in Atlanta, Georgia. (Photo by Paras Griffin/Getty Images) (Getty Images)
Love and success seems to follow Hayes. This summer, he married his now-wife Pinky Cole-Hayes, the owner of Slutty Vegan. The two of them partnered to give away life insurance to those making under $30,000 a year.
"We gave out over a thousand meals, feeding our food in the pandemic for free that day. I had my employees walking up and down the street with heater bags giving out food," he says.
He's also working to inspire young Black men to keep going. 
"A lot of these kids are geniuses, and they just don't know what direction to go," Hayes says. "I was that same kid with the tattoos all over my body, and I was being stereotyped. But, some of us have a mind so sharp, the world don't know what's missing until they see it."
Hayes says he can't wait to show the world what he's really made of.
"We are about to show the world this brand is not just an Atlanta staple," he tells FOX 5. "It's a world staple, and we stand for the people."