Firefighters save Midtown apartment building from huge warehouse fire
ATLANTA - Firefighters spent early Friday morning battling a two-alarm warehouse fire in the Atlantic Station district of Atlanta.
Smoke and flames could be seen shooting from the warehouse located along Bishop Street NW near Mecaslin Street, about a block east of 17th Street. Firefighters arrived at the scene shortly before midnight on Thursday.
The warehouse is located next to a six-story apartment complex. Fire crews said preventing the fire from jumping onto the residential building was their number one concern.
Firefighters attempted to search the main structure to see if anyone was inside, but had to retreat because of explosions that were taking place inside the building.  Although not certain, they say it's possible those explosions were caused by propane tanks. 
The blaze was difficult to battle because the building is located next to train tracks, preventing firefighters from getting access to the side of the fire.  This allowed it to actually grow while they were there.  At one point fire crews on an aerial ladder were forced to fall back after the flames got under them, putting the ladder at risk of going up in flames.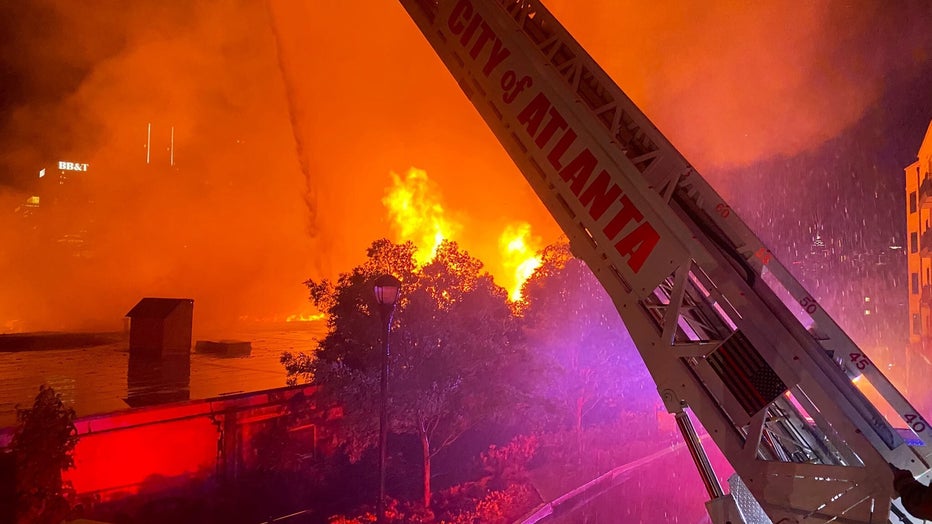 The biggest concern was the apartment building next door that was filled with people.  When that building started to get hot, firefighters reverted their effort to keep the apartment building from going up in flames.  In the end, none of the apartment residents had to be evacuated.
Georgia Power reported a power outage in the area because of the fire. As of 5 a.m., most of the over 900 customers affected had power restored.
The cause of the blaze is still under investigation.  At least for now, no one got hurt. But investigators say they won't know for sure until they do a search after the fire is fully out.
A firefighter was nearly injured when officials say a vehicle intentionally drove over a firehose and nearly hit them while trying to get into a parking garage.
The warehouse housed a number of small businesses, including a car shop and cabinet maker.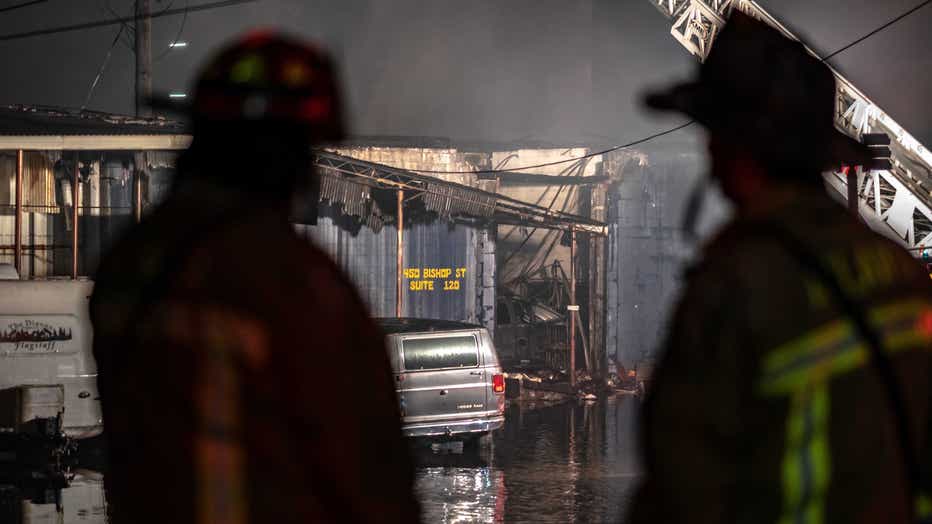 WATCH: FOX 5 Atlanta live news coverage
_____
Sign up for FOX 5 email alerts
Download the FOX 5 Atlanta app for breaking news and weather alerts.