Atlanta police monitoring possible protests ahead of anticipated Trump indictment
ATLANTA - Atlanta police say they're monitoring any protests that could happen today surrounding a possible indictment of former President Donald Trump in New York.
Over the weekend, Trump declared in a social media post that he expects to be taken into custody on Tuesday and urged supporters to protest his possible arrest. The former president's comments are connected to a New York grand jury investigating Trump over a hush money payment to adult film star Stormy Daniels that appears poised to complete its work this week.
In a series of social media posts through the weekend, the Republican former president criticized the New York investigation, directing particularly hostile rhetoric toward Manhattan District Attorney Alvin Bragg, a Democrat. In a post on Sunday, Trump lambasted Bragg — Manhattan's first Black district attorney — as a "Racist in Reverse," and accused him, without evidence, of taking orders from the Justice Department and being a pawn for billionaire Democratic donor George Soros, who supported Bragg's campaign through the Color Of Change PAC.
While there was no indication that Trump's prediction would come true, the grand jury appeared to take an important step forward by hearing Monday from a witness favorable to Trump, presumably so prosecutors could ensure the panel had a chance to consider any testimony that could be remotely seen as exculpatory.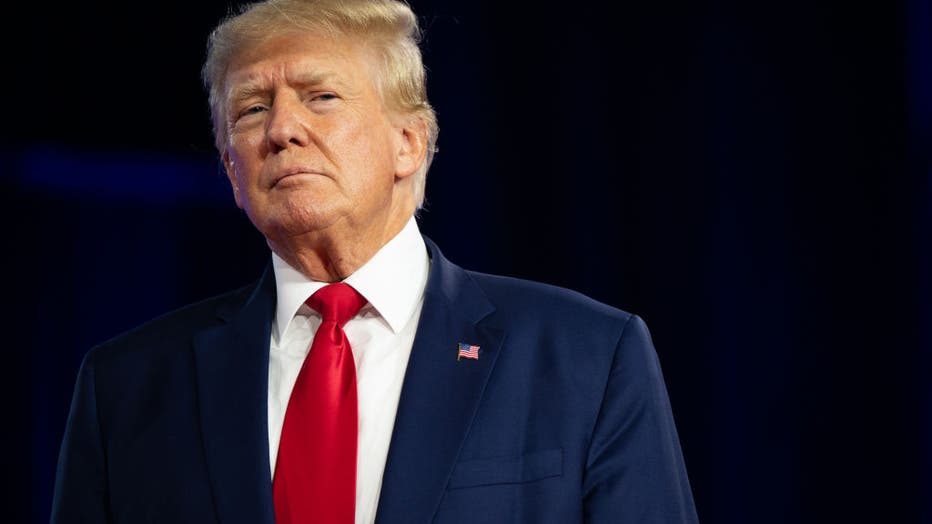 Former U.S. President Donald Trump speaks at the Conservative Political Action Conference (CPAC) at the Hilton Anatole on August 06, 2022 in Dallas, Texas. (Photo by Brandon Bell/Getty Images)
REPORTS: FULTON COUNTY GRAND JURY PROBE HEARD UNRELEASED TRUMP CALL RECORDING
Law enforcement officials have been making security preparations for the possibility of an indictment in the coming days or weeks — or a court appearance by the president himself. Officials told the Associated Press that they are continuing to closely monitor online chatter warning of protests and violence if Trump is arrested, with threats varying in specificity and credibility. Mainly posted online and in chat groups, the messages have included calls for armed protesters to block law enforcement officers and attempt to stop any potential arrest, the officials said.
In Atlanta, the Atlanta Police Department confirmed with FOX 5 that their organization is "aware of possible protests."
"We will continue to monitor them," the department said in a statement.
MARJORIE TAYLOR GREENE SAYS REPUBLICANS DON'T NEED TO PROTEST POTENTIAL TRUMP ARREST
Trump's lawyers attack Georgia grand jury election probe
While Trump's weekend comments were focused on New York, the politician and businessman's lawyers also attacked the special Fulton grand jury and prosecutors investigating him in Georgia, asking a state court to throw out its report and all testimony from the inquiry and bar Fulton County District Attorney Fani Willis from continuing to investigate or prosecute Trump.
Lawyers Jennifer Little and Drew Findling wrote in the Monday filing that the special grand jury "involved a constant lack of clarity as to the law, inconsistent applications of basic constitutional protections for individuals being brought before it, and a prosecutor's office that was found to have an actual conflict, yet continued to pursue the investigation."
If successful, the Georgia challenge could wipe out the entire investigation, requiring a new prosecutor who couldn't use any of the information Willis' team has gathered.
The Georgia filing argues that Fulton County Superior Court Judge Robert McBurney misinterpreted Georgia law to declare that the special purpose grand jury could run a criminal investigation with resulting stronger subpoena powers, allowing it to compel Georgia Gov. Brian Kemp and out-of-state witnesses to testify.
"This erroneous decision had vast constitutional and procedural implications, and the resulting taint invalidates the constitutionality and validity of the entire proceeding," the lawyers wrote.
Trump's lawyers asked for another judge besides McBurney to hear their claims. The arguments about violating precedent could also signal that appeals are likely, which could bog down the Georgia proceedings after Willis said in a January hearing that decisions on whether to seek indictments were "imminent."
The filing also claims that McBurney erred by not disqualifying Willis and her office from the entire probe when he ruled in July that Willis could not pursue charges against Burt Jones, now Georgia's lieutenant governor. Jones, then a state senator, was one of 16 Georgia Republicans who signed a certificate falsely stating that Trump had won the state and declaring themselves the state's "duly elected and qualified" electors. McBurney disqualified Willis because she hosted a fundraiser for Jones' unsuccessful Democratic opponent in the lieutenant governor's race, creating a conflict of interest.
"The rights of President Trump, as well as others impacted by this investigation, are now subject to the prosecutorial discretion and decision-making of a prosecuting body that even the supervising judge acknowledged has an actual, disqualifying conflict," the lawyers wrote. "This is simply untenable."
It's ultimately up to Willis to decide whether to go to a regular grand jury to seek one or more indictments in the case. She opened the Georgia investigation in early 2021, shortly after a recording of a phone call between Trump and a top state official was made public. During that Jan. 2, 2021, phone call, Trump suggested that Georgia Secretary of State Brad Raffensperger could "find" the votes needed to reverse his narrow loss in the state.
The special grand jury, which was seated in May 2022, heard from about 75 witnesses and considered other evidence before wrapping up its work in December. It did not have the authority to issue indictments but instead produced a report with recommendations for Willis. McBurney ordered most of that report to remain under seal.
Trump also faces twin U.S. Justice Department criminal investigations. One, paralleling the Georgia inquiry, is examining his efforts to undo the results of the 2020 election.
A Justice Department special counsel has also been presenting evidence before a grand jury investigating Trump's possession of hundreds of classified documents at his Florida estate.
The Associated Press contributed to this report.