Who's coming to Dragon Con 2023? Celebrities flock to Atlanta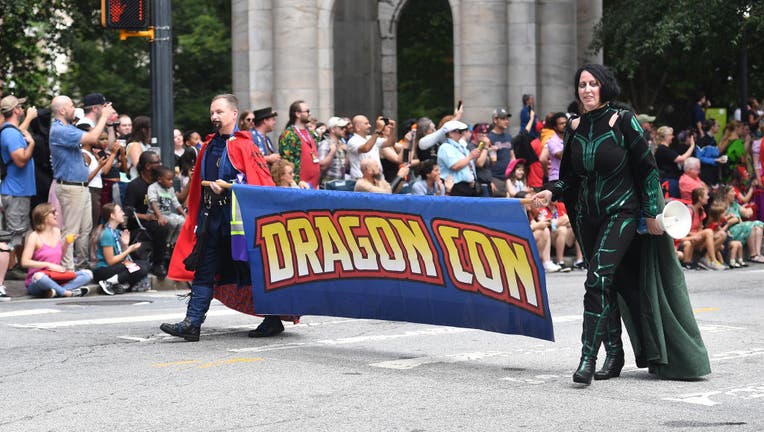 article
ATLANTA - It's almost that time of year again. Dragon Con 2023 is just days away from taking over Atlanta, and organizers have been pumping fans up by slowly releasing lists of celebrities expected to make an appearance.
Dragon Con will take place Aug. 31 until Sept. 4, and it's going to be held across the city at multiple host locations like: the Hyatt Regency Atlanta, Atlanta Hilton, Sheraton Atlanta, Atlanta Marriott Marquis, the Westin Peachtree Plaza Hotel in downtown Atlanta, and AmericasMart Buildings 2 and 3.
Whether you're a gamer, movie buff, anime enthusiast or comic connoisseur, promoters promise there's a panel, show, vendor and photo op for you.
ATLANTA, GEORGIA - SEPTEMBER 03:  A cosplayers dressed as vikings walk in the 2022 Dragon Con Parade on September 03, 2022 in Atlanta, Georgia. (Photo by Paras Griffin/Getty Images)
From: Getty Images
This year's Dragon Con is especially unique because it takes place in the midst of the Hollywood strikes. Dragon Con Facebook page administrators made it a point to stop listing the shows and movies their celebrity guests are known for on their promotional graphics. The gesture was quiet, but appeared to be received warmly by fans and patrons who also stand in solidarity with those who are on strike.
For more fun events around metro Atlanta, check out FOX 5 Atlanta's Things to Do
"You can ask them about their favorite recipe or book, or about their process as a professional," a spokesperson for Dragon Con replied when asked how they would be handling panelists throughout the ongoing strike. "Just not about a work that is struck."
Not every celebrity guest will sit on one of these panels. Some will perform, and others may show up as regular attendees just like you. Here's a look at who is expected to show up to this year's highly anticipated event:
Guests of Honor
Julie Bell (Artist Guest of Honor, Illustrator, Fantasy and wildlife artist and model)
Chelsea Quinn Yarbro (Literary Guest of Honor, Horror Grand Master, and Author of the Saint-Germain series.)
Performers
The Cybertronic Spree
Cruxshadows
Aurelio Voltaire
Wakefire
Wasted Wine
Triforce Quartet
Steel Samurai
Mayhayley's Grave
Vision Video
MC Lars
Bella's Bartok
Taj Motel Trio
Frenchy and the Punk
Landloch'd
Nathaniel Johnstone
Dust Bowl Faeries
Find more names listed here
Special Guests
Cthulhu (OG Old One)
Mandip Gill (Doctor Who)
Sean Maher (Firefly, Teen Titans)
Jewel Staite (Firefly, Stargate: Atlantis, The Magicians)
Eliza Taylor (The 100, The Orville)
Bob Morley (The 100, The Rookie)
Richard Harmon (The 100, The Flash, Continuum)
Katy O'Brian (Mandalorian, Z Nation, Quantamania)
Omid Abtahi (Mandalorian, American Gods)
Freddie Prinze Jr. (Star Wars, Scooby Doo)
Andy Serkis (Lotr/Hobbit, Star Wars, Planet of the Apes)
Jacob Lowe, Joe Lott, Jeff Headlee, Wiliam McQuillian, Bill Neff (Mountain Monsters)
Dalen Spratt, Marcus Harvey, Juwan Mass (Ghost Brothers)
Billy West (Futurama, Ren & Stimpy, Looney Tunes, and more)
Phil Lamarr (Futurama, Star Wars, Samurai Jack)
Maurice Lamarche (Futurama, Pinky and the Brain, and more)
Luisa D'Oliveira (The 100, Channel Zero)
Tasya Teles (The 100, Izombie)
Henry Ian Cusick (The 100, Lost)
Adrianne Palicki (The Orville, Agents of S.H.I.E.L.D., John Wick)
Peter Macon (The Orville, Family Guy, Minority Report)
Scott Grimes (The Orville, American Dad, Family Guy, Critters)
Celia Rose Gooding (Star Trek: Strange New Worlds)
Ethan Peck (Star Trek: Strange New Worlds)
Anson Mount (Star Trek: Discovery, Star Trek: Strange New Worlds)
Christina Chong (Star Trek: Strange New Worlds)
George Takei (Star Trek: Heroes, The Terror, Supah Ninjas)
Colin Gerguson (Eureka, The Vampire Diaries)
Sali Richardson-Whitfield (Eureka, Warehouse 13, Grimm, Falling Skies)
Jordan Danger (Eureka, Beyond the Sky)
Ed Quinn (Eureka, True Blood, Navy Seals vs. Zombies)
Neil Grayston (Eureka, Warehouse 13, The Magicians)
Gary Jones (Stargate: SG-1 Stargate: Atlantis)
Paul McGillion (Stargate: Atlantis, Star Trek, Death Note)
David Nykl (Stargate: Atlantic, Arrow, Supernatural)
Adam Savage (Mythbusters, Unchained Reaction, Adam Savage's Tested)
Luke Millington-Drake (The Cuphead Show)
Frank Todaro (The Cuphead Show, and more)
Tru Valentino (The Cuphead Show, and more)
Khary Payton (The Walking Dead, Teen Titans)
Ryan Hurst (The Walking Dead, Sons of Anarchy, God of War: Ragnarok)
Dan Fogler (The Walking Dead, Fantastic Beasts)
Colby Minifie (The Boys, Fear the Walking Dead)
Nathan Mitchell (The Boys)
Vinessa Shaw (Hocus Pocus)
Omri Katz (Hocus Pocus, Dallas, Eerie, Indiana)
Jason Marsden (Hocus Pocus, Goofy Movie, Transformers)
Jesse Rath (Supergirl, Defiance, Being Human)
Nicole Maines (Supergirl, Yellowjackets, Bit)
Mark Jackson (The Orville)
Dee Bradley Baker (Clone Wars, Phineas and Ferb, and more)
Lee Majors (The Big Valley, The Six Million Dollar Man, The Fall Guy, The Bionic Woman, and more)
Lindsay Wagner (The Bionic Woman, The Six Million Dollar Man, and more)
Carlos Valdes (The Flash)
Tom Cavanagh (The Flash, Scrubs, Legends of Tomorrow, Arrow)
DB Woodside (Buffy the Vampire Slayer, Lucifer, Suits, and more)
Lauren German (Lucifer, Chicago Fire, Texas Chainsaw Massacre, and more)
Lesley-Ann Brandt (Lucifer)
Claudia Christian (Blood of Zeus, Atlantis: The Lost Empire, and more)
Bruce Boxleitner (Tron, Tron: Legacy, Kenny Rogers as The Grambler, and more)
Tracy Scoggins (Babylon 5, The Strange Case of Dr. Jekyll and Mr. Hyde, and more)
Eddie McClintock (Warehouse 13, Boogeyman, Bones, and more)
Quincy Fouse (The Goldbergs, Bosch, K.C. Undercover, and more)
Matt Davis (Legally Blonde, The Vampire Diaries, What About Brian, and more)
Ben Levin (Legacies, Kung Fu, and more)
Steven Krueger (Goosebumps, Pretty Little Liars, Yellowjackets, and more)
Lucien Dodge (Barbie Dreamtopia, Yoohoo to the Rescue, Pokémon: Origins, and more)
Kayli Mills (Street Fighter V, Sword Art Online, The Seven Deadly Sins, and more)
Erica Mendez (Aggretsuko, Lalaloopsy Girls, Hunter x Hunter, and more)
Grey Delisle (Scooby-Doo! series, The Flinstones, Billy and Mandy, and more)
Cooper Andrews (Aquaman: King of Atlantis, The Walking Dead, Shazam!, and more)
Matt Ryan (Assassin's Creed IV: Black Flag, Harley Quinn, Blood Monkey and more)
Adam Tsekhman (DC's Legends of Tomorrow, NCIS, Extraction, and more)
Caity Lotz (DC's Legends of Tomorrow, Man Men, Bring it On: All or Nothing, and more)
Paul Bettany (WandaVision, The Da Vinci Code, Avengers: Infinity War, and more)
Willa Holland (The O.C., Arrow, Blood in the Water, and more)
Katherine McNamara (The Flash, Maze Runner: The Scorch Trials, Shadowhunters, and more)
Billie Piper (Secret Diary of a Call Girl, Doctor Who, and more)
Ian Alexander (The OA, Star Trek: Discovery, The Last of Us Part II, and more)
Emily Coutts (Star Trek: Discovery, and more)
Wilson Cruz (My So-Called Life, Star Trek: Discovery, and more)
Gina Torres (Suits, 9-1-1: Lone Star, Gossp Girl, The Vampire Diaries, and more)
Elijah Wood (The Lord of the Rings series, Yellowjackets, Back to the Future Part II, and more)
Sean Astin (The Goonies, Stranger Things, The Lord of the Rings series, and more)
Find more names listed here