Andrea Sneiderman granted $500K bond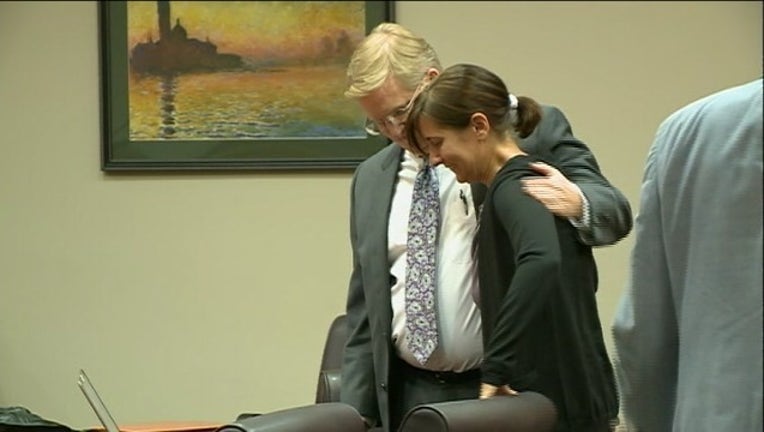 article
A DeKalb County judge granted Andrea Sneiderman a $500,000 bond after a hearing on Tuesday. Judge Gregory Adams ordered Sneiderman to live with her parents, wear an ankle monitoring bracelet and remain under house arrest.

The mother of two is accused of plotting to kill her husband Rusty. She was arrested earlier this month.

At least $250,000 of the bond must be in the cash, the judge said. As a condition of the bond, she must also surrender her passports as well as her children's passports.
CLICK HERE TO WATCH RAW VIDEO OF THE JUDGE'S INSTRUCTIONS

Sneiderman smiled as she walked into the courtroom and saw he friends who were present to testify in her behalf.

For more than an hour, friends and family of Andrea Sneiderman testified that she would stay and fight the charges leveled against her.

Herbert Greenberg, Andrea's father, was the first witness that defense attorneys called to the stand. Greenberg testified that his daughter would not leave town if she was granted bond. He said that he planned for her to live at his house.

Sneiderman's former boss and alleged lover Hemy Neuman was convicted of gunning down Rusty at a Dunwoody daycare in March.

The DeKalb County District Attorney's office accuses Sneiderman of giving Neuman details of Rusty's schedule for the day the victim was shot outside the daycare center.

CLICK HERE TO VIEW PHOTOS FROM THE BOND HEARING
Sneiderman's lawyers say their client wasn't romantically involved with Neuman, and claim she had nothing to do with her husband's death.
Prosecutors were opposed to the move. They contended that her flight risk would include her two children.

Earlier this month a grand jury indicted Sneiderman. The widow's indictment and arrest came nearly five months after Neuman was convicted and sentenced to life in prison without parole for killing rusty in November 2010 outside a Dunwoody child care center.

After Andrea's arrest, Neuman's defense attorneys reasserted their claim that she took advantage of his affection and manipulated him into killing her husband. They pointed to the jury's verdict of guilty but mentally ill as proof Neuman didn't act alone. Sneiderman is charged with malice murder, racketeering, insurance fraud, lying to police and perjury on the stand.

Andrea Sneiderman is expected to be released on Wednesday. She is scheduled to return for an arraignment on September 6.