7 small Georgia towns make most picturesque small towns in the nation list
ATLANTA - A list of the 120 most picturesque small towns in America has been released and a town in Georgia is No. 5 on the list! But, it was not the only one. 
The list was compiled by travel experts at North Carolina Travel Guides. The experts compared 500 small towns across the following categories: search trends, popularity with photographers, and popularity for photography by the general public. 
MADISON
Madison, which is home to the Bonar Hall, Morgan County Courthouse and the Carter-Newtown House, was the big winner for the state of Georgia and was ranked at No. 5. Other points of interest include Heritage Hall and Madison Morgan Cultural Center.
Several other small towns in Georgia also made the list including Blue Ridge (42), Covington (47), Brunswick (56), Helen (64), Dublin (72) and Blairsville (83).
BLUE RIDGE
Blue Ridge is a mountain town in northern Georgia and home for the Blue Ridge Scenic Railway. It also provides access to 106,000 acres of the Chattahoochee National Forest, 300 miles of hiking trails, and 100 miles of trout streams. In addition to the railway, there are multiple craft breweries, wineries, upscale shops, galleries and restaurants. Blue Ridge is located approximately 90 minutes north of Atlanta. 
COVINGTON
Covington is a hotspot for filmmakers looking to capture the charm of small-town America. "The Vampire Diaries," which is one of the most recognizable, was filmed in Covington along with 140 other films (there's a self-guided tour available). The Newton County Courthouse is one of the area's most iconic structures and there are many antebellum structures in the small town. Covington is located approximately 45 minutes southeast of Atlanta.   
BRUNSWICK
The port city of Brunswick, which was founded in 1771, is laid out in a formal grid similar to Savannah and is known for its pleasant squares, green parks and beautiful homes reflecting a variety of styles from the early 1800s. Area attractions include Hofwyl-Broadfield Plantation, Lover's Oak, Historic Glynn County Courthouse on Magnolia Square. Brunswick is about 4 hours southeast of Atlanta on the coast.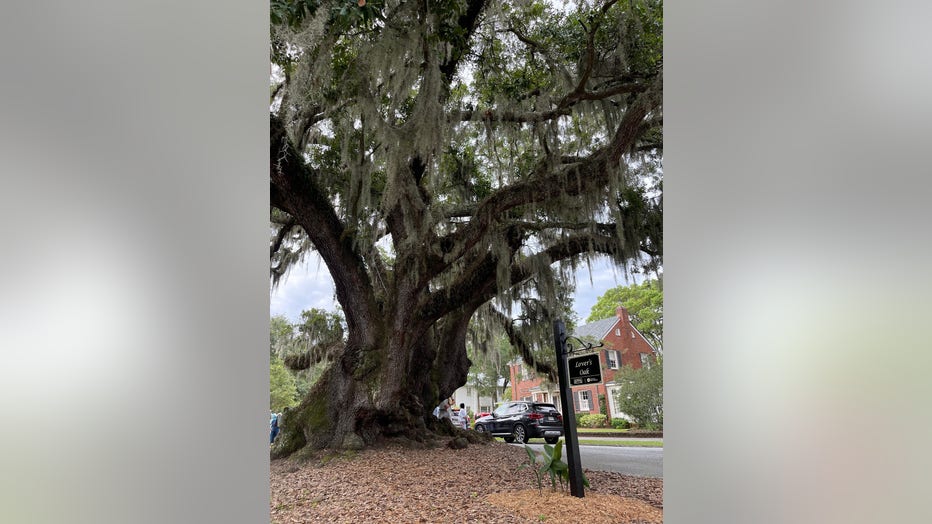 HELEN
Helen is a re-creation of Bavarian village in northeast Georgia, complete with cobblestone streets. Helen boasts more than 200 specialty and import shops and dining options range from traditional German fare to Southern comfort food. Attractions include Charlemagne's Kingdom, the Russell-Brasstown Scenic Byway and its most recent addition, a Renaissance castle named Uhuburg. Helen is located about an hour and a half northeast of Atlanta. 
DUBLIN
Dublin, which was founded in 1812, is named for its counterpart in Ireland. It's home to the Martin Luther King Jr. Monument Park, which includes a colorful mural by Georgia artist Corey Barksdale. The historic downtown Dublin walking tour features more than 70 historic landmarks, sites and buildings and includes First African Baptist Church, First National Bank, Old City Cemetery, Fred Roberts, and the Old Post Office. Dublin is located about 2 hours southeast of Atlanta. 
BLAIRSVILLE
Blairsville in Union County has some of Georgia's most beautiful locations including Brasstown Bald mountain and Vogel State Park. It's also home to the Helton Creek Falls, Lasso the Moon Alpaca Farm, Sosebee Cove Scenic Area, Mountain Life Museum, and Ethnobotanic Gardens and Woodland Medicine Trail. Blairsville is approximately 1 hour and 45 minutes north of Atlanta. 
  (Visit Downtown Blairsville)
Fredericksburg in Texas, which is known for its German architectural style and beautiful vineyards, was named the most picturesque and the state of Texas has the most towns (15) on the list.  
Other cities in the top five are Cedarburg in Wisconsin, Orange Beach in Alabama, and Portsmouth in New Hampshire.
To see the complete list, click here.