Recipe: Stone Fruit Clafoutis
This recipe is from the May/June issue of 'Bake from Scratch' magazine and adds a twist of Georgia peaches. Editor-in-chief Brian Hart Hoffman has a great trick to share that uses needle nose pliers to easily remove pits from peaches. Recipe and instructions are below: 
 Makes 6 to 8 servings 
Use any mix of apricots, cherries, nectarines, peaches, or plums you like for this classic French baked custard. 
Unsalted butter, softened
11⁄2 pounds (680 grams) assorted stone fruit
3 large eggs (150 grams), room temperature
1⁄3 cup (66 grams) plus 3 tablespoons (36 grams) granulated sugar
1 teaspoon (4 grams) vanilla extract 1⁄4 teaspoon kosher salt
1⁄4 teaspoon ground cinnamon
1⁄8 teaspoon ground cardamom
11⁄4 cups (300 grams) whole milk
3⁄4 cup (94 grams) all-purpose flour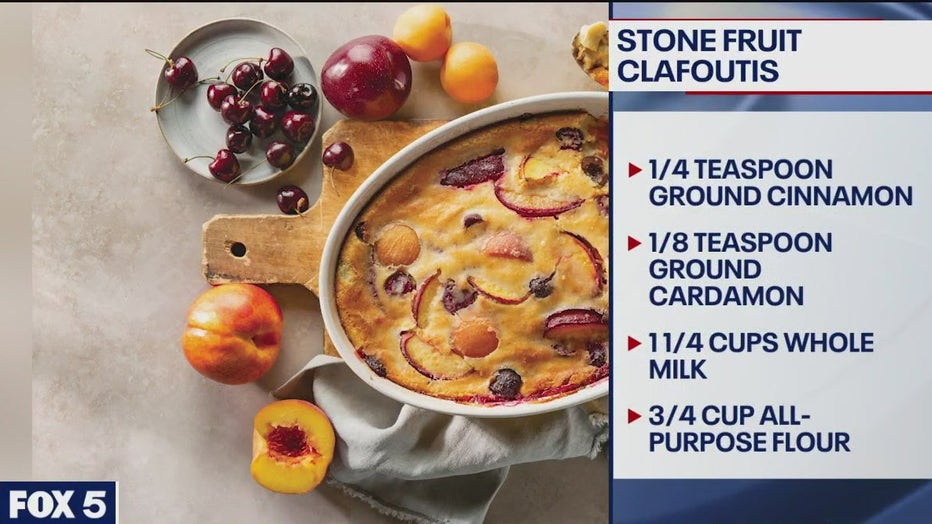 Preheat oven to 350°F (180°C). Generously butter bottom and sides of a shallow 2-quart baking dish.
Halve and pit fruit. Cut large fruit halves into 1⁄2-inch-thick slices. Arrange fruit in prepared pan as desired.
In the container of a blender, process eggs, 1⁄3 cup (66 grams) granulated sugar, vanilla, salt, cinnamon, and cardamom on medium speed until sugar dissolves and mixture is smooth and aerated, about 1 minute. Add milk and flour, and process until smooth. Slowly pour batter allover fruit in pan. Sprinkle remaining 3 tablespoons (36 grams) sugar evenly onto batter.
Bake until edges are puffed and golden brown and an instant-read thermometer inserted in center registers 175°F (79°C) to 180°F (82°C), 30 to 35 minutes. Let cool on a wire rack for 15 minutes. Serve warm or at room temperature.