Recipe: Lucky Collard Crescent Rolls
Southern traditions for the new year are huge in many households. One of them is cooking a meal that will bring on prosperity, luck, and financial gain. 
Chef Jernard Wells demos his "Lucky Collard Crescent Rolls" in the video above.
Check out the recipe and instructions below. 
Chef Jernard's Lucky Collard Crescent Rolls 
2 cans (8 oz) refrigerated Crescent Rolls (8 Count), split up into 16 dough triangles
1 cup of Sautéed Collard greens drained
1/4 cup diced red bell peppers
1/4 cup diced onions
1/2 stick of cream cheese
1/4 cup of shredded cheddar cheese
1/2 cup of Diced Turkey bacon cooked
1 teaspoon of minced Garlic
1 teaspoon of Kosher salt
1 teaspoon of crack black pepper
Pinch of Red pepper flakes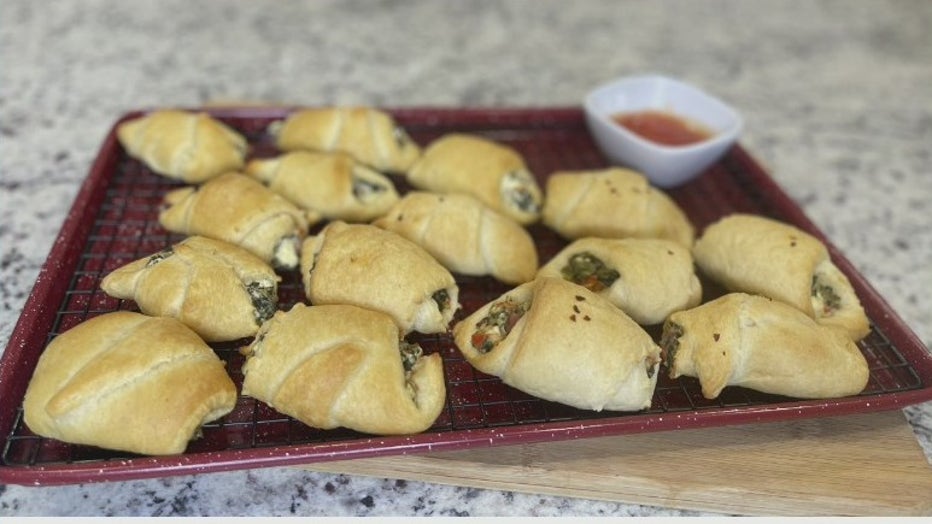 Chef Jernard's Lucky Collard Crescent Rolls
Instructions
Preheat oven to 375.
Bring sauté pan to medium high heat on stove and add olive oil to sauté pan than add collard greens, bell peppers, onions and minced garlic.
Sauté for 5 minutes, then add the cooked Turkey bacon.
Sauté for 1 minute more, then add all cheese to incorporate into dish.
Once cheese melts add salt and pepper and a pinch of red pepper flakes sauté for 1 more minute.
Remove from heat.
Remove crescent rolls from can and lay each triangle flat on baking sheet.
Add 1-2 tablespoons of cheesy collard green blend to the crescents.
Roll up each one place in oven and bake for 10 minutes.
Remove and serve with your favorite dipping sauce.