Recipe: Baked spinach and goat cheese frittata
You can shake up the ingredients in the frittata with what you have in the fridge. Add peppers instead of onions, add shredded kale instead of spinach, use cheddar instead of goat cheese. Your imagination is the only limit!
This frittata is better for you because of the use of egg whites instead of all whole eggs, the frittata uses skim or almond milk and includes veggies – the red onion and the spinach. Also using goat cheese cuts down on the fat and calories, goat cheese is made with goat milk, which has the least fat and calories than other cheeses.
6 Large Eggs
4 Egg Whites
½ Cup Skim Milk or Almond Milk
½ Tsp Each Sea Salt and Freshly Ground Pepper
1 TB Extra Virgin Olive Oil
1 TB Unsalted Butter
1 Cup Chopped Red Onion
Couple of Handfuls Fresh Baby Spinach
2 TB Chopped Herbs – your choice
¼ Cup Crumbled Goat Cheese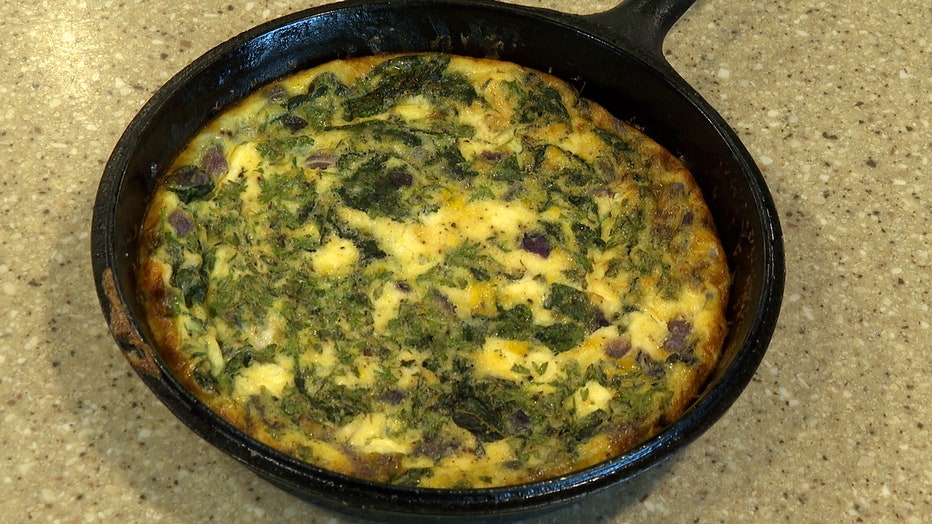 Directions
Preheat the oven to 375F. In a bowl, beat the eggs, milk, ½ Tsp Salt and ½ Tsp Pepper together. Set aside.
Heat the oil and butter together in a cast iron skillet, or a heavy ovenproof skillet. Sauté the onion until soft, then add in the spinach, a handful at a time in the skillet.
Stir the egg mixture into the pan. When well combined, add the herbs and crumble the goat cheese over the top.
Slide the pan into the oven, and bake until eggs are set and not jiggly, about 20 minutes. Cool for about 10 minutes before cutting into wedges.