How to take photos of the eclipse with your smartphone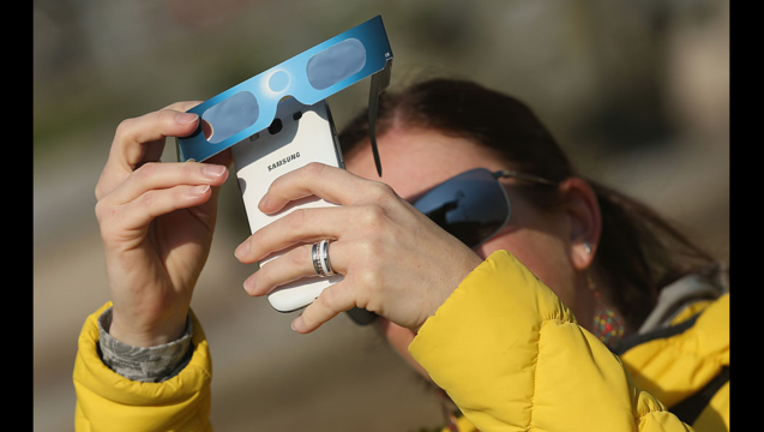 article
(FOX 11) - If you plan on catching the total solar eclipse when it happens later this month- pics, or it didn't happen.
And NASA is helping any amateur photographers out there with a tip sheet full of suggestions for those hoping to snap a photo on their smartphone of the rare celestial event on August 21.
Just don't let your desire to document it for social media keep you from actually experiencing the once in a lifetime event.
TIPS
The first and most important rule is DO NOT stare or look directly at the sun! Check out this article for all you need to know about solar glasses, which are necessary if you want to view the eclipse.
NASA says the best thing you can do is cover the camera lens with a solar filter during the moments before and after totality when the sunlight is still blinding. You can use the ISO-certified sun-viewing glasses to cover the smartphone lens, but do not use sunglasses! If you are not in the narrow path of totality, you will need to wear and use the sun-viewing glasses through the entire event. For those in the path of totality, you can take the filter off and shoot normally during totality. A list of which cities will enjoy totality can be found here.
NASA says, "Using optical filters to photograph the eclipse when you are not on the path of totality is inherently risky because you are looking at the blindingly bright solar surface. NASA makes no recommendations about how to safely photograph the partial eclipse phases because of the huge number of optical filter and camera models that may potentially be used and often with unsafe outcomes."
Using a tripod to avoid the inevitable shaking that happens when holding a camera.
Practice photographing the full moon to get an idea for how large the sun-in-eclipse will appear with your phone and also practice taking photos before and after sunset during twilight to get an idea for the light levels you'll be working with if you're on the path of totality.
Don't rely on your phone's auto-focus. You may have to focus manually, which can be done on most smartphones by tapping the screen and holding your finger on the moon to lock focus. Move your finger up or down to alter the exposure.
Digital zoom will not cut it to create a clear, magnified image. You can buy a telephoto zoom lens attachment for about $20-$40. Most will clip directly onto you phone over the existing lens. You will then put the solar filter in front of the telephoto lens. And remember, it is only safe to use an unfiltered telephoto attachment during totality when there is no solar disk present.
NASA says, "Once the solar disk begins to appear you cannot use the telephoto unless it is properly filtered or you run the risk of shining concentrated sunlight on the camera imaging sensor and potentially damaging it. NASA makes no recommendations on exactly what kind of solar filter you can safely use under these circumstances, but in all applications, the filter must be placed in front of the telephoto lens and not behind it closest to the camera lens."
Consider using the delay timer set to 5 seconds to give your phone time to settle down and produce vibration-free pictures.
Copyright 2017 FOX 11 Los Angeles : Download our mobile app for breaking news alerts or to watch FOX 11 News | Follow us on Facebook, Twitter, Instagram, and YouTube. Be a citizen journalist for FOX 11 and get paid – download the Fresco News App today.