Truist Park helping baseball fans keep cool this weekend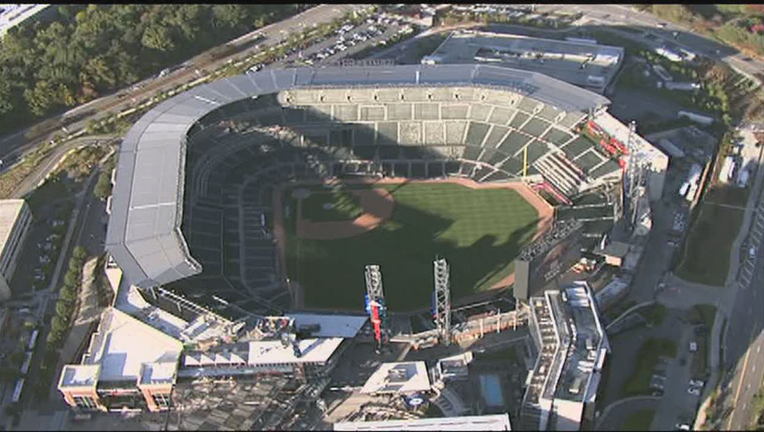 article
COBB COUNTY - With high temperatures expected again this weekend, Truist Park is doing its best to make sure baseball fans stay cool.
Fans will be allowed to bring one sealed plastic bottle of water, one bag of food, and one bottle of non-aerosol sunscreen per game ticket.
Fans are also encouraged to wear their favorite Braves cap to stay shaded and cool.
Cooling stations inside the park will be located at 1st and 3rd Base Elevator Lobbies on Lower Level.
Battery-operated, handheld fans and misters are allowed.
Umbrellas are also permitted as long as they don't block other fans' view of the game, according to the Truist Park guidelines.
Additionally, there will be ice-water stations at the Left Field Gate, Chop House Gate, Right Field Gate, 1st Base Gate, 3rd Base Gate, Sandlot, 1st Base LL Premium Lobby, 3rd Base LL Premium Lobby, Jim Bean Lounge (ticket specific), Chippers Corner (ticket specific), outside of Wahlburgers in The Battery Atlanta, and Delta Wing (outside 3rd Base Gate).
The Braves are playing the Milwaukee Brewers this weekend and the Los Angeles Angels next Monday through Wednesday.
The Braves are also celebrating Hank Louis "Hank" Aaron's impact as a record-breaking baseball player, executive and entrepreneur with commemorative pre-game and in-game content, including highlighting the two 2023 Hank Aaron Fellows, the 2023 Hank Aaron Invitational athletes, the Homers for Hank beneficiaries from Clark Atlanta University, and more during an on-field ceremony on July 28.
On Saturday and Sunday, the Braves are hosting the top 44 elite high school baseball players from the Hank Aaron Invitational for a special cultural day.
KEEP UP WITH THE LATEST BY DOWNLOADING THE FREE FOX 5 STORM TEAM APP AND FOLLOWING @FOX5STORMTEAM ON TWITTER
The expected high temperatures for Friday are 95 degrees, 94 for Saturday, and 97 on Sunday.