No. 14 Georgia Tech comes up short vs. No. 8 Notre Dame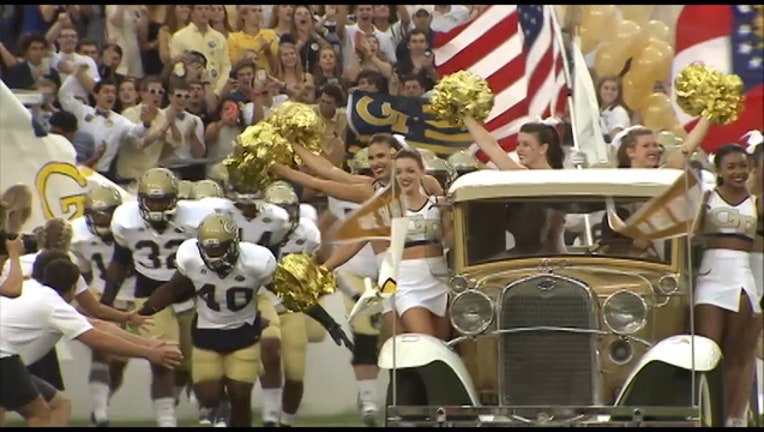 article
SOUTH BEND, Ind. (AP) — No. 14 Georgia Tech couldn't fix its mistakes fast enough against eighth-ranked Notre Dame.
"It was like popcorn. One guy you'd get fixed, then the other guy would mess up," Georgia Tech coach Paul Johnson said. "Against good players, you can't have missed assignments."
The Yellow Jackets closed to 30-22 when Patrick Skov scored a pair of touchdowns on passes of 24 and 15 yards from Justin Thomas in the final minute after A.J. Gray recovered the onside kick by Harrison Butker. But Notre Dame's Torii Hunter Jr. recovered a second onside kick try to end Georgia Tech's hopes.
Skov said the offense needs to execute better.
"Our job is to be us. We didn't play Georgia Tech football. We've got no excuse," he said. "It doesn't matter where we play, offensively we should be able to execute. It doesn't matter where we play. We could play on the tundra, we have to execute."
C.J. Prosise led Notre Dame with three touchdowns and 198 yards rushing, including a 91-yard TD run that was the longest run in Notre Dame Stadium history, and the defense provided the grit.
"I think our defensive plan was outstanding. I think our team executed it up until maybe the last couple of minutes where we probably lost a little bit of our focus," Notre Dame coach Brian Kelly said. "But all in all, just a tremendous performance by our football team."
Prosise's long run put the Irish up by 23 points, and he also had scoring runs from 17 yards and 1 yard. He credited the offensive line.
"I can't thank them enough for how they're getting me to the second level and getting me to the safeties untouched," he said.
Georgia Tech entered the game averaging 67 points and 457 yards, but struggled to get much going until time was running out. The Fighting Irish held the Yellow Jackets to 216 yards rushing and 337 yards total offense.
"Clearly we were disappointed with the way we played," Johnson said. "You have to give Notre Dame credit. Their kids showed up, played hard."
The game-breaking TD run by Prosise with 6:58 left was the second longest by a Notre Dame player. Bob Livingstone had the school record with a 92-yarder at USC in 1947.
Kizer was 21 of 30 for 242 yards, though had a pass intercepted in the end zone by Georgia Tech cornerback D.J. White.
Kizer said he was happy to get his first start behind him after throwing the game-winning touchdown with 12 seconds left a week earlier against Virginia.
"It's going to help me immensely going into next week and into new atmospheres like Clemson in a couple weeks," he said.
Kizer looked indecisive at times and threw an interception into the end zone, but played well enough to get the victory, coming up with several big plays. With the score tied at 7, Kizer threw a 10-yard pass to Brown on third down and a 36-yard pass to Fuller on third-and-7, leading to a 17-yard touchdown run by Prosise.
"I thought he threw the deep ball very well, did some really good things in managing the offense for us," Kelly said. "Cadence was a little off. That's why we had some false starts."
Notre Dame is 3-0 for the third time in the past four seasons. Georgia Tech (2-1) fell to 0-11-1 against Notre Dame teams ranked in the top 10.
Kelly had predicted the Irish would need to be efficient on offense because he didn't believe the Irish defense would shut Georgia Tech down, but he was wrong.
Thomas said the Irish defense was disruptive.
"I don't really know what was going on upfront. There wasn't a lot of room," he said. "We got tested."
___
AP college football website: collegefootball.ap.org