NASCAR celebrates Black pit crew members ahead of Daytona 500
Marshall McFadden grew up just minutes from "The Track Too Tough to Tame" in Lamar, S.C., yet never got too into NASCAR.
And if he's being honest, McFadden told FOX 5 Sports race weekends were the worst growing up in Darlington County.
"I always hated when they had racing because it brought in so many people and the traffic and the restaurants, it took you two hours to get food and all the state troopers and so on," he recalled, laughing.
The irony is that he's now a jackman for StarCom Racing and will be hurdling over the wall with the No. 00 Chevrolet Camaro of Quin Houff for his fourth Daytona 500 on Feb. 14.
"I switched from gas man to a jackman so this is going to be my first time as a jackman going over the wall, so I'm ready to get that first race out of the way so I can go ahead and get the butterflies out," McFadden said, laughing.
McFadden was a linebacker with the Steelers, Raiders and Rams and in the CFL, but he didn't know what to do after he hung up the cleats for good. He had a friend who worked for Chip Ganassi Racing so he decided to take a visit one day.
"I was just wowed," he recalled. "I was wowed by the performance. I was wowed by the package. I was wowed by the business because I didn't know much about NASCAR."
He soon signed his first contract with Chip Ganassi Racing, and is now one of five African-American pit crew members who will be featured in NASCAR's upcoming docuseries "The Brotherhood of NASCAR."
McFadden said he hopes the docuseries showcases the day-to-day life they live, from preparation and practice, working out to stay ready for race day, the relationships they have with other pit members and teams, and even the life they live beyond the track with their families.
"You'll see the hard work we put in but also how we live like everybody else," he said. "(Viewers) will get an understanding and respect how we make our living."
Some of the Chip Ganassi Racing athletes are also former NFL players and most of them graduated from the NASCAR Drive for Diversity Pit Crew Development Program, which boasts more than 55 graduates now working in NASCAR — including more than 25 at the NASCAR Cup Series level. The program has a 100 percent placement rate and drives approximately $2 million in salary.
Kenyatta "Kap" Houston, a tire changer for Houff, has been involved with NASCAR for more than 15 years. McFadden said he's learned a lot from his veteran teammate.
"When he first started, he tells us, he could count on one hand how many brothers he saw," McFadden said. "So to see the sport come such a long way and get publicized the way it is now with Bubba Wallace, the pandemic and so on, now people are getting the opportunity to see there is diversity and more diversity. And why not get the outside people to look in and see how unique the sport is? The sport is growing, and it's growing from a diversity standpoint. But to be a part of that is something special."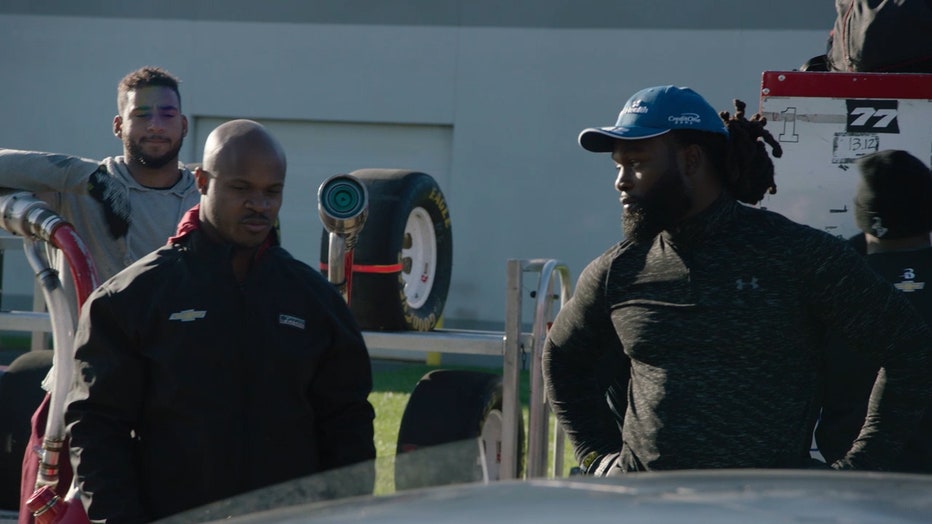 As NASCAR kicks off 2021 with its own Super Bowl, the Daytona 500, on Feb. 14 on FOX 5, they're also celebrating Black History Month with a docuseries called the Brotherhood of NASCAR, highlighting the stories of five African American pit crew member
Atlanta native Jeremy Kimbrough is a tire carrier for the No. 1 of Kurt Busch for Chip Ganassi Racing. He won his first NASCAR Cup Series race at Las Vegas last season. Also a linebacker like McFadden, he played college ball at Appalachian State and then professionally for the now-Washington Football Team.
When he was waived in 2014, he moved back home to Atlanta and worked as a valet for a year before a college teammate got him in the loop for NASCAR's annual pit crew combine, part of a nationwide search for top crew member talent. He then was selected for the Drive for Diversity Pit Crew Development Program and graduated in 2016.
"If you would've asked me six years ago, seven years ago, would I be doing NASCAR? I would've probably told you no," Kimbrough said. "But I was glad that I was open-minded and willing to adapt."
Kimbrough said his dad has always been a racing fan, and that bond has deepened since he's worked on pit row.
"Just seeing how it made my dad feel — he watches all the races," he said. "He texts me during the races like who's got the better stop and things like that, so being able to have that connection with my dad just coming from football to now NASCAR is definitely a good thing. I'm glad I'm doing it."
After a 2020 NASCAR season that persevered through a pandemic; displayed unity behind the Cup Series' only Black driver, Bubba Wallace; and saw a ban of the confederate flag at races, these two Black pit crew members are more excited about the sport and its future than ever.
"I'm always proud to see some positivity. I've seen NASCAR take a step in the right direction," McFadden said. "You see 30 of the 35 drivers embrace Bubba Wallace and let him know, 'We're all in this together. It's not one person. It's not one color. It's everybody. It's a unity thing.' And to see that unity being brought into the sport where you don't think it's that much, but there's a lot more that goes on behind the scenes that people were able to take a dive and look deep and see that unit. You got black pit crew members that's got brotherhood with other guys on pit row."
"To see NASCAR and to see everybody join hands and join forces and be together tight, I think that definitely showed that NASCAR is about trying to bring peace and just eliminate all the extra distractions and just the hate and everything in that matter," Kimbrough said. "Being able to actually see the change happen during the year by banning the flag was definitely monumental because some people go a lifetime without seeing change. So to be able to see it and witness it and be a part of it was definitely a big deal."
Now, with days before The Great American Race, the two are locked in for the 10-month grind that stretches before them, with a challenging but exciting new race season schedule. They said they're doing little things like ensuring the pit box is squared away, but also bigger things like making sure their minds and bodies are ready, too.
"The Brotherhood of NASCAR" will be available on NASCAR's social media and YouTube page. Certain episodes will air during the pre-race show for the Daytona 500 and NASCAR Race Hub, available on FOX Sports.