Freddie Freeman has cancerous mole surgically removed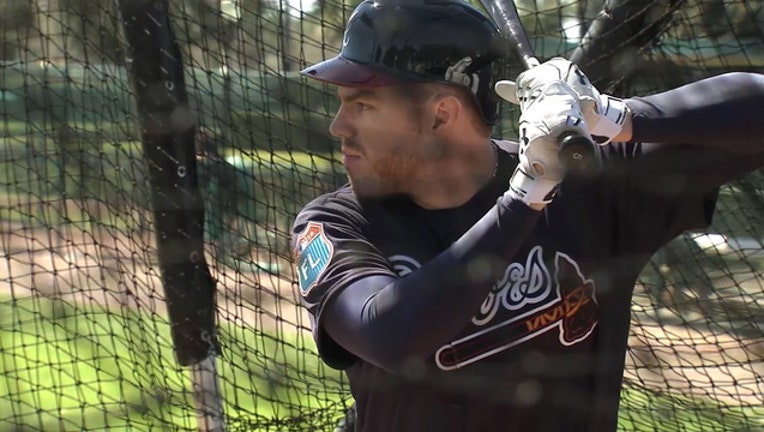 article
ATLANTA (AP) - Braves first baseman Freddie Freeman was in the lineup after having a cancerous mole surgically removed from his upper back three days ago.
He received test results Friday that abnormal cells were present, but Freeman returned from the All-Star break saying he's cancer-free following the procedure.
The Atlanta fan favorite and two-time All-Star said he regularly gets checkups after his mother died of skin cancer in 2000.
"They said that with your family history, just take it out, so that's what I did," he said. "There were cancerous cells, so I got it just in time."
Freeman, in the third season of an eight-year, $135 million contract, knows how important he is to the Braves, but the recent scare gave him a bigger perspective on his life and career.
"My mom took care of herself," he said, "and it still happened."
Freeman has a few stitches in his back, but his doctor said there's no risk in playing. The stitches will come out in 10-14 days.
"They said I couldn't do anything for 48 hours," Freeman said. "That's why I wasn't at the workout yesterday."
During the last six weeks, Freeman has shown no signs of wearing down on the field. He leads the major leagues since June 1 with 25 extra-base hits. He's hitting .286 this season with 34 RBIs and a team-high 16 homers.
Freeman feels slight irritation from the incision when he swings a bat, but it wasn't enough to make him ask for a day off.
"It's not hurting," he said. "Hopefully I don't get hit by a pitch or anything like that, but I feel fine."
Freeman said his mother, Rosemary Freeman, was stricken through a cancerous mole, similar to the one they took off her son. She had red hair, fair skin and freckles, even more so than Freddie.
People with those physical traits are often susceptible to abnormal skin growths.
"We have skin cancer people come (during the season), and doctors come and check it," Freeman said. "They said the mole's not circular. That's when you have to go have a look, and mine was jagged."
Despite the news, Freeman was in good spirits in the clubhouse. As he shared the information with four reporters, he was upbeat and laughing.
"Other than that," he said, "I had a good All-Star break."