Formerly unknown names key in Patriots' Super Bowl run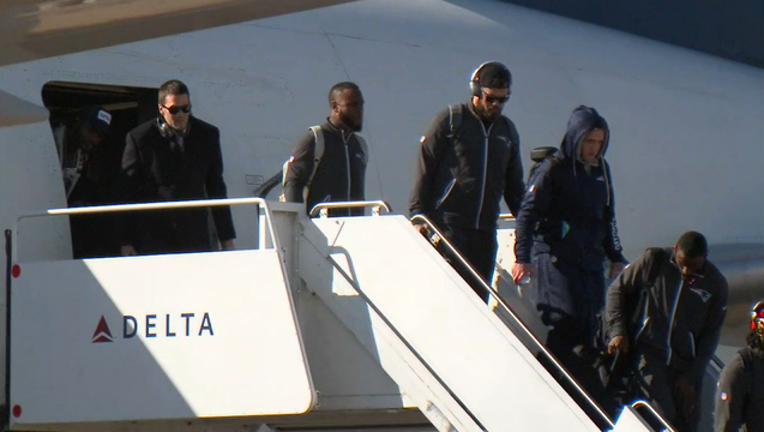 article
FOXBOROUGH, Mass. (AP) - When it comes to filling out his roster each season, Bill Belichick has always placed a premium on potential.
From late-round draft picks to guys that never heard their name called on draft night, during his 17 years in New England the Patriots coach has developed a knack not just for identifying unheralded players, but cultivating them into key contributors.
The group he will take to Houston for next week's Super Bowl is no exception.
There are 14 players on the Patriots' 53-man roster that came into the NFL as undrafted free agents, and another 10 who were selected in the fifth round or later.
Among those that were undrafted, eight appeared in 12 games or more during the regular season including cornerback Malcolm Butler (16 starts), running back LeGarrette Blount (eight starts), receivers Chris Hogan (14 starts) and Danny Amendola, center David Andrews (16 starts), fullback James Develin, special teamer Brandon King and punter Ryan Allen.
Belichick said it's key to find players who have the most room for growth, no matter their background.
"Not everybody is from Alabama and Michigan and USC and those places, so for some of those guys, and even the ones that come from there, it's still a huge jump for them," Belichick said. "It's a big part of a big time in a professional player's career - making it the first year, but then that first to second or first to second to third. That's true for everybody."
While most teams have one or two players on their roster that fit into this category, the Patriots separate themselves by getting a high level of production out of several of them.
Edelman was a college quarterback at Kent State and seventh-round pick in the 2009 draft before he became Tom Brady's go-to guy on third down. Special teamer Nate Ebner, a sixth-round pick in 2012, went from a rugby background to the Patriots' top tackler on special teams. And before Butler became a Super Bowl hero with his late interception against Seattle in 2015, he was undrafted in 2014. He leads the team with four interceptions.
The newest member of the club is Hogan, who is coming off a franchise record nine-reception, 180-yard performance in the AFC championship game.
Hogan played four years of lacrosse at Penn State, and once played opposite Patriots assistant Steve Belichick.
Following a year of football at Monmouth and stints on the practice squads of the New York Giants and Miami Dolphins, he was with Buffalo in 2014 when he caught his first career NFL touchdown late during a Bills loss to New England.
When he became a free agent following the 2015 season, the Patriots were the first to contact him.
Hogan said there's a common link among his teammates that have taken unconventional routes to the NFL.
"Those guys are hardworking guys, every single one of them," Hogan said. "We're all alike in that sense. Where we have a real competitive attitude, but we are more than willing to do whatever it takes and whatever is asked of us to win football games."
That willingness to buy in may be even more important than knowing exactly what a player's role will be for Belichick.
Edelman said Belichick initially didn't have any idea how he would utilize him when the Patriots drafted the former Kent State quarterback.
But Belichick told him he recognized something innate in the way the 5-foot-10, 200-pounder played the game.
Linebacker and defensive captain Dont'a Hightower said those intangibles are found in players throughout the locker room.
"A lot of people talk about the 'Patriot Way.' There's not a straight definition of it but here you know that we're going to work every day," Hightower said. "Around here you're either getting better or you're getting worse."
While he gives Belichick credit for putting the foundation in place, Hightower said the link is a locker room full of players that "already have that in them" when they arrive.
"They already have that dog in them, maybe it's just not the right way that they're doing it," Hightower said. "I feel like Bill does a great job of that, of getting the right stuff out of guys and saying the right things to get them to work hard."
___
For more NFL coverage: http://www.pro32.ap.org and http://www.twitter.com/AP_NFL
___
Follow Kyle Hightower on Twitter at http://www.twitter.com/khightower