Family makes first game memorable for Falcons tight end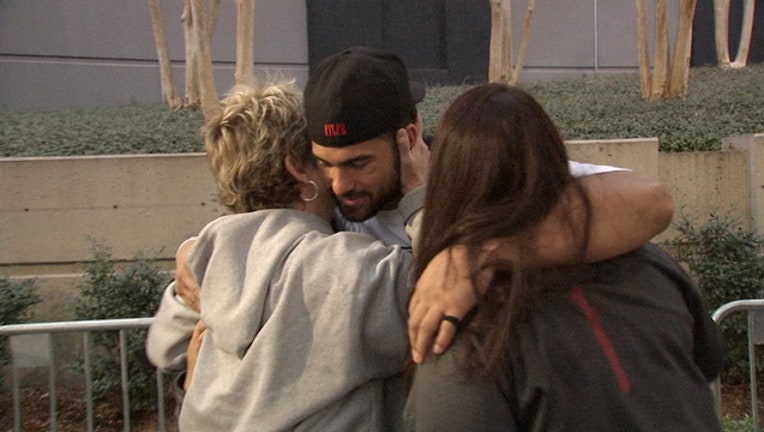 CHARLOTTE - When Falcons tight end DJ Tialavea found out he'd be playing in his first ever NFL game, his focus never faltered.

"Maybe this is my only game I'll ever get to play," said Tialavea, who was promoted off Atlanta's practice squad on Thursday. "I wanted to have no regrets and just play my best."

Knowing it was a first -- and acknowledging the next game is not guaranteed -- Tialavea's family sprung into action as well. His mother and two sisters bought last minute flights and headed for Charlotte, where they witnessed DJ catch a touchdown from Matt Ryan in the 2nd quarter of Atlanta's win over the Panthers.

"I screamed and screamed," said Tami Tialavea, DJ's mother. "We were around a bunch of Panthers people. I said, 'that's my boy!'"

Tialavea's teammates swarmed him after that touchdown -- head coach Dan Quinn's sideline hug and head slaps might have dented DJ's helmet. The tight end, for his part, pointed up at his family in the stands and blew a kiss.

"He did so good," said Julianne Tialavea. "I [saw] him catch that ball, turn around and shout out to us, We were shouting down to him."

This was the first time the Tialavea family got to see DJ play in person since his senior season at Utah State in 2013. When DJ looked up at them in the stands, he may have also seen an empty seat right next to his mom and sisters. That seat was for his father.

2013 was also the year DJ's father passed away. When the family got tickets to the game in Charlotte, they got an extra seat and left in empty in honor of DJ's dad.

"It's just been hard for him to do it without his dad by him," said Tami. "To have that support. He's worked hard. He just keeps on thinking about our family. We're just really proud of him."

DJ's road to the NFL, and to the end zone in Carolina, has been tough. He wrote on Twitter that there was a time after college when he was working two jobs and sleeping on the floor of a friend's house. He told FOX 5 in 2015, while was promoted to the Falcons roster but not active for any games, that he spent time working at a juvenile detention center and as security at a nightclub.

"[My family has] been supporting me the last 3 years," said DJ. "The journey's been crazy. To have my awesome supporting cast next to me to share the moment with me, it's been great."

His family cheered when their star caught his first NFL touchdown, and knew there was cheering from above as well.

"We already decided that in heaven, my husband gathered everybody around to watch his boy play," said Tami. "We know he was right here with DJ. My husband would be so stinking proud of him."